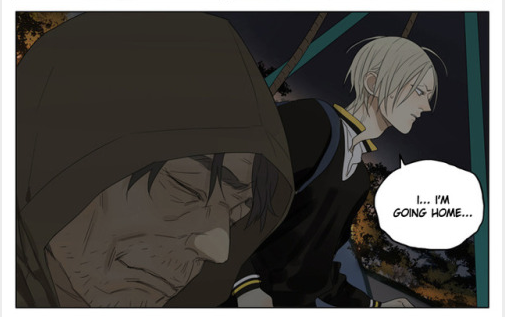 After the cute 19 Days Valentine Special we received last week, we are now back to the plot with Day 192. With so much speculation and theories over what is about to happen, it's safe to say the fandom with incredibly excited for the next chapter. Were we going to meet Jian Yi's dad? What's happening with Mo Guanshan and He Tian? Well yesterday Old Xian gave us what we exactly wanted: a new update? So were any theories circulating the internet correct?
Plot
The first panel we are introduced once again to He Tian's brother He Cheng, who is either part of the Yakuza or just some random gang. He receives a phone call from Jian Yi's dad, who happens to be his boss and quite possibly the head of a Yakuza gang.
The next panel we see Jian Yi leaving Zhang's house and is on his way home. Whilst walking back he decides to stop at the nearest park and ponder some things when a stranger sits next to him on the swing. He tells Jian Yi he's a friend of his dad and they should have a chat together.
Opinion
What is going to happen to Jian Yi and who is this old man?! From what I can gather we will be seeing a lot more of He Cheng. Even though he made a brief appearance at the beginning of the manhua he is already a fan favourite due to his good looks, as well as the fact he's He Tian's brother.
I'm slightly disappointed I didn't get to see my two favourites (Tian and Guanshan) but I'm sure they will make their appearance soon. I do think He Tian will play a bit more role in what's about to happen since the last time Jian Yi nearly got kidnapped he knew this event was about to transpire and dashed as soon as he could, so with that in mind, I wouldn't be surprised if he knows what's about to happen and will ask Zhang and Guanshan for help. One thing's for sure though, we are going to get some angst driven plots in the near future.