Vampirella #1
Writer: Paul Cornell
Artist & Colorist: Jimmy Broxton
Letterer: Travis Lanham
Publisher: Dynamite
A review by Greg Brothers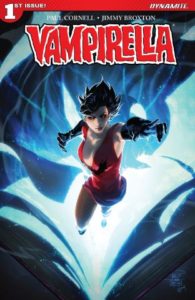 Vampirella is one of those characters that become the poster child for the bad girl's comics of the 1990's but the truth is she got her start in 1969 in a horror comic. Since then she has gone through several different incarnations including that 1990's era. Since Dynamite has taken over the franchise they have made several changes to the character and each volume adds more depth and story to the character.
Vampirella #1 picks up right at the end of the zero issue that came out a few weeks ago. Vampirella is climbing out of the tomb that she has found herself in and totally unaware and unsure how much time has passed since she last roamed the earth. Quickly she finds out that above ground there is a committee that is not so welcoming, and she tries to fight herself free of them. Throughout the fight, she knows that something is different about this world, from the smell or the air to the actions of her adversaries, something just doesn't feel right about this new place or time to her. It's after meeting some of the other residents of this new time that she realizes how right she is about how different this time is.
Broxton's choice to move the story ahead about a thousand years is a smart one as it allows for Vampirella #1 to create a unique story that would not have been possible if they were stuck in current day. The reboot creates a world where Vampirella is not as scary to the public as she has been in the past. In addition, society in general is much different than the last time she roamed the streets, as the style of clothing, and what is considered acceptable behavior is much different.
The art is done beautifully throughout Vampirella #1. Playing on the changes in society with the way people dress and look is completely different than what would be considered normal now. While the design of the clothing is totally different, I do appreciate that they did not go with the old trope of making the future super bright with the colors of their clothing. The look of people in town stands out against the grittiness of the beginning of Vampirella #1.
The Verdict
Buy it! Vampirella #1 is a nice jumping on point even for people that have little knowledge of any version of the character and without being boring to longtime readers. The jump in time creates enough questions that even the most long-term fans of Vampirella will have new things to read about. The violence and sex appeal is there for the character, but it is much more muted than previous versions. Any fan of vampires should be adding this series to their pull list.