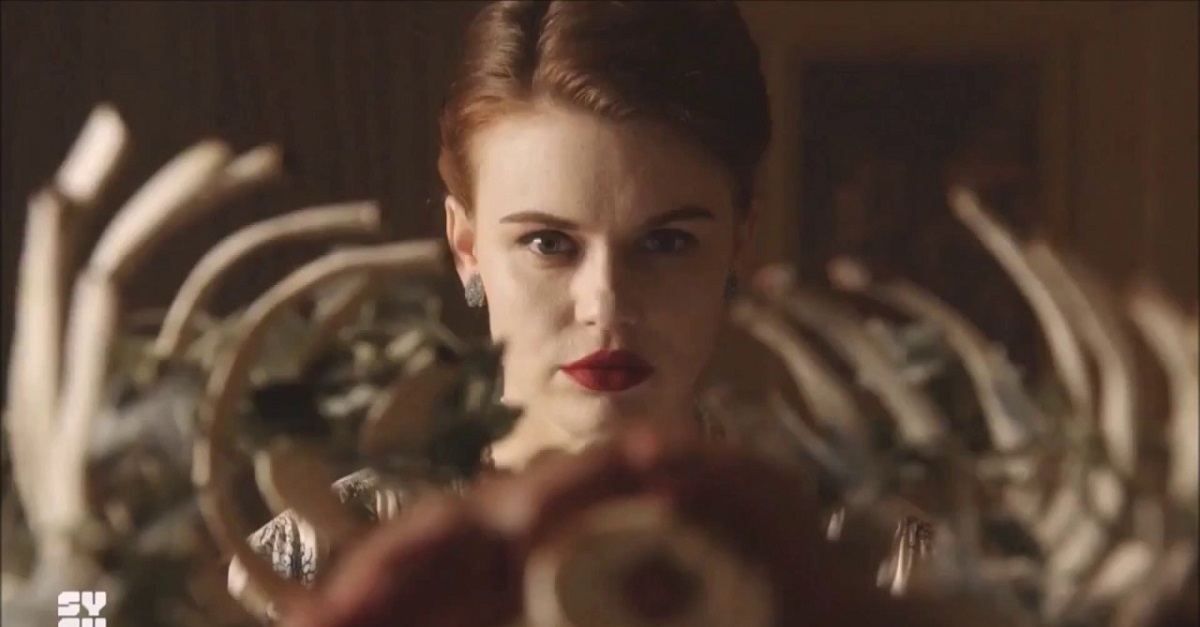 Channel Zero: Butcher's Block – Episode 1: "Insidious Onset"
Starring: Holland Roden, Olivia Luccardi, Krisha Fairchild, Linden Porco, and Rutger Hauer
Written by: Nick Antosca
Directed by: Arkasha Stevenson
Based on the story "Search and Rescue" by Kerry Hammond
Review by Justin Partridge
"I think there is something inside the wall."
The best horror anthology on TV is back! Now 100% M*x L*ndis free! Channel Zero returned to screens this last week with the first installment of its third season entitled Butcher's Block. Aa dreamy and skin-crawlingly entertaining bit of horror that continues the show's hot streak of thoughtfully atmospheric and character-based horror.
Centered around two sisters that move into a nameless new city looking for a better life. The girls are quickly pulled into an intricate web of murder and missing persons all seeming to stem from a dying section of the city called, you guessed it, Butcher's Block. The first two seasons traded on a simmering sense of dread, steadily building up to its biggest creep-outs and moments. "Insidious Onset" hits the ground running, giving the show its most ambitious and socially conscious installment to date. One that delivers more heaping helpings of the hazily directed scares that the show has made its name on. Let's dig right in, shall we?
Holland Roden and Olivia Luccardi play Zoe and Alice Woods, two sisters that have experienced some sort-of trauma-centered around their unbalanced mother. In order to escape said trauma, Zoe takes a job as a
family advocate in a dying city. She drags her in recovery sibling along for the ride. But after taking her first case, the mother and child she's assigned to go missing under hella creepy circumstances. Both women start to experience the urban legends that surround the city firsthand. Given a creepy, yet fathery personification by legendary character actor Rutger Hauer.
Like the rest of the plots of Channel Zero's seasons, on paper, it all sounds pretty run of the mill. Like the other seasons, writer and series creator Nick Antosca injects a real sense of dreamy dread into the proceedings. He intermixes the mundane and horrifying into even the most innocuous of situations. Things like a walk through a park and a midday drive through the streets of the city can seem eerie. He isn't giving or revealing much by way of plot. Aside from some teasing hints about the family that used to run the city's once-booming economy and a fleeting glimpse at this year's monsters. (Which are…truly haunting. Hannibal level insane, which makes sense seeing as how a lot of former Hannibal people make up the show's production staff.) The hook is still well and truly baited for those brave enough to keep looking.
"Insidious Onset" also boasts a real keen sense of direction and scene framing thanks to episode director Arkasha Stevenson, an accomplished director of horror shorts. (See Vessels, y'all. It will fuck you right up.) She really seems to understand Antosca's sensibilities. Adding a fully formed look and tone that the show hasn't had before, despite the previous season's strong direction. I feel as if having her directing the entire season will give Butcher's Block a consistent look and feel. This will prove to be a real boon to the season while still allowing Stevenson a major showcase of her talents.
Verdict: Watch It ASAFP. The previous seasons were great in their own right and provided all sorts of scares and chills rooted in character beats. However, Butcher's Block EP1 is the very essence of the show's vibe and intentions distilled down into one engaging and truly unsettling hour of television. If you have grown weary of American Horror Story's lip service to horror tropes and The Walking Dead's gun fetishism and relentlessly grim "twists" then Channel Zero: Butcher's Block is the smart, stylish, and, best of all, nightmare-inducing alternative for you.
Until next week, blood fiends. Be seeing you.