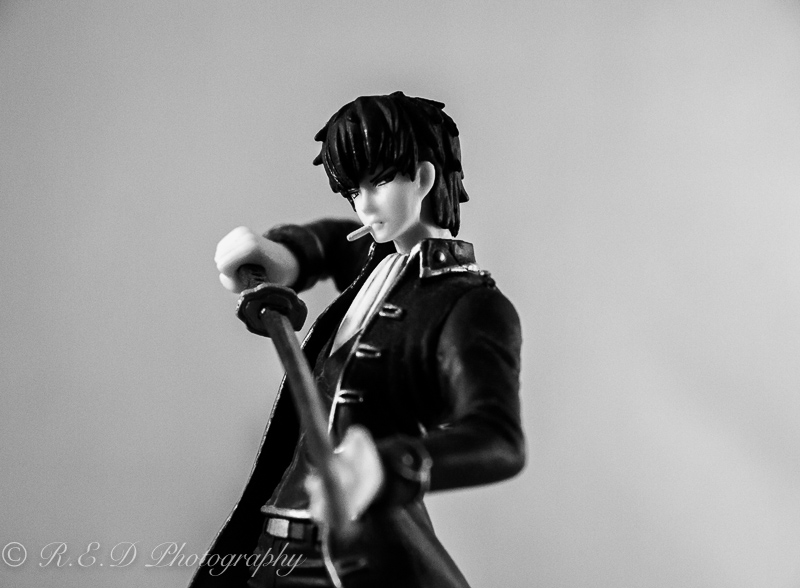 For this week's Toy Photography Thursday I will be bringing you part one of my two part article on a figurine collection which I still need to complete. The figures come from the series Gintama and thereare four to collect all together, with each one forming into a circle as if they're ready for battle. The characters included in this original Bandai product include Gintoki Sakata, Kagura, Okita Sougo, and Hikata Toshiro. This is definitely a unique product and a must-have for the avid Gintama fan. The figures I got from this set of four are Hijikata Toshiro (who I'll be discussing now) and Sougo Okita (who I'll be discussing next time).
Character Background
Hijikata Toushirou is the former Vice-Commander of the Shinsengumi. Introduced as the brains of the Shinsengumi, he is commonly known as the Demonic Vice-Commander, striking fear into his enemies and subordinates (with the exceptions of Kondou Isao and Okita Sougo). Hijikata is one of my favourite characters in the Gintama series due to his strong sense of pride and yet his willingness to help others.
I can safely say that this is isn't the best set of toy photography I have ever done. Unfortunately the lighting broke. Both of my studio lightings broke (hence why the portable studio itself was so cheap). I had one stand up torch which provided a lot of help, however the lighting is too strong and made the faces too bright and yellow rather than the porcelain white they actually have. It was nice to experiment with a black background as well with the depth of field.
I'm still finding that the background is coming off grey, which is starting to make me feel slightly frustrated. I decided to do some research on my little problem and it's all to do with underexposure (which of course I knew) and white balance. For my next Toy Photography Thursday session I will start experimenting with my white balance. I will also start using my flash and see what type of images I produce using it.
If you take images of the figurine in the right angles then you can capture the characters personality perfectly. Hijikata does have an air of superiority and he is the sort of character who would look down upon you in a threatening manner, and I believe I captured that perfectly.
Bandai Co., Ltd. is a Japanese toy maker and former video game company, as well as the producer of a large number of plastic model kits. It was the world's fourth-largest producer of toys (after Mattel, Hasbro and The LEGO Group). Some ex-Bandai group companies produce anime and tokusatsu programs. Its headquarters is located in Taitō,Tokyo.