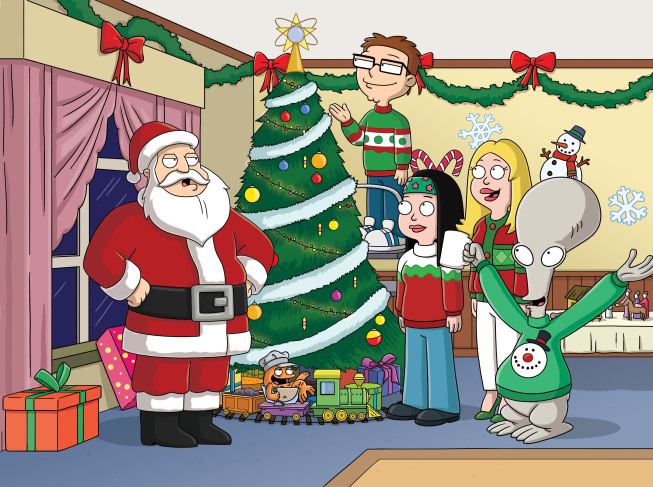 American Dad is an adult animated series from the minds of Seth Macfarlane, Mike Barker, and Matt Weitzmann. Even though it's such a popular show, I sometimes feel it's still slightly underrated. It's one of those cartoons where I do end up laughing out loud with tears rolling down my face!
The series focuses on the eccentric upper middle class Smith family in the community of Langley Falls, Virginia. The characters are CIA Agent Stan; his wife and homemaker Francine; their liberal, hippie daughter Hayley; and their dorky son Steve. In additional they also have other characters living with them including Hayley's boyfriend/husband Jeff Fischer; the family's goldfish Klaus, who has the mind of an East German athlete; and Roger, the alien, who is a master of disguise and the most hilarious character EVER created.
Of course just like all the adult animation shows, American Dad has it's fair share of Christmas episodes and they are well fast paced with plenty of action! With Bob's Burgers they can be quite warm and fuzzy, but with American Dad you will literally witness Armageddon as a Christmas episode. Here I have chosen my Top 5 American Dad Christmas Specials.
5. The Most Adequate Christmas Ever
Season 4, Episode 8
Plot: After Stan comes home from another dangerous mission, he finds that his family has decked the halls with boughs of holly and donned themselves with gay apparel, but just not to his satisfaction. He demands a grander Christmas starting with the search of a bigger and better tree in the forest. When his family has had enough, Stan powers on by himself, finds the perfect tree and meets an untimely end when it falls on him. Stan dies while trying to get the perfect Christmas tree. After he dies, he petitions for a second chance at life, which leads to a trial where he must prove that he deserves it.
Thoughts: A lot of the American Dad Christmas specials have religious undertones. This may not be the most exciting episode but it really enjoyable. It's the first time Stan ascends to Heaven and they keep getting better from here (he ascends to Heaven in quite a few episodes).
4. For Whom the Sleigh Bells Toll
Season 7, Episode 8
Plot: Stan continues to reject the idea that Jeff is now a member of the family despite Francine's suggestion that he be included in their family traditions. Despite Francine's objections, Stan gives Steve a gun for Christmas. Stan and Steve accidentally shoot and kill Santa Claus, but he is brought back to life by his elves and is hell-bent on getting revenge against the entire Smith family.
Thoughts: I love this evil Santa thing they have going on. They continue this in another Christmas episode which I will be mentioning later on. This is such a roller coaster ride! Roger is hilarious as the drunk hillbilly. Pretty kick ass episode!
3. Minstrel Krampus
Season 10, Episode 8
Plot: As the holidays approach, Steve becomes a brat and Stan takes him to see his grandfather to be scared straight. Grandpa Jack tells him the story of Krampus, who punishes the naughty children at Christmas but Steve refuses to buy into it, as Jack tells how he captured the Krampus and keeps it in a copper pot in the basement. Steve starts opening his gifts early and Stan tries to hide them in the basement. There, he is called by Krampus who talks him into being let out to punish Steve, but he kidnaps him instead and demands Jack so he can extract revenge. Stan tells his father what he did to Jack's horror as he promises to use his CIA connections to get him out. Instead, Jack takes off.
Thoughts: I'm not a big fan of musical numbers in cartoons anymore. They are the episodes I least enjoy but it's the complete opposite with American Dad. Their songs are always so bloody catchy. My favourite numbers in this episode is 'You Got the Rod' and 'We've Been Bad'. Charles Bradley provides the singing voice for Krampus and it perfectly fits with character. He belts out those notes!
2. Rapture's Delight
Season 6, Episode 9
Plot: As the Smith family go to Church on Christmas morning, Stan is frustrated dealing with those that are only religious on holidays. To relieve Stan's stress, Francine has sex with Stan in the janitor's closet as the world ends, leaving them and Roger on Earth as Hayley and Steve float up to heaven. Stan and Francine find out about what coming days will be like and ponder their fate. Stan finds out that Jesus will be appearing and tries to blame Francine for getting left behind. Francine becomes angry and leaves Stan, meeting the real Jesus in a diner. Stan finds out that his Jesus is fake, but when he tries to make up with Francine, she has decided to leave Stan for Jesus. Then, the seven years of Armageddon begins and Stan and Jesus need to work together to save Francine who has been kidnapped by the Anti-Christ.
Thoughts: I love, love, LOVE this episode so much! It's imaginative, creative, and it's weird to think that every episode after this will be taking place in Stan's personal Heaven. Stan's post-armageddon look is beast! Such a fun episode! I can easily watch it again and again!
1.Season's Beatings
Season 8, Episode 7
Plot: Stan hears of the church putting on the story of Christ at the mall and rushes to get the lead role, only to be told by Father Donovan that he is too fat. He is instead given the role of Santa Claus, but when he finds out Roger got the role of Christ he attacks and beats him senseless. Stan is excommunicated from the church, but he finds a way to get back in when he discovers that Haley and Jeff's newly adopted son is actually the Antichrist.
Thoughts: Okay, I'm in my element with this episode because The Omen is one of my favourite horror movies and they did it so much justice. It's laugh out loud hysterical. The scene when they both fall into Greg and Terry's house had me in stitches. The script is quick, sharp, and clever, even if the end is a bit corny. But Steve walking around as a possessed spider had me crying! Such a GOOD episode!