The Adventures of Auroraman #1
Writers: Jeff Burton, Dan Collins, A.P. Fuchs
Artists: Sharon Gauthier, A. Shay Hahn, Corbin Shauf, Justin Shauf, Jason Sylvestre, Elaine Will, Christopher Yao
Colourists: Donovan Yaciuk, Madelyn Yaciuk
Letterers: Jeff Burton, Taylor Esposito, Sharon Gauthier, A. Shay Hahn, Julian Salm, Rod Salm, Jason Sylvestre, Elaine Will, Donovan Yaciuk
Editor: Martin Boruta
Publisher: MiniJeff Productions
A review by Josh Rose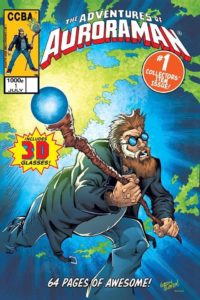 The protector of the prairies, the superpower of Saskatchewan, Auroraman makes his latest appearance in The Adventures of Auroraman #1. And it comes with 3D glasses! This 64 page issue contains 8 different short stories and follows Auroraman's different adventures around Saskatchewan, Canada.
Auroraman is high school teacher Jeff Burton, and is based off of writer Jeff Burton. When he takes his students on a field trip to go watch a meteor shower, a cosmic staff lands right where they were watching. And rather than take the staff to an intergalactic lost and found, Jeff Burton struggles to control the powers granted to him. From there we see him fighting zombie moose, killer snowmen, robot bugs, as well as meeting other heroes.
This isn't Auroraman's first appearance or his second. Jeff Burton has been releasing a series of mini-comics for a couple years now based on the hero. I'm not sure if some of these stories are continuations or reprints of those minis but the first parts of some of these stories were originally released in The Adventures of Auroraman #0. In addition to some great superhero action, Burton is developing a legacy of heroes in his books, one where Auroraman is not the first or only hero. By doing so it adds a richness to the overall narrative of Auroraman.
The best stories in The Adventures of Auroraman #1 are It Came From Dead Moose Lake by Burton and A. Shay Hahn; Bugs in the Park by Burton and Elaine Will; and The Adventures of Lil Auroraman and Friends by Dan Collins and Sharon Gauthier. It Came From Dead Moose Lake is about a zombie moose that attacks the town. I could always need more zombie moose in my life. Bugs in the Park is loaded with video game references and puns. And Lil Auroraman gets to meet other superheroes in training at summer camp.
I do enjoy how some of the stories are done in a style similar to that of an old comic book. The art in Heritage Moments: First Flight and Bugs in the Park in particular are reminiscent of that. They both have browned pages and a similar colouring style to aid in that aged look.
Comparatively, the rest of the stories have a more modern look about them. The story CBC Books.ca Presents is a cute one pager drawn by Justin Shauf and his son Corbin is about a boy's school project about who his hero is. Also the moose, drawn by A. Shay Hahn for It Came From Dead Moose Lake, is pretty creepy but I expected it to be scarier looking.
Lettering is one of those things that you don't really notice when it is done well and for the most part the lettering in The Adventures of Auroraman #1 is very well done. Burton lettered two different stories and while he is pretty new to lettering, some of his lettering for the sound effects seemed awkward. The style he used was somewhat comparable to Microsoft Word Art, and he would switch styles and colours within the same panel. Otherwise, I think Burton is on his way to being a fine letterer.
Verdict:
Check It Out! The Adventures of Auroraman #1 is a great introduction to the character and has a lot of great stories started. Unfortunately there are too many stories started and not enough completed. With eight different stories only begun this issue feels really busy, but they are a good start. I'll be sure to pick up more of these adventures if it means more zombie moose. Let's hope we can get some closure on some of these stories.