I'm a pretty big podcast fan. I work in an archive where I don't interact with a lot of other humans, so listening to podcasts helps pass the time and makes numbering thousands of folders fun. One of those podcasts is The Adventure Zone. It's funny, creative, and has done some incredible things with the system created by Dungeons and Dragons. It also, coincidentally, dropped me into a deep obsession with other "actual play tabletop gaming" podcasts.
Since we're beginning the finale of The Adventure Zone, I figured now was the time to highlight a couple similar podcasts that you should be listening to, too!
If you enjoy The Adventure Zone because of creative twists on traditional DnD campaigns, a flagrant disregard for the rules, and hilariously bad rolls, you'll love Dungeons and Lesbians. This is an "actual play" DnD podcast run entirely by lesbians (if you couldn't guess from the title). It's also so much more than that.
The cast features compelling characters such as: a tiefling desperado, a homebrew druidic named "Fish Girl", a vaporwave bard armed with Vicious Mockery and a mini moog, and the angriest half-elf you could ever find. The gang doesn't always get along and because of that, Dungeons and Lesbians highlights one of tabletop gaming's best qualities: that characters are people.
We get to learn about the fantasy world Dungeon Master MJ's created with the same wide-eyed, misguided enthusiasm of Fish Girl. When the squad encounters trials and tribulations, Railen is full of the same righteous fury as we are. And while, yeah, having a Drow who's main instrument is a launchpad is funny, the show gives its characters space to have dynamic relationships and complex interpersonal lives.
The opening of E07, "Slumber Party", uses the fantasy equivalent of iMessage to recap where the adventure has taken us. Other episodes have opened with Nephros the Degenerate writing home, or Railen writing to her father's ghost.
If you're LGBTQ and loved The Adventure Zone but found it just a little too bro-y, Dungeons and Lesbians is the podcast for you. Start listening here.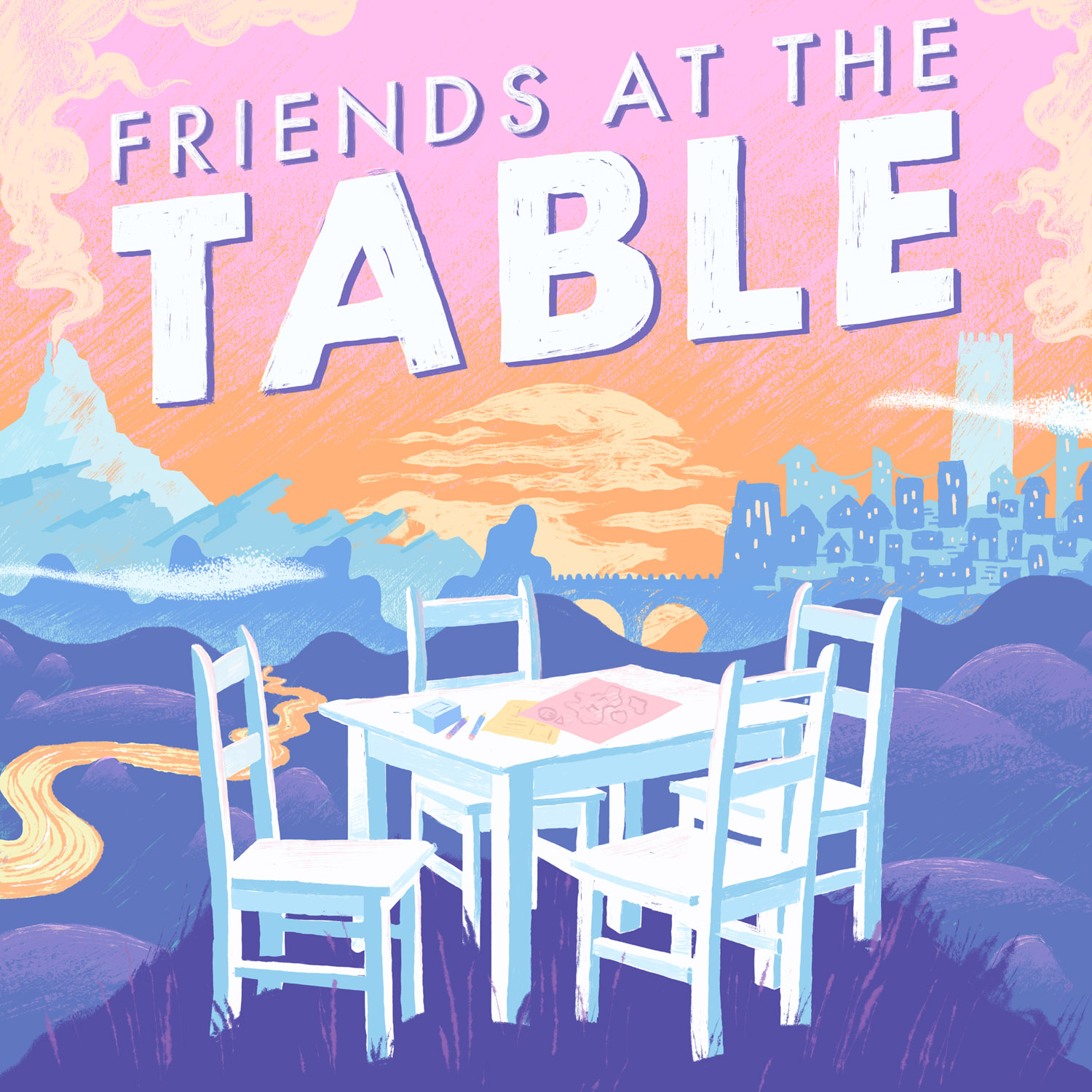 Friends at the Table is different than Dungeons and Lesbians or The Adventure Zone in a couple ways. Firstly, there are multiple games played across the seasons of Friends at the Table. Secondly, the game system is different, relying on games powered by the Apocalypse system.
What makes Friends at the Table so great really is the fact that the system they use allows the players to create lush, well-thought out worlds that are constantly expanding. They're quick to scrap things that don't work for the story they're trying to tell. They make the system work for them, instead of limit them. That is one of my favorite things about tabletop roleplay games – you get to make the rules! It's like modding a video game but without any of the work or computer-know-how!
The first season of Friends at the Table is a "post-post-apocalypse" fantasy setting that inverts and spins a lot of classic fantasy tropes in an incredibly unique way.
Friends at the Table offers more than just fantasy, however. Its second season "Counterweight" takes us into cyberpunk realities and uses a really cool gaming system called The Sprawl.
If you like collaborative storytelling and critical examination of tropes done by fiction, Friends at the Table is the podcast for you. There's a guide on how to start listening here.