My two favourite girls are back and I cannot wait to see what they've been up to!! This chapter of Tamen De Gushi is quite long and has been broken down to two parts; however, I will be recapping both of them here.
In the last chapter, Sun Jing invited Qui Tong to Qi Fang's birthday party which is being held on Saturday. Turns out Sun Jing made quite an impression on some of the girls in South High Secondary which has baffled Qui Tong. We're slowly seeing Qui Tong becoming more aware of Sun Jing's presence and how others view her. So what's going to happen in the next chapter? Let's find out…
Plot
The new chapter starts on saturday for Qi Fang's birthday. Sun Jing has just turned up and is already on the lookout for Qui Tong. Whilst they wait outside, she finally arrives and literally takes Sun Jing's breath away. Sun Jing cannot comprehend how beautiful Qui Fang looks and tells her so, however there is another young girl waiting for Sun Jing inside the party…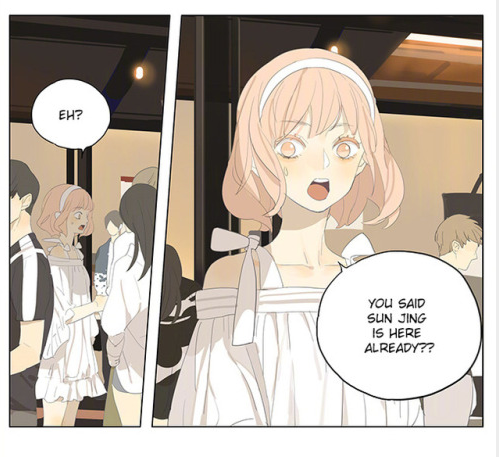 Opinion
DRAMMMAAA!!!! Okay, I'm 110% ready for the next few chapters! This is the first time in a while I've actually been excited to see what happens in Tamen De Gushi. Is there going to be a big fight?! Is Sun Jing going to let the little redhead down?! Will Qui Tong finally admit to her feelings?!? So many questions!!! Also I do hope that in the party we will see the relationship progressions between the other characters. I honestly don't mind if this arc goes on for 10 chapters! This is going to be 10 times more interesting than a basketball game.
I also have a sneaking suspicion that 'tattletale' will turn up. I also believe he will have a swanky makeover and everyone will be blown away!! I can't really tell what's going to happen between him and Qi Fang, but I cannot wait to fin out!!
You can read Tamen De Gushi here.