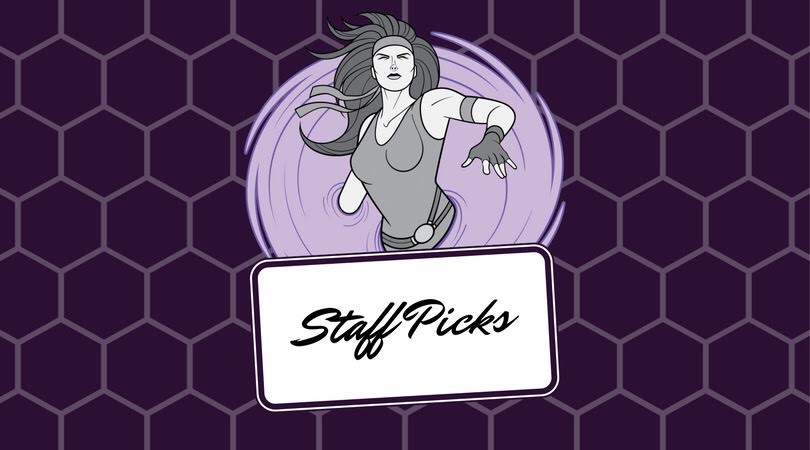 Happy Friday! It's time for the best part of the week: Staff Picks! We asked staff writers and editors to tell us about something that brought them joy this week. Before we dive into their recommendations, let's do a quick recap.
Interviews: Samantha had a long chat with writer/creator Kyle Starks about the upcoming release of Rock Candy Mountain Vol. 1. She also chatted with actress Jasmin Savoy Brown about her role as Emilia Bassano on Will. Check out bonus material from both interviews by subscribing to our Patreon! Plus, check out Anelise's interview with Hi-Fi Fight Club writer Carly Usdin!
News: Here's your Marvel round-up of the week! In case you missed it, Joss Whedon's wife published an essay outing him as a serial cheater — yikes.
Podcasts: Say hello to The Fordcast Podcast, the newest edition to the Rogues Portal pod-family! Not Enough Resources released its 14th episode. The Babes of Wonderland talked about Disney's animated Robin Hood. The Comics Agenda interviewed Zac Thompson and Lonnie Nadler. Comicsbound dove into WWE, DC's Metal event, and the Joss Whedon news.
Comics: Is Rainbow Rowell the right choice to write Runaways? Samantha had some thoughts on the question. Anelise reviewed the stellar first issue of Hi-Fi Fight Club! Hafsa gave us a look at Triskelion #1-5. Also check out Josh's review of War Mother #1, Stephanie's review of Grrl Scouts: Magic Socks #4, and Christoph's review of Generation Gone #2. Greg talks about a surprisingly deep Shirtless Bear-Fighter #3.
But wait! That's not all. Nico reviewed the highly-anticipated Clueless: Senior Year, Greg dove into Nightwing: New Order #1, and John reviewed the first issue in new crime series The Hard Place.
TV & Movies: Did you know we have a new TV column celebrating shows that were canceled before their time? Catch up on pieces about Veronica Mars, The Hour, and Pushing Daisies. Ryan gave us his thoughts on Netflix's Defenders — have you watched it yet? And Cameron gave us more insight to the premiere of the DuckTales reboot. Samantha recapped and reviewed Will S01E08 and she and Shanicka trudged through some pretty exposition-heavy Shadowhunters episodes. Michael gave us his review of The Commune and Bee recapped My Hero Academia S02E20.
Video Games: Matthew gave us his first impressions of Uncharted: The Lost Legacy. What did you think? He gave his full review here. Thor reviewed Sonic Mania. Andrew gave us a look at the new mobile game Laser Kitty Pow Pow. Plus, Amelia reviewed the mobile Emoji Game.
Other Stuff: Shanicka confessed to her crush on Jacob Black from the Twilight series and it's a genuinely funny journey. Check it out!
Oh, yeah. Now let's see those August 25th Staff Picks!
---
Greg's Pick of the Week: Guardians of the Galaxy Vol. 2. Obviously this movie doesn't need my recommendation, but that doesn't mean it doesn't deserve it. In a world where superhero movies depend on big explosions and special effects, Guardians of the Galaxy Vol. 2 moves the needle a bit. Sure, they do have plenty of the previously mentioned explosions and effects, but the movie has heart also.
When Guardians is boiled down to the most basic premise, it is a movie about family. What it does so well is that it reminds us that family isn't just about the people we share blood with, but it's the people that you lean on when in trouble, laugh with, cry with, celebrate with. It's something that is missing in many other comic book-based movies, but it is something that Guardians does really well.
---
Hafsa's Pick of the Week: Madiba. This TV show by BET is the story of Nelson Mandela. It is one of the most compelling portrayals of one of the leaders of change and the destroyers of Apartheid in South Africa. The beauty of the show is that it delves into the heat of apartheid and shows the Indians' and white South Africans' points of views as well as the predominantly Black communities' differing views on both the conflict and the resolution.
Madiba addresses the hardships of fighting a system that is divisive from the ground up. The problem with a fight against the system is that there are many consequences with some being extremely violent. The ones that Mandela and his cohorts faced were easy compared to many people around the world. Still, Madiba shows systemic racism and how brutal the fight against it can become. Humanity has the potential to be unexplainably cruel and the show only presents a taste of the brutality we are capable of! So, I highly recommend this show.
---
Heather's Pick of the Week: Hear ye, hear ye! I bring to thee my staff recommendation for the week! Do thyself a favor and go listen to the latest Missfits podcast!
…Okay, I'm just kidding. I have no actual clue how many Old Englishes I just minced together to form my poorly-executed imitation. On a serious note, I am recommending a podcast to you this week, and while The Missfits is a delightful conversation with a bunch of quirky gals (shameless plug), I implore you all to check out Lore.
Launched in 2015 and hosted by Aaron Mahnke, Lore recounts real-life scary stories in short, easy to digest soundbytes. Aaron's soothing, almost haunting voice has a strange way of pulling you into the podcast while you listen, making it seem that you are right there next to him as you both watch a New England man smash his wife in the head with a hammer and then conceal her body beneath the carpet in their living room (that's a real thing, look it up).
Recently, I had the pleasure of attending Lore live at the historic Thalia Hall in Chicago. It was dark, and the hall was illuminated only by the warm flicker of candles on the wall. Not ten minutes into Aaron reading the first story aloud, I was immersed in his world. Lore live is still touring, I believe — and it is well worth the price of admission. If you can't make it out, take a listen to the podcast. With spooky season right around the corner, Lore is a great way to spend 20 minutes during a commute or just laying in bed wondering whether or not that shadow in the far corner of your room just moved.
---
Samantha's Pick of the Week: My pick this week is the Apocalypse World-based tabletop roleplay game Night Witches. My partner, some friends and I recently did a preliminary Google Hangout to discuss our upcoming play of the game and though we haven't followed up yet, I'm really excited to dive into this world. Night Witches is based on the Soviet, all-women night bomber regiment in World War II. From the game description: "These 200 women and girls, flying outdated biplanes from open fields near the front lines, attacked the invading German forces every night for 1,100 consecutive nights. When they ran out of bombs they dropped railroad ties." It's going to be so much fun. I haven't even played yet and I already think it's something that everyone should check out!
---
Want to tell us what you're loving this week? Sound off in the comments or let us know on Twitter and Facebook! Your responses might be featured on our social networks! Have a great weekend, everyone!