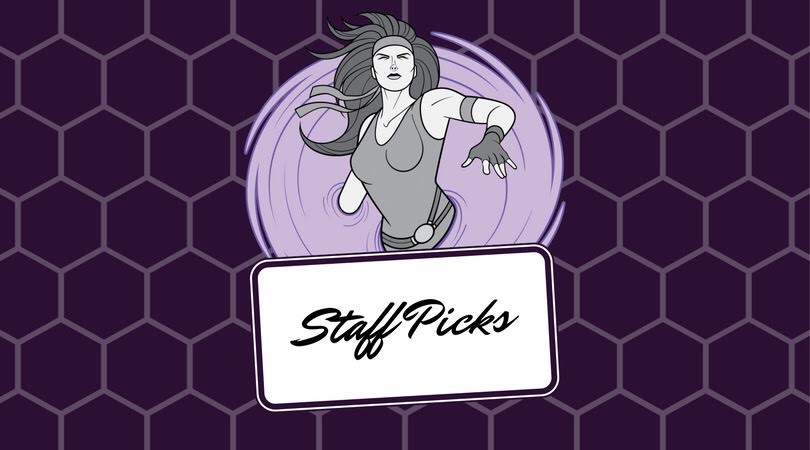 After taking a week off last week, the staff picks are back. We have a variety of suggestions including books, comics, and television.
Hafsa's Pick
Instinct (2018)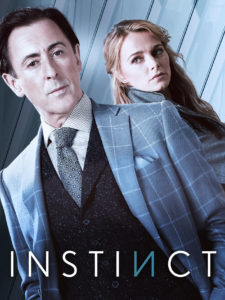 Imagine a TV show that is a cross of Bones and Castle, but is still original and fun to watch… well, that is exactly how I would describe Instinct with Alan Cumming and Bojana Novakovic. The story follows a professor in behaviour psychology and a detective. With two white protagonists and a familiar basic plot, you'd think it would be boring. However, there is diversity on so many levels, like women in powerful positions, visible lgbtqai+ characters, and amazingly different villains. I also love the intersection of abnormal psychology and the cases! Go watch it!
Cory's Pick
God Country
Don Cates is providing a fresh, unique voice to Marvel Comics. From his short stint on Doctor Strange, where he made Loki the Sorcerer Supreme, to his Thanos run, where he introduced us to the Cosmic Ghost Rider, to his runaway hit Venom that made this non-believer into a Venom fan. And the hits keep on coming with this week's releases of Death of the Inhumans and Cosmic Ghost Rider in his own mini-series.
But, before reaching the spotlight, he did some indie titles. One of which, God Country, I had heard a lot about. Long story short, I have a new entry in my list of all-time favorite books. God Country is filled with intense action, deep mythology and heart — lots and lots of heart. Like, the kind that makes you go through a couple boxes of tissues. At the heart of this epic fantasy yarn is a story about family relationships, loss, and the importance of memories.
Now, I know I'm gushing about Cates, but I have to mention Geoff Shaw, his art collaborator on God Country, as well as Thanos. His art is just mesmerizing. His skies alone were breathtaking. Seriously, I just stared at the different sunrises and sunsets. He also does an amazing job at infusing his work with great energy and emotion. There is a two-page scene, in particular, that blew me away. I won't spoil anything, but suffice it to say, it was the emotional apex of the entire story. If you haven't already done so, go out and get a copy. You'll be glad you did.
Anelise's Pick
Damned
When my husband and I go on road trips, we like to listen to audiobooks. And, if I can manage to stay awake for the whole book (when I'm not driving, of course, hehe), then that's a book worth talking about. One of the ones we listened to on our 30+ hour trek back home was Damned (2011) by Chuck Palahniuk. It's about a 13-year-old girl who dies, ends up in hell, and has no idea how she died or why she ended up in hell. So what follows is a narrative that alternates between past Madison reflecting on her memories and present Madison navigating her new home. And, to my surprise, learning about Madison's past (especially her relationship with her family) was just as entertaining as her meeting various figures and deities down below. Palahniuk has a gift for writing darkly humorous, twisted, thoughtful stories, and Damned definitely delivers on that front.
Michael's Pick
Star Trek: Discovery
I'm going to say up front that I was conflicted about recommending this, and I'll tell you why before I get into why I'm ultimately saying you should check it out.
I admittedly got sucked into Star Trek after seeing the first J.J. Abrams film, but it didn't take me long to realize that the storytelling quality of the classic Trek episodes carried a lot more depth than the lens flare-heavy Abrams interpretation. I was a little hesitant to start Discovery because I was suspicious that another modern Trek would be heavy on the action and effects and light on the philosophical and moral debates, and I was somewhat right. The first two episodes and the last episode were definitely the weakest entries in this maiden season for Discovery, but what happened in the middle is why I'm saying you should give it a try.
Early Trek shows have given us a very squeaky clean view of Starfleet. It seems that everyone, to a man, has the prime directive and the noble intentions of every exploratory crew and every station as their motivation. In Discovery, we get a much more complicated and dare I say flawed view of Starfleet, and I found that frank honesty refreshing. Every major entity, whether it's military or government or corporate, has at least a dark underbelly that no one wants to talk about. And we certainly see that coming out in Discovery. That is the primary reason I will recommend this.
Old Trek fans will find a lot of heavy nods to classic characters and episodes. New Trek fans might find this series to be a friendly gateway to get them into the classic stories. The character development in this series is Trek-worthy. It's a lot darker, similar to the tail end of Deep Space 9, which was one of my favorite series.
In order to watch it, you'll need CBS All Access, but it's easy to sign up for a week long trial, binge it, and then cancel your subscription before being charged.