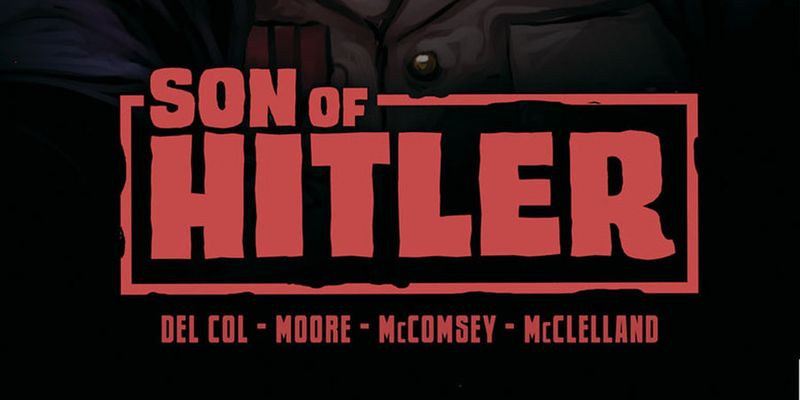 Son of Hitler HC
Writers: Anthony del Col, Geoff Moore
Artist: Jeff McComsey
Letterer: Jeff McClelland
Publisher: Image
Review by Josh Rose
World War II has been a virtual mine for stories since it began. Films, novels, and especially comics have capitalized on the last great war–Captain America, Johnny Canuck, Devil's Brigade, and Dunkirk just to name a few. These stories set during the war used to be more popular to the point that it's hard to believe there's any stories left to tell. Son of Hitler finds the one thread that hasn't been pulled until now. Cora Brown is an agent for the Special Operations Executive who has an obsession with getting close to Hitler and ending the war. Her superiors don't believe its possible. Then she hears rumours about a man who could be his son.
This is a spy story as much as it is a war story. There are secret messages, deception, information drops, interrogations and other means of intelligence gathering. Everything happens against the backdrop of the war, with Hitler being the ultimate target.
I'm actually very surprised at how well it fits into what actually happened during World War II. Anthony del Col and Geoff Moore have a way of drawing you into the story and making you forget the history. Then something happens that doesn't go the way the characters' want, which lines up perfectly with history.
Jeff McComsey has a different colour palette for each act, but they all remind me of old black and white films or photographs that would've been around during that time period. The changes in the palettes between acts and scenes do a great job of keeping the reader focused. McComesey also uses whites to attract the reader's eye around the page instead of black inks. His style is slightly cartoonish, and his characters are fairly simple. Sometimes their anatomy seems off. However, I find his facial close ups to be highly detailed and full of emotion.
The Verdict: Buy it.
Son of Hitler is a solid World War II story and a great spy narrative featuring one smart female agent, one brash, angry young man, and comics' first super-villain. I highly recommend this to history and conspiracy buffs.
In stores Wednesday, June 20, 2018.