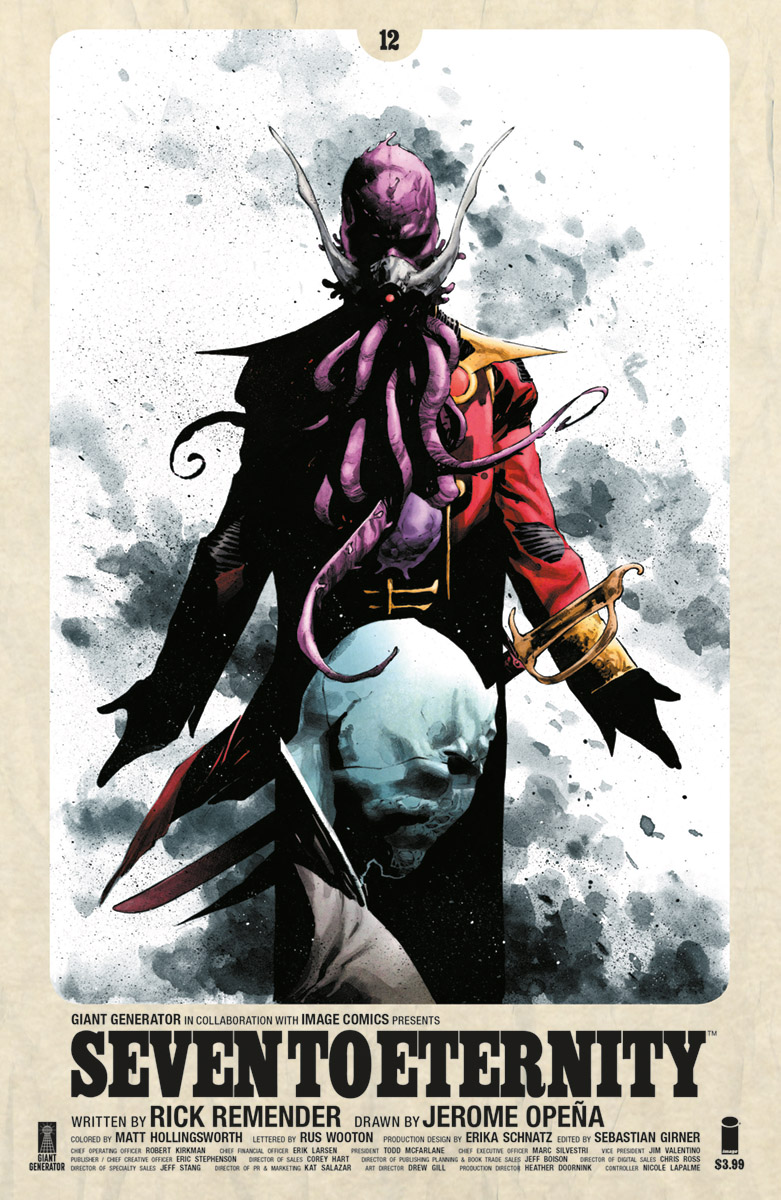 Seven to Eternity #12
Writer: Rick Remender
Artist: Jerome Opeña
Colorist: Matt Hollingsworth
Publisher: Image Comics
Review by Jim Allegro
When Rick Remender is on his game, he adeptly exploits the conventions of science fiction and fantasy to entertain and to teach us something interesting about ourselves. His best work deploys young assassins, inter-dimensional travel, and other devices to touch us with fun and poignant stories about loyalty, loss, and relationships. But, on the rare occasion when Remender is off his game, he muddles these themes with ornate storytelling and indulgent pontificating. In other words, he loses sight of the point. The latest issue of Seven to Eternity confirms what has been creeping into evidence since the second arc: the popular fantasy series from Image Comics has been trending away from Remender's best work.
What began as a coming-of-age-story about a young man trying to honor his dead father has turned into a confusing road comic about the blurry line between right and wrong. In retrospect, the narrative shift that led Adam Osidis to set out with the Mud King on a journey to save his life and family may have been a mistake. Remender wants to show Adam's quest in a more complicated light by forcing him to make unpalatable decisions to protect what he cares most about. The problem is that he dwells too long on this point — through an expanding array of characters, ambivalent situations, and lengthy narrations about responsibility that wind up distracting from the story. In this issue alone, Adam is forced into two difficult situations that involve himself, the Mud King, the Mud King's bastard son Garlis (who holds Adam and the Mud King captive), and an invading army led by the Mud King's son against Garlis.
Likely, Remender drags out this quest in part to deepen our understanding of the setting in which the drama takes place. World-building is a laudable pursuit of this fantasy comic, and this issue is filled with new information about Garlis's relationship to his father and his wife, the kingdom over which he presides, and even a little bit about the political economy of the realm. But the details soon get lost, as the story abruptly turns to an invasion that pits half-brothers against one another while hinting that Adam must (again!) side with the Mud King for his own selfish reasons. We get it Rick Remender: the line between hero and villain is not as clear cut as it first appears. Can we please move on now?
Remender's commitment to world building does have an advantage. It is suited to Jerome Opeña's skills as an artist. So much has been said about the lavish backdrops and imaginative character sketches that I will not try to add anything more here, other than to say that the standoff at this issue's end reminds us that Opeña can render action and motion as well as he can render setting and character. But I'm getting to the point that the art is the only worthy thing about this book. More than once with this issue, I had to force myself to focus on the dialogue in each panel rather than simply gazing at the beautiful artwork.
Verdict: Skip it.
It is hard to stop a comic book in mid-arc, especially one that started so strong, so I won't blame you if you read to the end of the third installment, but, for me, Seven to Eternity #12 is a PASS.