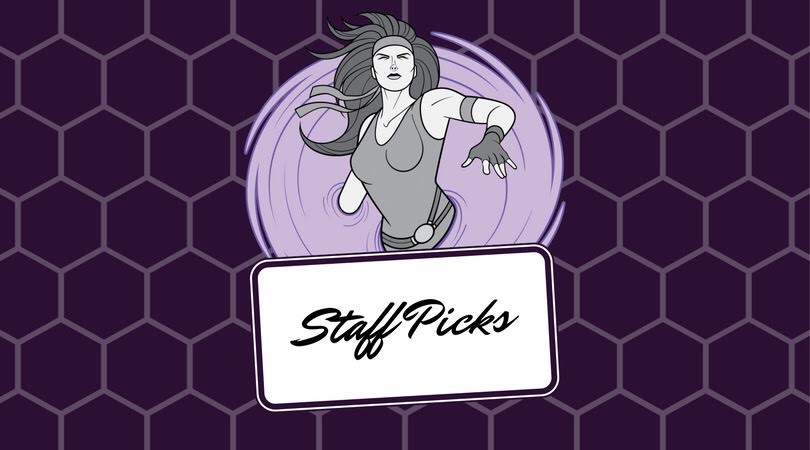 After taking a week off we are coming back at you with with our staff picks. Before we get to the staff pick, let's take a few minutes to show you what you might have missed. First off, Anelise Farris gave us two advanced reviews of Death Orb and Fearscape .
Then Insha Fitzpatrick reviewed the first episode of Kidding, which marks Jim Carrey's return to a series. And, Mia Santos gives us her opinion about Colette.
And of course on Wednesday we brought you a day full of New Comic Book Day reviews. Be sure to check all of them out. But that is not what you are here for. You want the staff picks. So without further delay, the Picks of the Week.
Hafsa's Pick
Netflix's Explained
This show is a weekly short (25mins) documentary about different topics. Each episode is both very detailed and very broad. It explains all the different aspects of one topic with nuances. Obviously, the episodes aren't dissertations or elaborate explanations; they are just 25 mins. They reminded me of tweets. A small piece of information that can clarify a mysterious topic as well as present an argument without confusing the viewers. I highly recommend watching it with your family as a light but educational show. Weekly, you get a new topic and new experiences. It's fun and engaging. Go watch how they use videography. The visuals alone is worth the time spent on each episode! Hope you enjoy it!
Molly's Picks
Atypical
Being on the autism spectrum, I was suspicious about this show. Autistic characters in fiction are often one-dimensional or one tired stereotype after another. While Sam on Atypical is stereotypical in some ways, the show continues to impress me. I do have my criticisms, but it resonates with me in a way that no fictional depictions of autism have before. Elsa and Doug, for better or worse, remind me a lot of my parents. I see myself– and my sister, also on the spectrum– in Sam, although I relate a lot more to his high-strung, overachieving girlfriend Paige. (On that note, the fact that an autistic character says the word "handjob" out loud in the season one finale was a delightful surprise since autistic characters, even adults, are often infantilized and desexualized.) Season two is on Netflix now, and I binged it in one sitting. If you're on the spectrum too and hesitant, give it a chance– I hope it's a sign of more positive things to come when it comes to autistic characters in fiction.
"Sor Juana: Or, the persistence of pop" by Ilan Stavans
I picked up this tiny little book at a gay bookstore in Tucson, AZ because I had read Sor Juana Inez De la Cruz's letters in my college Spanish classes. I ended up learning a LOT, both about Sor Juana herself and about her legacy in Mexico and South America. She is a well-read and brilliant nun who broke all kinds of rules and pissed off the church, and I loved reading about how she's remembered and honored today.
Josh's Pick
Counterpart
I've been binging the show Counterpart this week. Counterpart is a sci-fi series starring J.K. Simmons as a Howard Silk, a lowly agent who doesn't even know what his agency does. Until his counterpart, a high ranking agent also played by Simmons, from an alternate earth comes to visit and stop an assassination attempt by someone from his world.
It's a high concept of What-ifs and could've-beens. Everyone wonders what would have happened if something went just a little bit differently. Howard Silk actually gets to see what could've happened if he got the promotions he wanted, and maybe he might be happy with the way things have gone for him instead.
Christoph's Pick
The Fosters
My pick this week is a TV show I recently discovered, searching for new LGBTQ+ themed material. I ended up watching The Fosters. The show focuses on the family of Lena Adams and Stef Foster. We meet the long-time couple when they are in the middle of their lives. Both are balancing their career and family very well. Lena works as a Vice Principal in a school. Stef as a police officer. They have three kids: Brandon (Stef's biological son), and the siblings Jesus and Mariana. Lena and Stef adopted both of them when they were little. New members of the family are Callie and Jude–also siblings. Hopefully, this is their last stop, because they went through very rough houses and deserve to be just children now. But as you might have guessed, that is easier said than done.
The Fosters quickly became one of my favorite TV shows. A diverse cast of characters, unpredictable twists, and real-life problems that cannot always be solved in a 40+ minute episode are just three of the many excellent aspects of the show. I watched about 30 episodes so far and went through all the emotions. Which says a great deal about the capabilities of the creative team involved. The writing is almost always on point, the actresses and actors deliver the emotional states of their characters perfectly, and even some cheesy scenes remain convincing.
If you want to watch a TV show with a heart and a soul, you do not want to miss out on The Fosters.