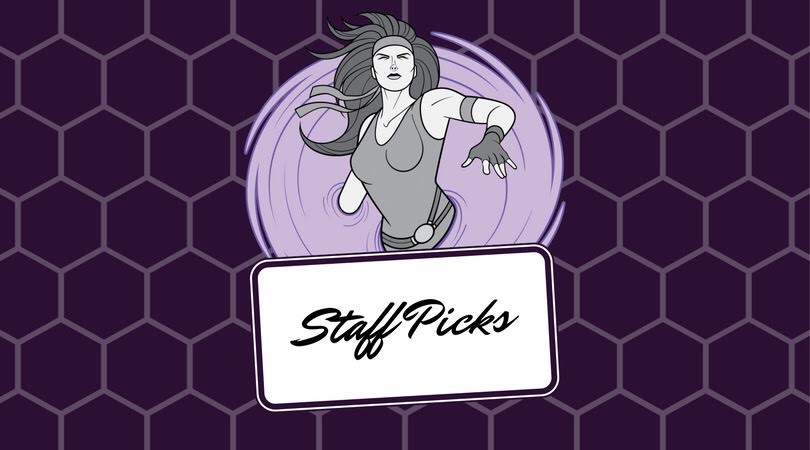 Another week, another batch of staff picks coming at you.
Michael's Pick
The Expanse
What started as a d20 Modern game quickly became a sprawling sci-fi epic that crosses the boundaries of genre in the way that the new Battlestar Galactica series did so well. Books are still being written, and the SyFy channel hosted the first three seasons of a TV show that are making a move to Amazon Prime for the foreseeable future.
Great sci-fi is able to make social commentary on us now in a futuristic or alternative setting, and The Expanse excels at doing this. When an alien protomolecule threatens humanity, you would think that Earth, Mars, and the Belters would be able to put aside their differences and work together. But, as is often the case, external threats only compound the war and political drama, which makes it harder for those who want to do the right thing to succeed.
Enter the crew of the Rocinante, a "borrowed" Martian vessel. James Holden, Naomi Nagata, Amos Burton, and Alex Kamal have to navigate this galaxy and others in order to get to the real cause of all the threats but are often hamstrung by humans fighting each other.
The world building is astounding, the character development and complexities are mesmerizing, and the story is like none other. Whether you choose the books, the TV series, or both, you will not regret entering The Expanse.
Anelise's Pick
Mary Kills People (2017-present)
A two-season Canadian drama on Hulu right now. Each season is only six episodes, so it's highly bingeable. It follows Mary, a doctor, and her partner, a fired plastic surgeon with a connection to a drug dealer. Together they offer physician-assisted suicide services, under the table, for 10gs. Each episode features a unique situation with a dying person/persons. We also get insight into the central's characters everyday life. All in all, it's a really intriguing narrative, but even more than that, it raises some important, compelling questions about euthanasia and end-of-life care.
Christoph's Pick
Hannah Gadsby's: Nanette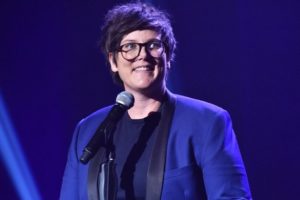 Over the last months, I watched a lot of the Netflix stand-up specials. It is great that newcomers and pros alike get the same chance to reach a broad audience. Most of the specials are even very good. Every great comedian seems to have found their niche in this world of jokes and punchlines. They use different kinds of humor, various approaches to tell their story and hook you up right from the beginning.
Unfortunately, most of them don't stay with you – or at least they do not for me. I laugh at the jokes. I have the best time, and I can't wait to see the next one of their specials, but the lasting effect is not existent. Can you tell me even one joke from one of the last few specials you saw? I honestly could not.
Two stand-up comedians did have this lasting effect on me, though. The first one is Bo Burnham. His show is very different from what you expect out of a comedy show. He, sometimes, takes it to a meta-level. He makes you think about the things you just heard or saw.
The same is true for Hannah Gadsby. And their approaches might be similar, but Gadsby is more radical, more personal and more shocking than Burnham could ever be. The honesty, vibrating off the stage, even if you are watching the special on Netflix is incredible. I would have loved to be in the audience that night so that I can feel the raw tension even more intensely.
That is what Hannah Gadsby's special is all about: tension. She has punchlines and jokes and stories, but at the core, it is all about tension. It stays with you, haunts you, and never let's go. I watched the special three times by now and tear up every damn time. Watch Nanette. You owe it to yourself and to Hannah Gadsby to hear her story.
Jameson's Pick
I have one thing and one thing only to say this week: #CloneWarsSaved!!! If you haven't heard the news, the Clone Wars 10th Anniversary panel at SDCC yesterday also delivered a big and exciting surprise: that Clone Wars will be returning for a final 12 episode arc! Clone Wars is one of my favorite shows of all time. The fact that it never got a proper ending was tragic, particularly since the later seasons just kept getting better and better. Do yourself a favor and watch the trailer. It features all of my favorite Clone Wars characters, from Anakin and Obi-Wan to Ashoka Tano to my favorite clone troopers, Rex, Cody, and Fives. I am beyond excited about this news. I'll definitely be keeping my eyes peeled for more information about it, including a release date (although it's expected to be sometime in 2019)!