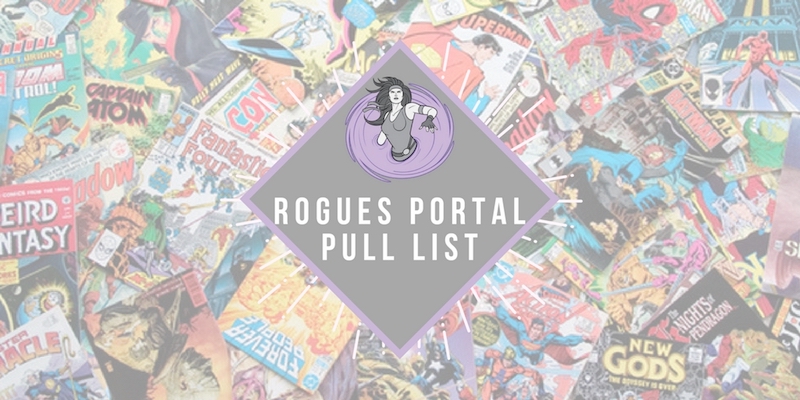 It's Wednesday, my dudes, and that means it's New Comic Book Day! There are tons of new comics hitting the shelves of your local comic shops every week, and it's not always easy deciding what to get, let alone what you should add to your pull boxes. So we've put together the Rogues Portal Pull List to show you the best comics that you might have missed! Here's what we're getting and what you should check out today!
---
Rogues' Essentials
Come Into Me #4
Grotesque, weird, interesting, and superb artwork. Come Into Me is all of the above and more. I am one issue behind, but with #4 coming out this week there's no excuse not to catch up. Read this series. – Christoph
This series has been delightfully weird and interesting. I cannot wait to see how the thing wraps up. – Greg
Heroes In Crisis #3
So far I loved everything about Heroes in Crisis. The mystery and intrigue, not just about the sanctuary itself, but also about the conflict between the Trinity. How far would Batman go to always have the upper hand? – Christoph
With Vision and Mister Miracle, King has shown he can write stories with long and layered plots. Heroes In Crisis is already laying out some interesting ideas. I cannot wait to see whats next. – Greg
Tom King's writing always has me coming back for rereads in case I missed something. He always brings some very real emotion to his writing. And Clay Mann on the art is just *muah*. – Josh
---
Christoph's Pick
Fantastic Four #4
FF is a Dan Slott run I do not want to fall behind on. Last issue he reunited Marvel's first family with a big and surprisingly fast conclusion to the first arc. Can they safely return to Earth now and catch up?
---
Greg's Pick
Uncanny X-Men #3
Another week and another volume in the relaunch of the flagship X-Men series.
---
Josh's Pick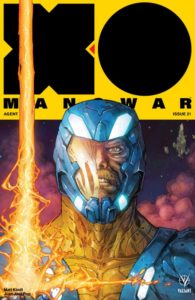 X-O Manowar #21
Aric of Dacia and the X-O Manowar armour have never faced anything like the Brothers of the Bomb. The most powerful weapon in the universe is nothing against them. I'm excited to see Kindt bring in elements from his Eternity run.
---
Stacy's Picks
Faith Dreamside #3
You could use more joy in your life. Buy Faith.
Hellboy and the B.P.R.D. 1956 #1
Like your Hellboy firmly in the "Paranormal Investigator" mold? Hellboy and the B.P.R.D. is the comic for you.

Injustice Vs The Masters Of The Universe #5
If you guys aren't reading this, you're missing out on some glorious insanity.
---
Graphic Novels
Amazing Spider-Man By Nick Spencer Volume 1 Back To Basics TP
I got so far behind with Dan Slott's Spider-Man run; now I have the chance to stay up to date with this one. Can't wait to get my hands on this first volume. – Christoph
Doctor Who Combat Magicks HC
The first prose novel featuring the Thirteenth Doctor? I'm in! – Stacy
Realm Volume 2 TP
I always need more high fantasy set in the real world. – Josh
Robocop Citizens Arrest TP
Robocop comics from Boom! Studios have been consistently great, and I can't wait to get this arc collected into a single trade. – Stacy
---
That's all we have for this week! Thanks for checking out the Rogues Portal Pull List! We'll be back next week with a brand new list for you to check out. Same Bat-Time. Same Bat-Channel!