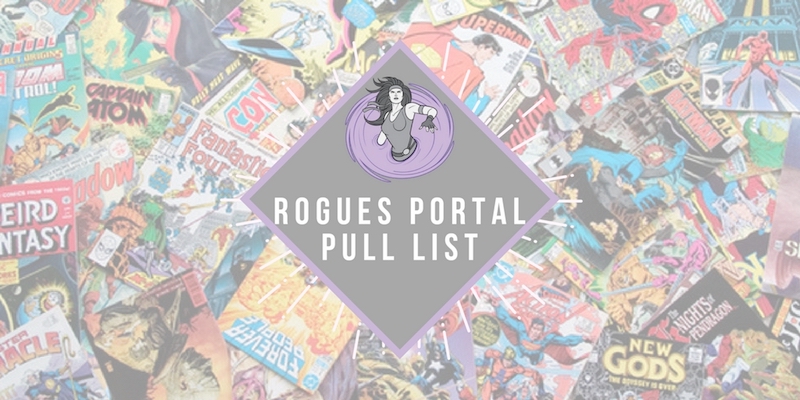 It's Wednesday my dudes, and that means it's New Comic Book Day! There are tons of new comics hitting the shelves of your local comic shops every week, and it's not always easy deciding what to get, let alone what you should add to your pull boxes. So we've put together the Rogues Portal Pull List to show you the best comics that you might have missed! Here's what we're getting and what you should check out today!
---
Rogues' Essentials
Batman The Maxx Arkham Dreams #1
Kieth's original Maxx series was thought provoking. Now we find a cross over with the world's greatest detective… I cannot wait to see where this goes. – Greg
Psychological journeys through the twisted minds of Batman's greatest foes…sign me up. – Micheal
James Bond Origin #2
Loved the look and feel of the debut issue of this mini-series. I'm in on this until the end. – Cory
James Bond. Origin story. I'm so for this! – Josh
X-Men Black Magneto #1
The beginning of a renewed X-Men revolution at Marvel begins here. – Cory
Honestly I'm pumped for the Apocalypse stories at the end of each X-Men Black. – Michael
---
Christoph's Picks
Batman #56
The cliffhanger of the last issue broke my heart. Tom King, what are you doing to me?!!!
Giant Days #43
Giant Days is always a win!
Justice League #9
All the Justice League issues that are coming out currently work very well together. They build on everything the creators established so far and take it even further. Great stuff!
War Bears #2
The first issue of War Bears was one of the biggest surprises last month. Great storytelling, stunning artwork, and engaging characters. Read it!
---
Cory's Picks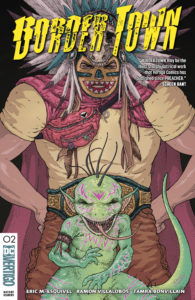 Border Town #2
This book was a surprisingly good debut. The mix of Mexican folklore set on a backdrop of a border town in 2018 is a great combo.
Lone Ranger Volume 3 #1
Mark Russell's name on a new book warrants a look. The way he even-handedly intertwines poignant social commentary with ease is a blessing to the comics medium.
Rainbow Brite #1
Rainbow Brite has no mythology, no origin story, and Jeremy Whitley has been given the keys, so buckle up and enjoy the ride.
---
Frank's Picks
Barbarella #10
I'm pretty bummed this series is coming to an end soon, so I'll soak it up while I can. Great stuff from Mike Carey as usual!
Spookhouse 2 #1
More creepy goodness from Eric Powell! This is the perfect book for the Halloween season.
---
Greg's Pick
What If? X-Men #1
I'm always a sucker for What If? stories and this Magik-centered tale looks to be right up my alley.
---
Josh's Pick
Wonder Woman And Justice League Dark Witching Hour #1
Wonder Woman event for Halloween!! They can take my money and my firstborn child.
---
Michael's Picks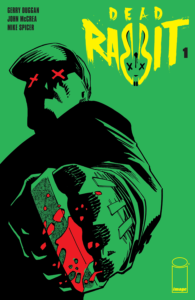 Dead Rabbit #1
A modern Robin Hood-ish anti-hero written by Gerry Duggan. That has me sold.
Dreaming #2
Now that we are fully established in The Dreaming spinoff, it will be exciting to see the creative team work in a continuing storyline rather than the introductory issues we had with the Sandman Universe and Dreaming #1.
House Amok #2
Disturbing but weirdly relatable family hijinx ruled the first issue. It will be fun to see the "should I stay or should I go" tension increase over this series.
---
Stacy's Picks
Infinity Wars Sleepwalker #1
As a comics reader from the '90s it is my duty to seek out anything related to Sleepwalker and read it. Can't wait to get my mitts on this one!
Star Wars Adventures Tales From Vader's Castle #1
A Star Wars horror anthology? Sign me up!
Umbrella Academy Hotel Oblivion #1
The Umbrella Academy is back! I'm stoked for this one, and I hope it'll tide me over until Young Animal returns (fingers crossed).
---
Graphic Novels
Analog Volume 1 TP
I missed the first couple issues. Looking to catch up on this. – Josh
Complete Angel Catbird TP
I've been curious to check out Margaret Atwood's foray into the world of comics. With the entire epic in one volume, I'm adding this to my to-read pile. – Stacy
Dead Hand Volume 1 Cold War Relics TP
So far I have only heard good things about Dead Hand. Finally, the first volume comes out this week so that I can catch up. – Christoph
Rough Riders Volume 3 Ride Or Die TP
Rough Riders is a seriously fun comic book. If you like a nice mix of steampunk and thrilling heroics, this book's for you. – Stacy
---
That's all we have for this week! Thanks for checking out the Rogues Portal Pull List! We'll be back next week with a brand new list for you to check out. Same Bat-Time. Same Bat-Channel!