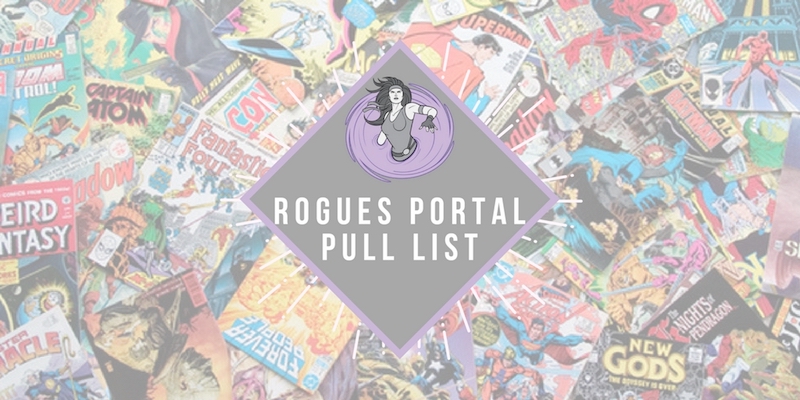 It's Wednesday my dudes, and that means it's New Comic Book Day! There are tons of new comics hitting the shelves of your local comic shops every week, and it's not always easy deciding what to get, let alone what you should add to your pull boxes. So we've put together the Rogues Portal Pull List to show you the best comics that you might have missed! Here's what we're getting and what you should check out today!
---
Rogues' Essentials
Batman Damned #1
A giant Batman issue. Moar Batman iz gud. – Cory
It's Batman and Constantine. I'm sold. And just in time for the best season of the year. – Josh
By Night #4
Relatable, character-driven sci-fi, yes please. – Anelise
Though the last issue was a bit of a drag, I hope this month we get more of Jane's and Heather's adventures in the other realm. – Christoph
Ice Cream Man #7
Spoiler: This is my FAVORITE Ice Cream Man issue to date. BUY IT. – Anelise
The fact that we're on issue number seven, and I have no idea what to expect, pretty much sums up why this book is so great. – Cory
Hard to follow up last month's strong issue, but I can always count on this series to be better every time. – Michael
Skyward #6
The first arc ended with a punch to the gut. Can't wait to see how this series continues. – Cory
Cue up the next arc! After getting to know our characters and their situation, I feel like this series is really about to take off. – Michael
---
Anelise's Picks
Burnouts #1
Drugs and aliens. Need I say more?
Impossible Inc #1
I'll give any new sci-fi series a try, and the daughter-exploring-space-might-find-dad narrative is an intriguing one.
Saban's Go Go Power Rangers Back To School #1
I think this got pushed…but, when it does come out, I AM SO EXCITED! Power Rangers are meant to be relatable at any age, and Saban's Go Go Power Rangers manages just that.
---
Christoph's Pick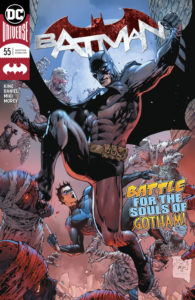 Batman #55
A new issue of Batman by Tom King is always a win.
---
Cory's Picks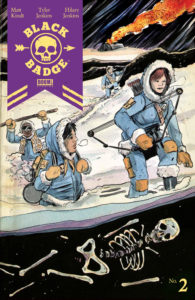 Black Badge #2
This might be my favorite new series. Matt Kindt and Tyler Jenkins make a great team!
Captain America Annual #1
Tini Howard will be the first female writer on Cap, and the story sounds amazing. Set in WWII, with a Seven Samurais vibe, no less.
Dick Tracy Dead Or Alive #1
This creative team is amazing! Lee Allred (writer), Michael Allred (writer and inker), Rich Tommaso (artist), and Laura Allred (artist and colorist). Expect some zany, beautifully-rendered skulduggery in this book!
---
Jameson's Picks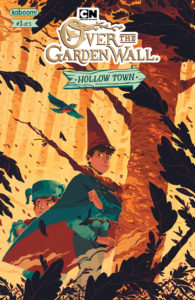 Over The Garden Wall Hollow Town #1
It's almost Over The Garden Wall season… *cough* I mean, autumn! And I am so ready for new adventures! Psyched about this miniseries, which is about creepy porcelain doll people!
Star Wars Lando Double Or Nothing #5
I'm sure the action with Lando and Ellthree will be at peak in this final issue of the miniseries!
Steven Universe #20
Sardonyx is in this one!!!
---
Josh's Picks
Britannia Lost Eagles Of Rome #3
I love this series about an Ancient Roman detective. The perk is him searching for a lost eagle in Alexandria. We really get to see the ancient world in this series.
Mister Miracle #11
The penultimate issue is here! This has been a fantastic series.
Quantum And Woody #10
A superduo that can't duo together because their powers are shorting out. Let the shenanigans begin!
Shadowman #7
Ancient prehistory, and the origins of the Shadowman Loa. Hit me with it Diggle!
---
Michael's Picks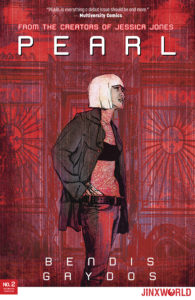 Pearl #2
Want to see what happens next, but honestly, I might mostly be here for the art.
Return Of Wolverine #1
The title says it all: Logan's back!
---
Graphic Novels
Beowulf TP
Did someone mention an epic Epic? – Josh
Check Please Volume 1 #Hockey GN
Check Please is super endearing! I hope this release by First Second encourages more new folks to pick it up! – Jameson
Cold War Volume 1 TP
If you have not read Cold War issue by issue, here is your chance to catch up on an imaginative mini-series you will not forget. – Christoph
---
That's all we have for this week! Thanks for checking out the Rogues Portal Pull List! We'll be back next week with a brand new list for you to check out. Same Bat-Time. Same Bat-Channel!