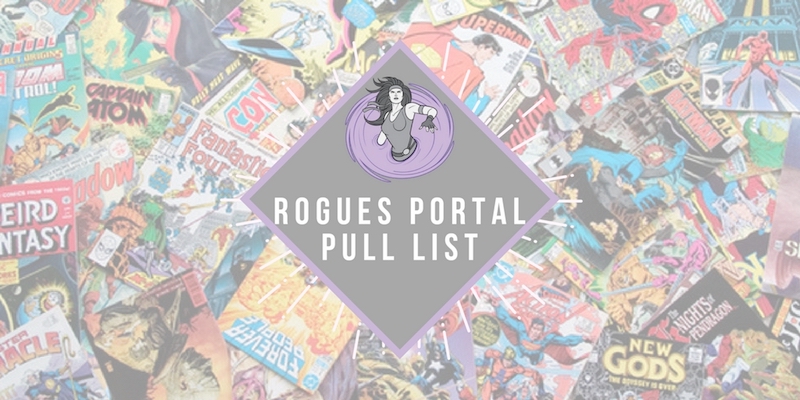 Happy birthday to me, it's New Comic Book Day! There are tons of new comics hitting the shelves of your local comic shops every week, and it's not always easy deciding what to get, let alone what you should add to your pull boxes. So we've put together the Rogues Portal Pull List to show you the best comics that you might have missed! Here's what we're getting and what you should check out today!
---
Rogues' Essentials
Border Town #1
Mexican folklore? YES PLEASE. – Anelise
"When a crack in the border between worlds releases an army of monsters from Mexican folklore…" STOP! Say no more and just take my money already! – Cory
Hold the phone! "Monsters from Mexican folklore"? This is something I don't want–I need it! – Josh
Bully Wars #1
I am still denial that I Hate Fairyland is finished (for now at least). But Skottie Young wanted to write other stories as well, and this new series sounds very appealing. I am definitely in. Skottie Young is brilliant. Read his stuff. – Christoph
Skottie Young's blend of humor and satire is a perfect mix for a story about bullies. – Cory
Scottie Young really does not always get the respect he deserves as a writes. The series sounds like it should be a lot of fun. Definitely will check it out. – Greg
Cover #1
Out of all the new Bendis "indie" titles, this one intrigues me the most. – Cory
Comic-book creators working for the FBI? Sounds amazing. – Greg
James Bond Origin #1
Dynamite has been churning out some great Bond comics. Now, they are giving us an origin story set during WWII. This is a no-brainer. – Cory
Ah, ah, AHHHHHHHH!!! A James Bond origin story? Take my #$%#$&*#& money! – Josh
---
Christoph's Picks
Batman #54
Batman and Giant Days in the same week –hell yeah! Dick Grayson teams up with his former mentor again. And since the wedding did not happen, they might have to talk about a thing or two.
Breathless #4
Monsters, horror, and a great lead character. What more do you want?
Come Into Me #3
This week we are blessed with two great Black Mask comics. Come Into Me #2 was released a few months ago and I eagerly awaited the third issue. If you are into body horror, don't miss out on this series.
Giant Days #42
A week with a new Giant Days issue is a good week.
---
Cory's Pick
Dead Hand #6
I have been enjoying this post-Cold War espionage thriller. I'm looking forward to seeing how they wrap things up in this final issue.
---
Jameson's Picks
Asgardians Of The Galaxy #1
Folks… Throg is in this book. Throg, the mightiest frog of thunder. Am I going to read this book? Yes I am.
Guncats #1
Bounty hunters working for… an exotic pet dealer? I'm intrigued.
Kim Reaper Vampire Island #1
Sarah Graley and vampires are two of my favorite things, so I'm all in.
Steven Universe Harmony #2
I still think the Harmony Core is going to be inherently related to the plot of the upcoming Steven Universe movie, which is exciting. But it's not all world ending! This issue has charm too, as Amethyst and Peridot try to take over Steven's band responsibilities.
---
Josh's Pick
War Bears #1
Margaret Atwood and Canadian Whites, the golden age of comics in Canada, which began in WWII with the War Exchange Conservation Act. Take my money and take it fast!
---
Graphic Novels
Check Please Volume 1 Hockey GN
One of my favorite webcomics, now in graphic novel form from First Second? Yes please! It's great to see that Check Please is such a success. – Jameson
Chi's Sweet Adventures Volume 2 GN
I started reading Chi when I went into my local comic book store and asked for the cutest thing they had in stock. Since then, this sweet cat has been one of my fallbacks for relaxing comics. – Jameson
Fake Blood GN
This graphic novel about a middle school boy and his vampire slayer crush looks SO CUTE. – Jameson
Mortals Immortals Of Greek Mythology HC
Okay listen everyone, I'm a Greek mythology nerd already and I'm super excited to see what this illustrated compendium from Lion Forge is going to be like. – Jameson
Super Weird Heroes Volume 2 Preposterous But True HC
Super weird golden age superheroes? Count me in! – Josh
---
That's all we have for this week! Thanks for checking out the Rogues Portal Pull List! We'll be back next week with a brand new list for you to check out. Same Bat-Time. Same Bat-Channel!