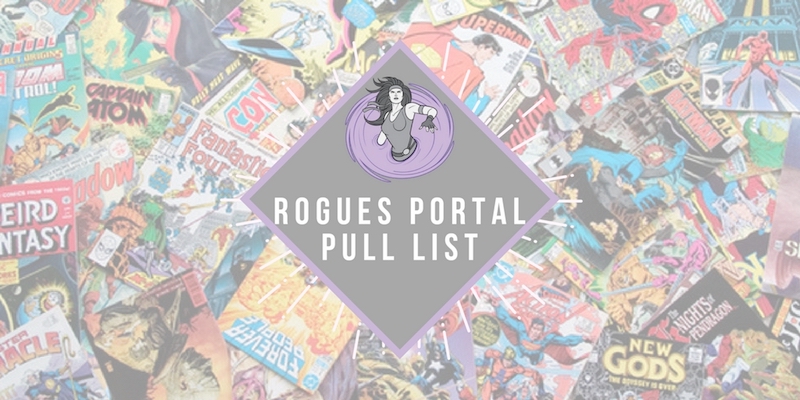 It's Wednesday my dudes, and that means it's New Comic Book Day! There are tons of new comics hitting the shelves of your local comic shops every week, and it's not always easy deciding what to get, let alone what you should add to your pull boxes. So we've put together the Rogues Portal Pull List to show you the best comics that you might have missed! Here's what we're getting and what you should check out today!
---
Rogues' Essentials
Crowded #1
This is social-media meets the Purge in a candy-coated package. I LOVE IT. – Anelise
Christoper Sebela is a name to look out for. This book was optioned as a movie with Rebel Wilson attached before this issue even had a chance to hit the stands. – Cory
The lowest-rated bodyguard on the Dfend app meets a social-media obsessed bimbo with assassins after her. If that doesn't sound intriguing, I can't help you. – Michael
Gideon Falls #6
The Black Barn haunts my dreams! I need to know more about it, stat! – Cory
You guys needed this book in your pull list 6 issues ago. – Josh
Finally starting to see the relationship between Father Fred and Norton. Will they finally meet? – Michael
Ice Cream Man #6
My favorite ice cream flavor is a scoop of existential dread with a drizzle of terror. – Anelise
So glad this is back, and the man in black isn't playing around. – Michael
Pearl #1
The cover alone has me itching to read this! Plus, it involves a talented tattoo artist. So yeah. I'm in. – Anelise
Bendis's first original series in DC sounds like it is going to be a ton of fun. – Greg
If the cover is any indication, this tattoo-artist-turned-assassin story should be amazing. – Michael
Weatherman #3
The second issue introduced some ideas that I really did not expect. I cannot wait to see where the series heads next – Greg
Keeps getting twistier and twistier…this series is sure to be a wild ride. – Michael
---
Anelise's Picks
By Night #3
Great characters and a unique mystery make this a fun read.
Jughead The Hunger #7
Jughead and werewolves works so well together.
---
Christoph's Picks
Batman #53
The new storyline shows not just the ramifications of the weeding issue, but also a side of Batman we don't get to see very often.
Justice League #6
Since Scott Snyder took over Justice League, the adventures of the Justice League just got bigger, weirder, crazier and, yes, very comic-y. I love it.
---
Cory's Picks
Lost City Explorers #3
Zack Kaplan has become a must-read author for me. His first two series (Eclipse, Port of Earth) have been fantastic, and this book is off to a great start.

Ruinworld #2
This all-ages book is fun for, well, ALL AGES. Hmmph! Imagine that!
Skyward #5
This book has been the biggest surprise this year!
---
Frank's Picks
Batwoman #18
I'm pretty bummed this is the final issue, but hopefully with Kate joining the CWU the hiatus won't last long.
Coda #4
Probably the most exotic and imaginative fantasy title I've read in a while.
Creeps 2019 Annual Spooktacular
Creeps is just good old-fashioned fun. I look forward to this magazine every month.
Magic Order #3
I'm still waiting for the story to kick into high gear, but this is already one of the best looking and most fun to read books on the market.
---
Greg's Pick
Extermination #1
The latest non-event event starts in the X-Men corner of Marvel. The original five hold the key to the future of the X-men. And, based on the previews, it's not a rosy future.
---
Jameson's Picks
Star Wars Poe Dameron #30
If you've been reading the excellent Poe Dameron run, you won't want to miss this penultimate issue.
Steven Universe #19
Steven Universe fans, have you ever wondered how the gems built Steven's house? Do you want to see Sugilite in glorious comic form? Then this issue is for you.
---
Josh's Picks
Edge Of Spider-Geddon #1
Guess what brings me back to Marvel? Insane Spider-action with Scarlet and Spider-Ladies.
Ninja-K #10
Everyone's favourite purple ninja/spy is back, and we get to meet another member of MI-6's Ninja Programme!
---
Stacy's Picks
Archie Meets Batman '66 #2
You guys are reading this, right? It's one of the most charming comics to hit the stands in a good long while.

Mage The Hero Denied #11
One of the premiere urban fantasy comics in the industry is about to lower the curtain for the last time. If you haven't read any of Matt Wagner's excellent MAGE books, you really should.
Manifest Destiny #36
Looking for some creepy historical horror? Manifest Destiny is chilling stuff set in post-revolutionary America.
---
Graphic Novels
Astro City Broken Melody HC
Astro City is the best superhero comic on the stands. Yeah. I said it. – Stacy
John Byrne's X-Men Artifact Edition HC
I'm so excited for this! So many great pages from my youth, all in their original penciled and inked glory. – Frank
JSA By Geoff Johns Volume 2 TP
Geoff Johns' run on JSA is killer. If you like team books and legacy heroes, JSA is tailor made for you. – Stacy
Old Man Hawkeye Volume 1 An Eye For An Eye TP
So dark, so delightful. – Anelise
Sanpaku HC
This original graphic novel involving Japanese folklore is right up my alley. – Anelise
Sheets GN
This ghost story looks charming, but I'd be in it for the beautiful art and gorgeous colors alone! – Jameson
---
That's all we have for this week! Thanks for checking out the Rogues Portal Pull List! We'll be back next week with a brand new list for you to check out. Same Bat-Time. Same Bat-Channel!