Rogues Portal Pull List – 2018/07/18
Another month, another day, another comic to be read. It's Wednesday my dudes, which means it's New Comic Book Day! There are tons of new comics hitting the shelves of your local comic shops. It's not always easy deciding what to get, let alone what you should add to your pull boxes. We've put together the Rogues Portal Pull List to show you the best comics that you might have missed! Let's see what's new for July 18th. Here's what we're getting and what you should check out today!
---
Rogues' Essentials
Archie Meets Batman '66 #1
The Allred cover alone is enough to get this on my pull list. Plus, it's Batman '66 meets Archie. What's not to love? – Cory
Oh hell yes. All the '60s Batman comics from DC have been top shelf, and this one looks primed to continue that tradition. Sign me up. – Stacy
By Night #2
Mysterious houses and disillusioned college graduates, count me in! – Anelise
The end of the first issue really gave us a big twist. Cannot wait to see how this second issue builds onto that. – Greg
Euthanauts #1
Space and death, I'm excited. – Anelise
I find the comparison between death and outer space to be intriguing. This one deserves a look. – Cory
The premise is intriguing. Similar to Reborn in some ways, but this time in space. – Michael
Gideon Falls #5
Just when you think the story is becoming clear, another twist is thrown in. Lemire is firing on all cylinders here. Add this to your pull list now. – Greg
If this isn't already on your pull list, you really need to reevaluate your life choices. – Josh
This keeps getting creepier and more mysterious. It's one of my favorite series running right now. – Michael
Ice Cream Man #5
Ice cream man, ice cream man, we all scream for ice cream man! That's how the song goes, right? – Anelise
A new arc for this weirdly grotesque, yet satisfying series. I'm hoping this next arc sheds a little more light on the titular character and the thread that has been woven, thus far. – Cory
Infidel #5
Horror at it's best! – Anelise
There have been times where this series has legit scared me when I have turned the page. The tension has built up issue after issue, and I cannot wait to see how this epic series concludes. – Greg
We got to talk to Pornsak and Aaron on our podcast, and the things they were saying got me excited for the conclusion. – Michael
Jughead Hunger Volume 1 TP
I love horror Archie comics! – Anelise
This series is a fun, spooky take on these characters. The release schedule for the single issues was a little erratic, so it will be nice to read it all at once. – Cory
I read the first couple of issues and then fell off of the series. I am looking forward to catching back up with the series when the first volume comes out. – Greg
Life Of Captain Marvel #1
An original take on Carol Danvers' origin sounds like a good thing, and Margaret Stohl is definitely up for the challenge. – Cory
I'm looking forward to this reboot of sorts for my favorite girl Carol Danvers. Marvel is gearing up for the movie next year in big fashion. – Frank
X-Files Case Files Hoot Goes There #1
Is there such a thing as too much X-Files in my life? – Michael
I'm just going to ditto Michael here. – Anelise
---
Cory's Pick
Batman #51
Whether or not you loved the wedding issue, Lee Weeks is back on art. Plus, Bruce Wayne gets chosen for jury duty on a trial for Mr. Freeze. What's not to like?
---
Frank's Picks
Brave And The Bold Batman And Wonder Woman #6
I've really enjoyed Liam Sharpe's gritty mystery in this tale. The artwork is astounding and the world creation is deep. Recommended!
Soulfire Volume 7 #1
It's the 10 year anniversary of Michael Turner's passing, so I'm giving all my old favorite Aspen books another try. Along with Fathom, this looks like it could be a lot of fun.
---
Greg's Picks
Immortal Hulk #3
This Hulk as a horror comic has been intriguing and eye opening so far. Probably the most fresh take in a long time.
X-Men Red #6
Taylor is doing some great throwbacks here, while really exploring the way Mutants are viewed.
---
Josh's Picks
Ninja-K #9
Finale to "The Coalition". Supervillains vs superheroes, both led by MI-6's ninjas!
Quantum And Woody #8
Q and W died and ended up in an alternate reality. Now they're back in the real world. Looking forward to seeing the repercussions that this alternate reality of theirs will bring.
Shadowman #5
I'm really digging this story arc. Shadowman is going into the past and living short pieces of the lives of former Shadowmen. Origin of the loa, coming up!
---
Michael's Pick
Skyward #4
Did someone say movie? Didn't take long for this great series to get optioned.
---
Stacy's Pick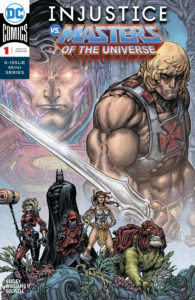 Injustice Vs The Masters Of The Universe #1
A chance to see He-Man punch Evil Superman in the face? I'm in.
---
Graphic Novels
Beef Volume 1 TP
I enjoyed the first couple of issues of this and have been meaning to catch up. I love a good food politics narrative! And the bright pop-culture-esque art is super rad. – Anelise
Curse Words Volume 3 The Hole Damned World TP
Obviously, this is a MUST buy. Wizord is my favorite wizard. – Anelise
Full Bleed The Comics And Culture Quarterly Volume 2 Deep Cuts HC
Full Bleed is the upper echelon in comics culture. It's big, heavy, and meaty. Prepare to buckle down for some serious insight and depth. – Frank
Go Team Venture The Art And Making Of The Venture Bros. HC
The Venture Brothers has an amazing visual style, at once vintage and modern. The chance to gain some insight into Doc Hammer and Jackson Publick's creative process is too good to pass up. If you're a fan of the show, this volume's definitely for you. – Stacy

Invincible Compendium Volume 3 TP
It's about to become the most talked about Superhero cartoon on the planet, so getting in on the ground floor with these Invincible compendiums is a solid call. Superhero action in a world that doesn't hit the reset button at the end of every storyline. – Stacy
Marvel Two-In-One Volume 1 Fate Of The Four TP
Oh boy, can Chip Zdarsky write a good comic. This will get you pumped for the Fantastic Four's debut next month. – Cory
Metabaron Volume 1 The Techno-Admiral And The Anti-Baron GN
The Metabarons are always a visual and storytelling spectacle. This should be no different. Dune fans please pick this up! – Frank
Rom And The Micronauts TP
People. It's Rom. And the Micronauts. Together. Who doesn't love a whacky crosover overflowing with '80s nostalgia. – Stacy
Rome West TP
Alternative history from Brian Wood. 'Nuff said! But if that's not enough, how about I tell you this is about a fleet of Roman ships that gets lost and lands in America…1,000 years before Columbus. – Cory
Spider King TP
This was a great story! And honestly what's better than a good old fashioned fight between vikings and aliens? – Josh
---
That's all we have for this week! Thanks for checking out the Rogues Portal Pull List! We'll be back next week with a brand new list for you to check out. Same Bat-Time. Same Bat-Channel!