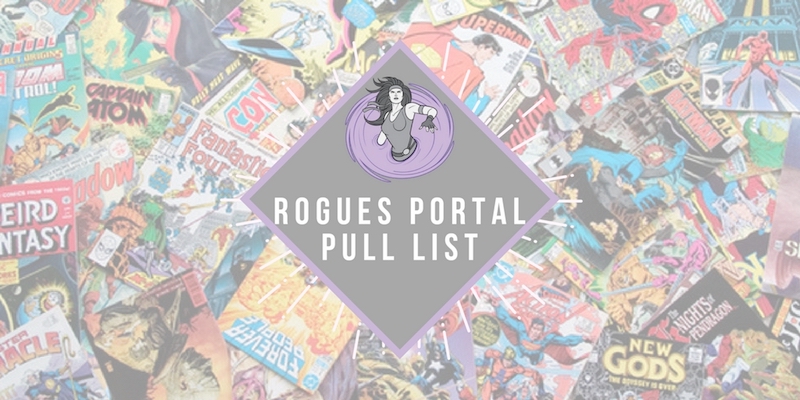 Another dawn, another day, another comic to be read. It's Wednesday my dudes, which means it's New Comic Book Day! There are tons of new comics hitting the shelves of your local comic shops. It's not always easy deciding what to get, let alone what you should add to your pull boxes, so we've put together the Rogues Portal Pull List to show you the best comics that you might have missed! Let's see what's new for May 9th. Here's what we're getting and what you should check out today!

---
Rogues' Essentials
Analog #2
I loved the first issue of an old-school spy who delivers secrets in a society where online privacy is zilch. – Cory
Unique concept that had a great first issue. – Greg
Eternity Girl #3
This comic about depression is a must-read series right now. – Anelise
I love comics about mental illness, so this has always been a week-of pull for me. Next level? Yes. – Mark
Jim Henson's Fraggle Rock #1
Fraggle Rock in watercolors? Sign me up! – Cory
Listen: I love Fraggle Rock. The art for this looks incredible. It's very exciting! – Jameson
Isola #2
A slow-burning fantasy comic masterpiece, where the characters are given enough room to react. Beautifully drawn and with a couple of silent panels, this is a story you do not want to miss. – Christoph
The first issue was one of the most gorgeous books I've read in a while. While it didn't expose too much of its story, I'm hoping it will clue us in a little more as to what's going on in this beautifully-rendered fantasy world. – Cory
My Boyfriend Is A Bear GN
I've heard great things of this surprisingly touching and funny book about a girl dating a bear. – Cory
This is an amazingly touching and fun book that everyone should check out. – Greg
Honestly, I wish my boyfriend was a bear. – Jameson
Nuclear Winter Volume 1 GN
An adorable looking tale of a young girl trying to make her way as a mail courier…on a snowmobile…in radioactive snow! – Cory
A narrative about a young girl surviving a radioactive winter sounds like me in winter. The key difference is she is attempting to actually venture out and do her job. Honestly, she is the hero we need but do not deserve. – Hafsa
Oblivion Song By Kirkman And De Felici #3
Kirkman gives us a unique dystopian series that is another masterpiece in the making! – Anelise
An intriguing world with giant monsters, some family drama, and great artwork, Robert Kirkman's latest comic has every ingredient to be a remarkable journey. I am in for the ride. – Christoph
How does Kirkman come up with such interesting ideas? – Jim
Punks Not Dead #4
Punk rock and ghosts! What more could a girl want? – Anelise
So weird and so good! – Greg
Sherlock Frankenstein And The Legion Of Evil TP
I really admire and enjoy everything about Lemire's riff on Golden Age comics. – Jim
I love what Jeff Lemire is doing with his own superhero universe, and what he's done by centering a story around one of the big villains (with the name of Sherlock and Frankenstein!) is pure genius! – Josh
Venom #1
Donny Cates writing a Venom book? It is at least worth checking out. – Greg
I literally wrote my master's thesis on Venom. You have no idea how hyped I am for a horror book about my #1. Plus, this team is absolutely stellar. Nothing but high expectations. – Mark
---
Anelise's Pick
Domino #2
The first issue of this series had me hooked from the opening page. I am so excited to see what's in store next for Domino!
---
Greg's Picks
Justice League: No Justice #1
I cannot remember the last time I picked up a Justice League book, but with Scott Snyder writing I have to check it out.
Robocop Citizens Arrest #2
The first issue did a great job setting up this new series. I cannot wait to see where it goes next.

---
Jameson's Picks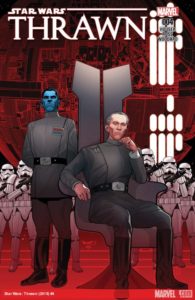 Star Wars Thrawn #4
Governor Pryce was in the last issue of Thrawn. Now Grand Moff Tarkin is on the cover of this issue? It's like… it's like Star Wars knows what I like and want to read about.
Unbeatable Squirrel Girl #32
I'm just going to keep recommending Squirrel Girl until everyone in the world is reading it.
---
Jim's Pick
Southern Bastards #20
I'm a longtime fan of Aaron's and Latour's take on a small-town southern-crime comic.
---
Josh's Picks
Port Of Earth #5
If you need some sci-fi adventure to last you until the new Star Wars film, check out this story set in a galaxy not so far away.

Spider King #4
The finale to Vikings vs Aliens! VALHALLA!
---
Mark's Picks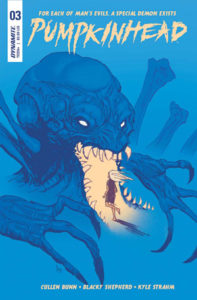 Pumpkinhead #3
Love me some monsters, love me some vengeance

---
Graphic Novels
Angelic Volume 1 Heirs And Graces TP
If you want zany, eclectic fun involving talking monkeys, flying robo-dolphins, and such, in a post-apocalyptic world, then this is for you. As of lately, Si Spurrier can do no wrong in my book. – Cory
I Am Gandhi A Graphic Biography Of A Hero SC
I tend to like biographies in comic form. There is a certain honesty that can be divulged in art. However, as this is not written by Gandhi himself, I am both skeptical and curious! I hope it makes his story more accessible to all. – Hafsa

---
That's all for this week! Thanks for checking out the Rogues Portal Pull List! We'll be back next week with a brand new list for you to peruse. Same Bat-Time. Same Bat-Channel!