Rogues Portal Pull List – 2018/04/18
It's Wednesday my dudes! And every Wednesday tons of new comics hit the shelves of your local comic shops. It's not always easy deciding what to get, let alone what you should add to your pull boxes, so we've put together the Rogues Portal Pull List to show you the best comics that you might have missed! Let's see what's new for April 18th. Here's what we're getting and what you should check out today!
---
Rogues' Essentials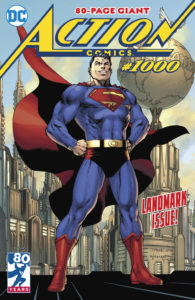 Action Comics #1000
I'm curious to see what Bendis is able to pull off here. Plus it's #1000, so I feel like I have to pick it up. – Greg
You have to be bonkers to not get this. – Josh
Curse Words #13
This high urban-fantasy comic is ridiculously fun. – Anelise
If you are not reading this…well, why not? – Greg
Fence #5
Who makes the team? Do we finally get the fight we all have been waiting for? Fence is so good! – Christoph
We are looking at finding out who makes the team here soon. Of course all the personal drama will continue for some time. If you aren't checking this series out, you should be. – Greg
Punks Not Dead #3
When music and comics come together well, it's a beautiful thing. I want Sid to haunt me! – Anelise
This series has been pretty bonkers already, and now add into it the fact that Sid's Ghost might not be the only one, and all sorts of new ideas open. – Greg
Royal City Volume 2 Sonic Youth TP
READ THIS SERIES. But prepared to feel things. – Anelise
So excited to catch up on Lemire's latest— a down-to-earth factory town/family story that'll break your heart. – Mark B.
---
Anelise's Picks
Daredevil #601
Daredevil is my favorite superhero. Got to check in and see what's going on with my boy!
X-Files Case Files Florida Man #1
Florida? Mulder and Scully? Alligator-worshiping cults? Heck yes!
---
Christoph's Picks
Batman #45
The wedding comes closer and closer. The way Tom King writes the adventures of the Bat and the Cat is incredible! You can't go wrong with this series.
Kick-Ass #3
The new incarnation of Kick-Ass is brutal, merciless, honest, and engaging in a completely different way than the original. Read it!
---
Cory's Picks
Giants #5
The finale is here. Will our two friends make things right? Will the monster on the loose be too much to handle? Can't wait to see how it concludes!
---
Josh's Picks
James Bond The Body #4
This series has been a really unique way to tell a 007 story, but I can start to see the threads tighten. Can't wait to see how it turns out!
Quantum And Woody #5
Woody has finally met his dad after being believed to be dead for years. Will the world's worst super-duo become the world's worst super-trio?
Spider King #3
More Vikings! More Aliens! Fight!
---
Mark B.'s Picks
Her Infernal Descent #1
This take on Inferno looks super intense — but then again, so is anything that comes from Thompson and Nadler.
Venomized #3
What's gonna happen? This series is gonna destroy me, that's what.
---
Graphic Novels
Brooklyn Gladiator Volume 0 TP
The actor who plays Jacob Kowalski in Fantastic Beasts has released this "rock n' roll, kung-fu Robin Hood" book. It's chaotic and definitely looks to be worth every penny. – Josh

---
That's all for this week! Thanks for checking out the Rogues Portal Pull List! We'll be back next week with a brand new list for you to peruse. Same Bat-Time. Same Bat-Channel!