The Nobody
Writer/Artist: Jeff Lemire
Letterer: Sean Konot
Publisher: Vertigo
A review by Josh Rose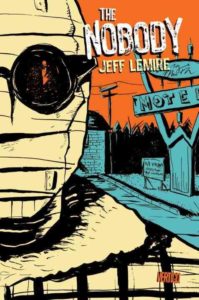 I picked this book up a while ago and finally got around to reading it. The Nobody is a modernized tale based on the 1987 novel The Invisible Man by H.G. Wells. There have been dozens of adaptations of that famous book. The actual character of the Invisible Man has been in a few comics, such as Alan Moore's League of Extraordinary Gentlemen.
The Nobody is about how the quiet, small town of Large Mouth is disturbed by the arrival of a man wrapped completely from head to toe in bandages. His appearance is not the only point of conversation in this small town. His mysterious and secretive behavior doesn't exactly help either. A 16 year-old girl named Victoria makes it her personal mission to learn as much as she can about this man.
The Nobody really showcases how some people really don't like change. The story also focuses on how something different, with enough ignorance, can be hated to destructive ends. Jeff Lemire does a fantastic job with this story; he makes it feel like the town of Large Mouth could be anywhere in Canada or the USA. He mentions that the Invisible Man arrived in the town in 1994, but it really could've taken place anytime.
What I really like about Lemire's art in this book is how it's all in black, white and light blue. The colours make it feel like an old black and white horror film. And Lemire's iconic art style is perfect for The Nobody. His style is… unconventional. Its like looking into a funhouse mirror. Everything that you see is familiar and identifiable, yet different enough to be strange, and that is perfect for an old science fiction story like The Invisible Man.
The Verdict
Buy It – The Nobody is a story about people, and their fear and ignorance of things that are strange and new to them. Lemire does a fantastic job modernizing The Invisible Man and making it feel like it could take place any time and any place. Its really quite the universal and immortal tale.