Prominence Poker
Developer: Pipeworks Studio
Publisher: 505 Games
Immerse yourself into the city of Prominence, where poker is life. Engage with players from all around the world, create your own avatar and build up your 'reputation'.
This highly popular game Prominence Poker, which was released on the PlayStation 4, Steam and Xbox One in May last year, is different from the usual online poker games namely because it's free to play, each day you log on you get a set amount of free chips! Of course the more games you win, the more chips you'll amass on top these, but if you're ever running low, you can buy more with real money through the online store.
At the beginning of the game you are introduced to some of the regular characters, including the Mayor and out of towner Peikko, who you play against in the tutorial where you'll find out more background information.
In single player mode you play against computer-controlled characters that each have a criminal persona, occasionally acting aggressive, which can quickly become repetitive.
Multiplayer mode is what most players use this for, either taking part in tournaments, events or daily challenges. Customising your character to have tattoos, clothes and accessories and being able to show certain emotions during a game, as well as talking to other players through your mic really immerses the player and makes you feel like you're actually playing poker in real life.
The game does have its downsides however, the graphics could be better and it's too bad a deeper story wasn't created for single player mode. It can be frustrating when you lose a game and lose all your chips as you have to wait until the next day to get more if you don't want to pay-to-play. If you're a dedicated player this won't stop you though, as this game offers so much more than the usual online poker game.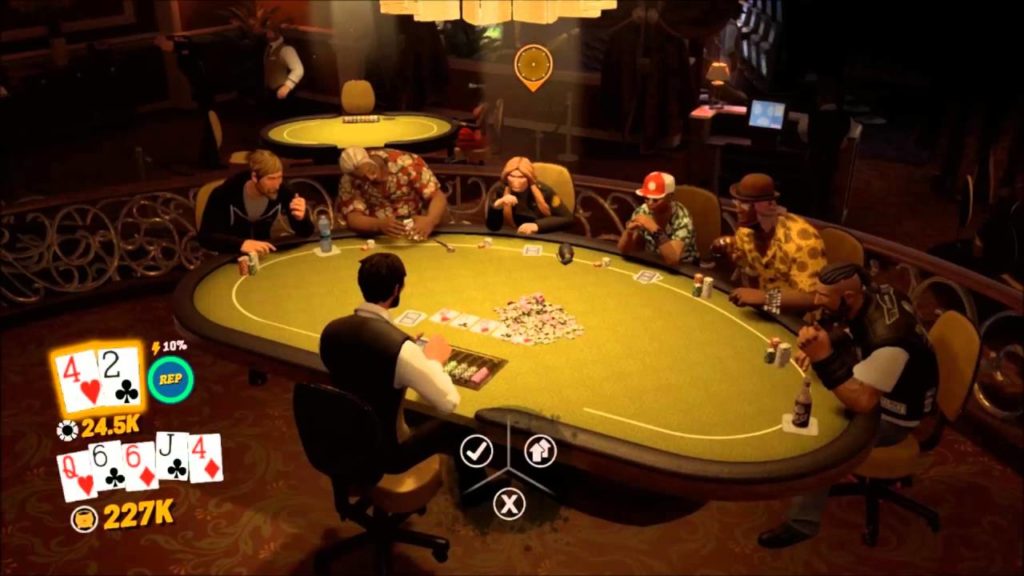 Prominence Poker have recently updated their system – The Diamonds Update – getting rid of the cap on leveling up your rank, as well as adding a new venue, rewards and loot cases, making it more rewarding than ever.
The Verdict:
If you love poker, then there is no doubt you will love Prominence Poker. Single player mode could be more exciting, but playing with actual people and their avatars, building a persona of your own and adding to your bankroll makes for great gaming. If you're planning on joining the Prominence Poker crowd after this review, you better brush up on your knowledge of hand rankings before you play.