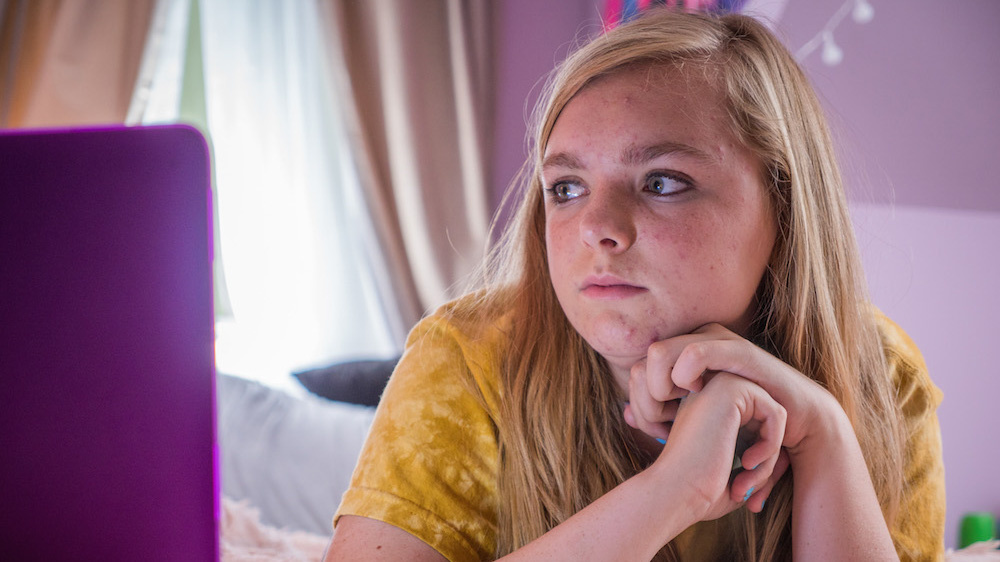 EIGHTH GRADE
Directed by: Bo Burnham
Written by: Bo Burnham
Starring: Elsie Fisher, Josh Hamilton, Emily Robinson, Jake Ryan, Daniel Zolghadri, Luke Prael
Review by Mia Santos
It was back in 2001 when I was just a 13 year old myself. I still remember how confusing, hyperbole and life-ending everything felt then. In the film Eighth Grade, watching hyper-connected Kayla Day, played by the darling Elsie Fisher, endure her final week of middle school and experience the pressures of adolescence was both heartwarming and heart-wrenching. Kayla's insecurities and daily struggles are so relatable. I felt taken back to that time in my life where everything felt so much bigger and scarier than it actually was. This coming of age film gives us an insight of what it's like being a teenager during the 21st century where technology plays a bigger role on how we perceive, connect and learn but without the overblown cautionary storylines of tv shows like 13 Reasons Why or The Fosters.
The film opens up with a grainy video recording of Kayla Day looking into the camera of her MacBook making affirmation videos explaining to her viewers how she perceives herself to be a confident and talkative person. But at school, she is seen as shy and quiet. So much so she is voted "Most Quiet" by her fellow peers.
What is endearing about these videos is Kayla's mannerisms of that of a true 13-year-old attempting to make her mark with youtube videos. She's awkward, stumbling over her sentences. Inserting "like" in between every other word and not perfectly spoken or cinematically smoothed over like videos she watches daily and we're accustomed to. She's acts and moves like a real teenager too through the halls of her school. Slouching with the look of uncertainty and fear in her eyes as her eighth-grade year comes to an end and the loom of high school stands before her.
It's the last week of eighth grade. The graduating class are given their individual time capsules made when they began middle school. Kayla slowly opens her decorated shoe box with the words "To the coolest girl in the world" in glitter letters on the top. She rummages through a softball, some ticket stubs and a playbill for Bring It On signed by the cast members. She pulls out a Spongebob figurine. We later learn is a USB holding a video she made for her future self, now present self.
During the film, we are bookended with many of Kayla's videos to her non-existent viewers offering tips and advice on topics she is struggling with herself. Things like "be yourself" where she offers the advice of not caring what other people think. "Being confident" where she pushes her viewers to get out of their comfort zone and try something new. It wonderfully contrasts with the scenes of Kayla in real life navigating the halls of her school with shy, awkward body language, trying to copy a makeup tutorial she watched on youtube and snapchatting selfies of herself with the captions "woke up like this!" under it.
As the film continues to follow Kayla during her final week, she begrudgingly attends a pool party for a classmate who only invited her because her mother forced her to. She shadows a friendly highschooler named Olivia who tells her it gets better. She also attempts to catch the attention of her school crush Aiden who's entrance comes with a slow-motion shot and thundering techno music. Something I can admit is a thing we hear as young teenage girls among our crushes. The film's overall story isn't a spectacular one per se but seeing it through Kayla's eyes everything feels so heightened with emotion which keeps the viewer relating to a time when we did the same.
We also get a glimpse of Kayla's home life as an only child being raised by her single father Mark played by Josh Hamilton. Her relationship with him is pretty typical for her age. She sits at the farthest end of the dinner table from him and listens to music loudly while on her phone to avoid connecting with him. He tries anyway but is met with hostility and endless eye rolls. He cares though and doesn't give up doing all he can to keep up with her likes and dislikes which change daily.
There is a touching scene where Kayla asks her dad if he's sad to have a daughter like her. He asks her why she would even think that. She expresses some insecurities she's dealing with and assumes it must make him sad because if she had a daughter like herself, she would be sad too. Her father then delivers a beautiful monologue about how proud and happy he is to be her father. How when her mother left them he was scared of how he would teach Kayla to be a good person, but she effortlessly did it herself. He reminds her that she is creative, interesting and kind and shares that teachers have commented on what a lovely person she is and he isn't afraid anymore. It's a beautiful monologue many of us should hear from our parents, but few are so lucky to.
The film touches on some darker themes of being a teenage girl when after a positive high school shadowing experience with her high schooler chaperone Olivia, she is invited to hang out with them. During the ride home, her new friend Olivia suggests they drop off Kayla first. She insists she'll be ok. The boy Riley continues to drive her home but then parks the car and moves to the back seat with her and tries to initiate a truth or dare game with her. The game crosses a line for Kayla when he insists she take off her shirt and she verbally addresses her discomfort.
Embarrassed and angry Riley gets back to the front seat and begrudgingly takes her home. She apologizes profusely. He scolds her saying he was only trying to help her gain experience, so she'll know what to do when she hooks up with guys in high school. It's cringeworthy. It offers an excellent example of why we need updated sex-education curriculums where we teach our future young women to speak up, consent and not be afraid to say no.
Eighth Grade is a directional debut for comedian Bo Burnham. He orchestrates this film beautifully with a great sense of the social-media-saturated adolescence and the pressures that come with our technological obsession.  Kayla Day's character is treated lovingly by him as well. You can tell he really loves this character he created. He taps into those insecurities and emotions only a 13-year-old could make sense of.
Verdict: WATCH IT! I find there aren't many realistic, coming of age films that just deal with the struggle of everyday life in such a manner. It's not an over the top storyline. I found this film captured a day in the life so marvellously. You can't help by enjoy yourself and just laugh at the comedic moments, cry during the touching ones and cringe at the relatable awkwardness that is being a 13 year old. Elsie Fisher does such an incredible portrayal you feel invested in her character by the end of it. Her father Mark is such a wonderful supporting character needed in this film. This is a story of self-discovery that might even resonate with those of us still struggling through as jaded adults. Reminding us to tap into that hopeful optimism that a 13-year-old still learning who she is possesses.