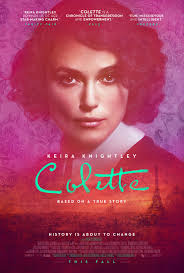 COLETTE
Directed by: Wash Westmoreland
Written by: Richard Glatzer, Wash Westmoreland, Rebecca Lenkiewicz
Starring: Keira Knightley, Dominic West, Denise Gough, Fiona Shaw, Eleanor Tomlinson, Robert Pugh, Ray Panthaki
Review by Mia Santos
There are many women in history who were royally screwed over in the name of sexism. All of them worked hard and had success in their fields, but their husbands took all the recognition. The film Colette, which is part of the special presentation programming for the Toronto International Film Festival and out in theatres later this month is just one of many of these stories coming to life on the big screen! Before you roll your eyes on yet another biopic, period piece starring the period piece queen herself, Keira Knightly hear me out when I say this is worth a watch!
I'll be the first to admit I wasn't too intrigued by the trailer. However, I adore Keira Knightly in period drama roles. You can expect incredible costumes, beautiful art production and a lovely musical score that stood out to me upon viewing. The film begins in the late 1800s where Sidonie-Gabrielle Colette is just a country girl living in a small town with her parents while secretly having an affair with an older family friend who visits from Paris time to time. She soon marries him. We learn he is a published writer, entrepreneur and once sought after bachelor.
Henry Gauthier-Villars or  "Willy" as he's known around town,  played by Dominic West is a charming, smug libertine who seems to adore attention. So naturally, when he introduces his new, young wife, Gabrielle, before her name change to Colette, at a fancy Parisian party everyone seems surprised that he's finally settled down. Gabrielle doesn't fit in at first, but over time she changes her name to Colette and grows accustomed to the fashion and posh lifestyle Willy insists they have despite never having enough to pay his workers.
As it turns out, Willy hires ghostwriters to write his ideas for his published works and takes all the credit for them as part of his "Willy" brand. Eventually, he has Colette write a novel for him based off her schoolgirl stories she would tell. She ends up enjoying the task and proudly shows him her work. Unfortunately, Willy isn't satisfied by it and dismisses it entirely until he comes across it again during a difficult time where money is tight, and repo men are visiting regularly. After a few salacious edits done with Colette, he has it published, and it's a hit!
Titled Claudine a l'école it flies off shelves and becomes Willy's best selling novel. He pushes Colette to write him more novels like this. After not feeling as inspired or producing the pages he demands from her, he locks her up in a room and forces her to write 4 hours at a time. Willy is an interesting villain because although he can be cruel, unfaithful and exploits Colette throughout the film, he is also likable at times with his charm, and eventually, you almost feel sorry for him. Dominic West dazzles in this role and really sells those aspects that made Colette fall for him in the first place.
Colette's mother is an underrated but beautiful secondary character who makes an appearance from time to time and helps Colette find her strength! In a scene where Colette returns home upon discovering the first of Willy's many infidelities, she tells her mother Sido (played by Fiona Shaw) half-heartedly that she will just need to learn to accept this going forward. Sido, however, encourages Colette to pursue her own dreams, saying "Better to make marriage get used to you."  In another scene Sido eventually suggests Colette leave her husband. How rare and refreshing to see a mother depicted with such forward thinking in a period piece encouraging her daughter to find her voice and live her own life in a time where women had little rights to do so.
Colette ends up writing three more novels as part of the Claudine series. Her protagonist becomes a household name with merchandise and a play, but Colette doesn't get to bask in the glory of her success. She doesn't care for it at first as we watch her mature and discover other hobbies, pursue relationships with other women and find her own success as an actress. Willy and Colette's marriage also becomes more of a business partnership as time goes on.
Verdict:
SEE IT! What makes this biopic stand out from most is that it's funny, sexy, tasteful and never drags. Under 2 hours in length, it keeps your attention all the way through. Colette is clever, sympathetic and powerful thanks in part to Knightly's incredible acting chops. Resembling The Danish Girl with a similar story to Big Eyes, this film displays female excellence reigning over male mediocrity.  In a time where women in film are declaring "Time's Up" and pushing the "Me Too" movement, this is the kind of movie we need right now.  With it's mass success at Cannes and screenings already sold out during TIFF, it's sure to get Oscar buzz and possible nominations closer to award season.