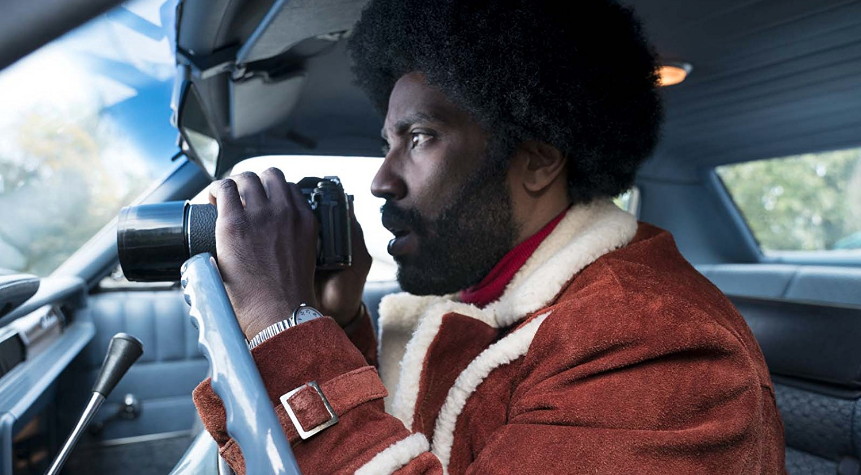 BLACKKKLANSMAN
Starring: John David Washington, Adam Driver, Topher Grace, Laura Harrier, Ryan Eggold, Michael Buscemi, Jasper Pääkkönen, Paul Walter
Directed by: Spike Lee
Written by: Charlie Wachtel, David Rabinowitz, Kevin Willmott and Spike Lee
Based on the book: Black Klansman by Rob Stallworth
"There's never been a black cop in this city. We think you might be the man to open things up around here."
[MAJOR] SPOILERS WARNINGS.
TW: I'm going to be talking about race, violence, and other things people may not want to hear. So, this is your warning if you need to turn back now. Still with me? Let's do this. (Also, trigger warning, my problematic ass is gonna drool for Adam Driver so… beware.)
BlacKkKlansman was one of my most highly anticipated movies of the year. Not because it dealt with a lot of things that needed to be talked about and said, but because it had some insanely incredible talent attached with a director who isn't afraid to lay out what he wants to say without holding back. With BlackKklansman, Spike Lee might have done his best work since When The Leeves Broke and Do The Right Thing. BlackKklansman is rich with issues involving race, violence, bigotry, exploitation and much more. It's a movie that's needed in this day in age to expose what has happened, what continues to happen, and what is happening now.
BlackKklansman tells the story of Ron Stallworth (John David Washington), a man who becomes the first black detective in Colorado Springs. Stallworth is assigned to records. He dreams and waits for his day to becomes a narc detective. When he gets his opportunity, he nails it. However, something bigger comes his way. Ron Stallworth sees an ad, one advertising for an organization he knows, but can't believe is still active. He can't resist the urge to pick up the phone. Ron Stallworth then proceeds to become an active member of the Ku Klux Klan.
As a black man, he can't possibly do this by himself, not if he wants to infiltrate from the inside. Stallworth recruits, narc agent (and best flannel wearer) Flip Zimmerman (Adam Driver) to be the face of Ron Stallworth, while Ron himself, will be the voice. This launches the team into the most dangerous, wild, hilarious and heartbreaking investigation of his life.
There are so many things I want to say about this movie. There are still so many thoughts racing through my head about it. All of them good. All of them are conversations worth having because that's what this movie is meant to do. It's meant to take you inside of an investigation that wouldn't have happened without courage and fortitude. Meant to provoke and start a conversation about race, violence and other aspects of identity and points of view in America.
Before we get into anything concerning Spike Lee, Ron Stallworth (the actual Ron Stallworth) is my fucking hero. He not only dealt with a lot of things coming his way in the form of race but he also in the form of his identity both as a cop and a black man. In a way, I relate to the later, Stallworth was apart of two different words, two different identities. He wanted to create change and doing it the only way he knew how. I highly suggest that you read the book before you see the movie. Spike puts his Hollywood flair into the story, but there's nothing like Stallworth's own words.
I may not like Spike Lee as an auteur sometimes, but I can't deny that his films are legit some of the best political and philosophical messages. He takes Ron Stallworth's story and lays it in the context of past, present, and future. Lee shows that what happened back then isn't necessarily different to whats happening now. He puts this film (and all of his films) in your face and goes 'Look at it. Look at the truth you want to deny. This is the truth.' Yes, sometimes it can be harsh. However, it's still sometimes needed to make you open your eyes.
While watching this, I was in a theater with a tone of people in it. Staring up at the screen, some parts made me uncomfortable. Some were right on the nose. Hell, some even dragged on for way too long. (The bar scene was cute and all, but I didn't need the whole song with a dancing montage Spike. I get it.) But I couldn't deny the feeling that it gave me. As an African American non-binary woman, seeing this on the screen gave me a mixed bag. It made me uncomfortable. Made me laugh. It almost made me cry because the truth hurts.
But that's the point. BlackKklansman doesn't invoke some kind of reaction in you it wasn't doing its job correctly. This is why, even though Lee isn't my favorite, this film was something powerful that you can't deny. It reigns in sticking the truth in your face but also prevails in telling the story of African Americans in their struggle for equality and rights. It's telling the story of who want to rid the world of another just because their different. It's heartbreaking to see the thought process and hear those words, but it's still something all too familiar that we struggle with to this day. It takes a filmmaker, his cast and crew to show you the horrors of the world, but also the truth beneath it all.
Let's jump out of sadness because I got way too in my feelings. (Sorry about that.)
John David Washington as Ron Stallworth couldn't have been more of a phenomenon. He immediately captures you once he steps on screen, puffing up his afro with determination. Washington draws you into his world as divided and messy as it is. Washington hasn't been around for long in the acting game, but he proves himself to be a breakout star that can hold his own. He has perfect chemistry with his co-stars that very much lace the movie together, for good or for bad. Even in his scenes with Topher Grace (as David Duke), they both have that absolute chemistry of hate pouring between them that works too well. The most significant on-screen chemistry that he has and needed to nail for the sting to work especially is with Adam Driver.
Adam "let me wear your flannel to bed" Driver, is one of the most gifted actors that nails every piece of material that he's given. He goes above and beyond the call of duty expected for him. I'm not only saying this because he's my favorite actor (and I'm a thirst bucket). It's absolutely 100% undeniable in what he can do on screen. My problematic ass sat in the theater with my friend, captivated by everything he does on-screen. Even when he's spewing hate (he was undercover, it's okay), he's still so captivating and emotionally driven.
I felt some scenes in my stomach, and BlacKkKlansman is another notch to showcase how brilliant Driver is as an actor. One scene, in particular, I can't get out of my mind is when Flip takes the gun from the piece of shit Felix (Jasper Pääkkönen). Ron, overhearing Flip in a meeting with the clan. He becomes concerned when Felix takes him to the basement, pulls a gun on Flip and demands he strap himself into this lie detector test to find out if he's Jewish or not.
Ron panics for his partner. He goes up to the house and throws a rock through a window. As Ron flees, Felix points the gun, ready to aim at Ron. Flip immediately takes the gun from Felix to not allow him to hurt Ron and shots towards the car but down to the road. It doesn't blow their cover, and Flip yells, still trying to save face with the clan, spews every black slur in the book towards the pavement and Adam NAILS everything about that scene.
Yes, it's an uncomfortable scene. Yes, I am problematic as f*ck because of all the feelings I shouldn't have felt, but Adam just knows what he's doing. It's so astonishing to watch him in films cause he brings something to every role that he plays that's without fail.
Other actors that are absolutely phenomenal are Topher Grace as David Duke, who plays him as an absolute baffoon in the best type of way. He's absolutely doing a caricature of the man that is a baffoon in every which way. Michael Buscemi as Jimmy Creek, another partner of Flip's, narc agent and an actor we definetely need to see more of. Jasper Pääkkönen is absolutely top notch as the disgustingly racist Felix Kendrickson.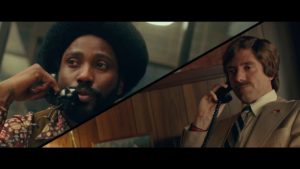 Ryan Eggold as Walter Breachway, the chapter president of their local KKK. Eggold is someone to look out because he absolutely had me at attention when he was on screen. Of course, last but not least, Paul Walter Hauser as Ivanhoe was not on the comic relief in some places, but he just fucking sweeps you whenever he's around. He doesn't let up and leans into his character. Ivanhoe is a dumber version of what you see with his character in Shawn Eckardt (I, Tonya) and it's sheer brilliance.
Verdict: WATCH IT. IF ONLY ONCE. I've seen this movie twice already. It's a trip every time. You'll be shocked to see what went into BlacKkKlansman for it to be the stand-out movie of the summer. It's thought-provoking, riveting, hard as nails and does a damn good job bringing you the issues without sheltering you from the truth.
TRIGGER WARNING: Before the credits roll, news footage of real-life events will be shown to lead into the credits. If you're uncomfortable with this material, I highly suggest leaving the theater or shielding yourself before it pops up. As important as it is to see, some may be sensitive or understandably uncomfortable upon viewing it.