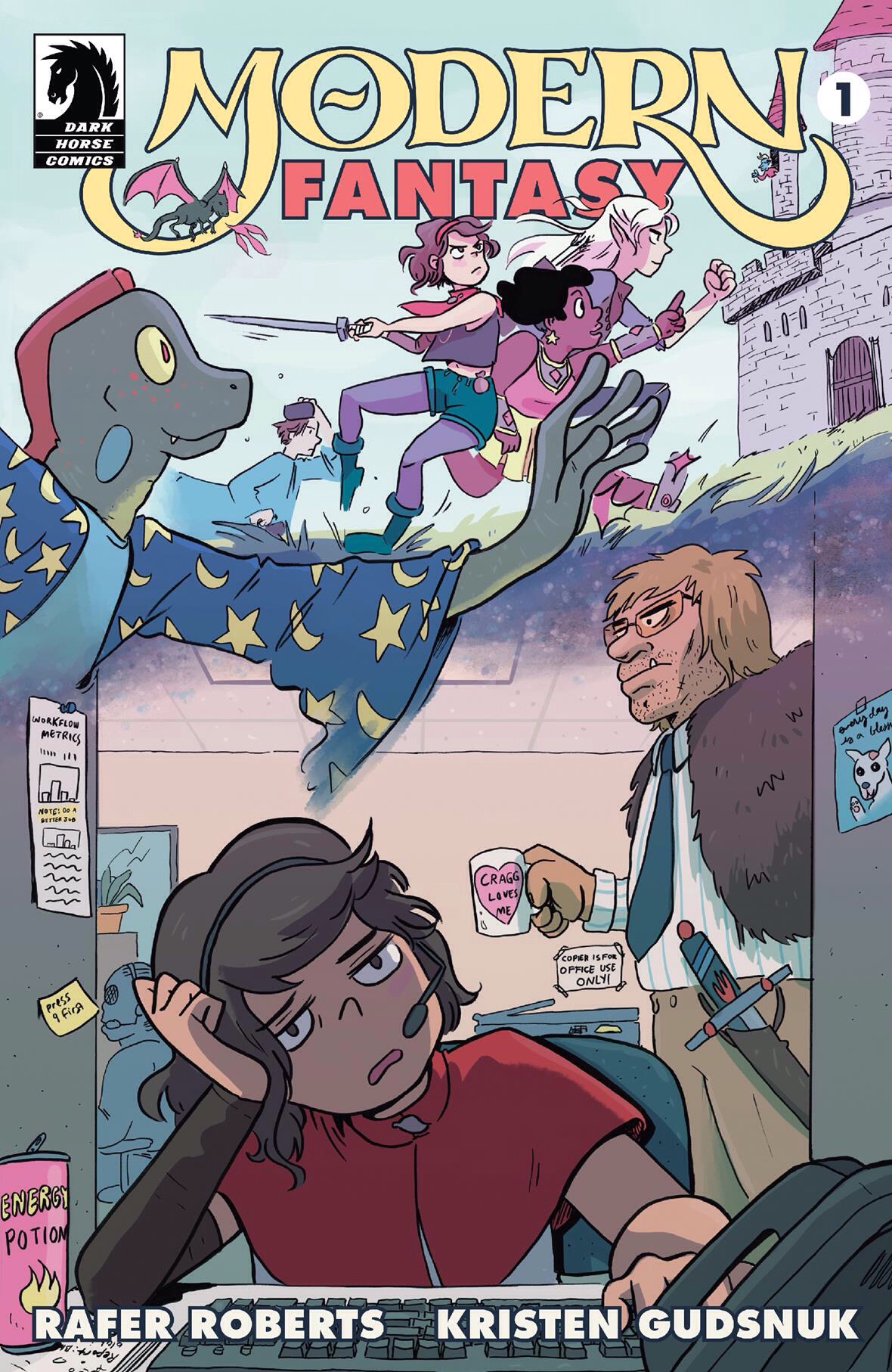 Modern Fantasy #1
Writer: Rafer Roberts
Artist: Kristen Gudsnuk
Publisher: Dark Horse
Publication Date: July 27, 2018
Review by Brooke Ali
Lets face it, we've all fantasized about living the life of a D&D character. But if I'm honest with myself, I'd be more likely to have a +5 in Microsoft Office than in sword fighting. Enter Modern Fantasy, the new comic collaboration between writer Rafer Roberts (4001 AD, Plastic Farm) and artist Kristen Gudsnuk (Henchgirl, Secret Loves of Geek Girls) that answers the question: what if we played a D&D campaign where all the characters had to work overtime at entry-level jobs to afford their share of the rent?
Sage of the Riverlands is a ranger data entry specialist who lives with her best friend, Gondra, daughter of Mythra, and their couch-surfing mooch/friend, Lizard Wizard (he's a lizard who's a wizard/dank crystal dealer). Sage is tired of her dead-end job and boring life and yearns to go on an adventure. When Lizard Wizard's kleptomaniac boyfriend steals an amulet from a major crime boss, it looks like an adventure is exactly what she's in for!
This first issue provides an excellent setup to the story. Sage is basically me 15 years ago: reading history books on the bus to a job where she has to listen to inane breakroom chatter, hanging out at apartment parties doing "dank crystal," and trying not to look at the guy she has a crush on. She's a character a lot of us can relate to, whether we're currently living that life or looking at it through the rear view mirror.
I love things that reward careful viewing with clever details and this book has that in spades! "Good Castlekeeping" magazine, a tshirt that says, "My other broom is a car," a band called "The Gandolfs" all had me laughing as I read (and craving some "Sugar Runes" cereal). The juxtaposition of traditional fantasy tropes with modern world urban life (an iScroll looks like it would be much easier to fit in a pocket than an iPhone) are spot on and really clever. I'm a sucker for a well-balanced mashup and this is it.
Gudsnuk's artwork is in a style that is popular lately for stories about people in their early 20s: the minimalist lines, solid colours, and big expressive eyes reminiscent of Scott Pilgrim, but with Gudsnuck's own style. This is a stark, yet very welcome, contrast to the highly detailed illustration usually given to fantasy stories; it signals immediately that the tone of this story is light and whimsical and doesn't take itself too seriously.
Verdict: Buy it!
I'm very excited about this new comic and will definitely be reading it going forward. Modern Fantasy #1 is a perfect blend of genres and styles that is a fun read and a great nod to fantasy and geek culture. Add this one to your pull list, ASAP!