Middle Earth: Journeys in Myth and Legend
Creator: Donato Giancola
Publisher: Dark Horse
Review by Josh Rose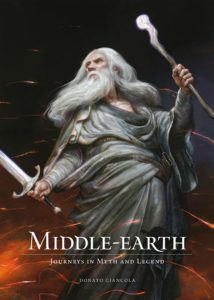 J.R.R. Tolkien's stories of Middle Earth have fascinated readers since The Hobbit was first released in 1937. The language of his legendarium have inspired intense visuals in readers' imaginations and provided fuel for Peter Jackson's film adaptations. Painters and artists have been creating and recreating the visuals since the very beginning. Middle Earth: Journeys in Myth and Legend by Donato Giancola is the latest collection of paintings to add to the impressive list of works inspired by Tolkien's Lord of the Rings saga.
What first struck me about Giancola's art is how realistic it looked. And the more I looked at it, the more I felt like Giancola was a renaissance artist who walked into 2019 and developed his art to a hyper-realistic level. One image he painted was of Frodo Baggins being held by several hands and a sword, with the One Ring on prominent display around his neck. This image alone brought to mind images of Renaissance paintings of Jesus Christ in my imagination.
Some of Giancola's art is shown in stages; the first might be a watercolour pencil and chalk drawing, followed by a fully coloured oil painting. If you look closely, you may catch minor changes between the different versions. It's really neat to see Giancola's progression as he works on various pieces. His paintings aren't just recreations of scenes in the novels, but thoughtful representations symbolic of the complete story.
Giancola's captions for various pieces also provide surprising insight into the stories and art. Readers may recognize the scenes and know exactly what happens. Giancola provides interesting analogies and facts that will contribute to the reader's knowledge and may lead to a much richer experience of Tolkien's works.
The Verdict: Buy it!
It's really cool to see artists translate an author's words into paintings rather than recreate onscreen visuals. While some might like Peter Jackson's version of Radagast the Brown, it's always neat to see another interpretation. If you enjoy Lord of the Rings, The Hobbit, and have a predisposition towards art appreciation you're going to want to add Middle Earth: Journeys in Myth and Legend to your bookshelf.