Mech Cadet #7 Review
Written by: Greg Pak
Illustrated by: Takeshi Miyazawa
Colors by: Triona Farrell
Letters by: Simon Bowland
Designed by: Michelle Ankley
Published by: Boom! Studios
A review by Cory Webber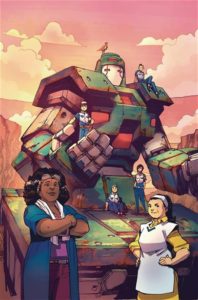 Mech Cadet Yu #7 picks up right after the shocking ending to issue #6. (See my review here). The cadets are ordered to take their mechs to Central Command where something fishy has been going on. We learn a little more about the mystery of this place in this issue, and let's just say that the cadets are not pleased.
Mech Cadet Yu #7 is another stellar issue in this series. Seriously, why aren't you reading it right now?! Pak's characterizations of these little cadets is downright inspiring. Not the least of which is General Park's daughter. The once bully (she learned from the best!) has become someone you root for and sympathize with — something that seemed a difficult task when this series first started. It's been just as wonderful watching the cadets grow close as a team as it has been watching them kick some serious Sharg butt!
The pacing of this issue is Master Class. The story flows from dialogue-heavy pages to action-filled ones seamlessly. Pak has done a great job twisting and turning the plot, and leaving you on a cliffhanger at the end of each issue that has you salivating for the next installment. But not in a "every second there is a ridiculous twist Dan Brown kind of way." His twists are organic to the story he is telling, and this issue leaves a certain character in quite a pickle.
The art, as always, has been on point. From the mech designs to the facial expressions, no unnecessary detail is included. Miyazawa has a way of making you invest all the feels you can possibly feel. I like a good facial expression that evokes the right emotion, and Miyazawa does it with an elegant simplicity.
Farrell's colors are solid here again. The subdued pastels of the characters, mechs and sky views work well with the desert backgrounds and bleak interiors of the military-type complexes. This creative team continues to gel together and produce one of the best books on shelves today.
Veridct:
Buy it! This book is absolutely phenomenal. Come for the mechs and their cadets, but stay for the deep characterizations and taut action.