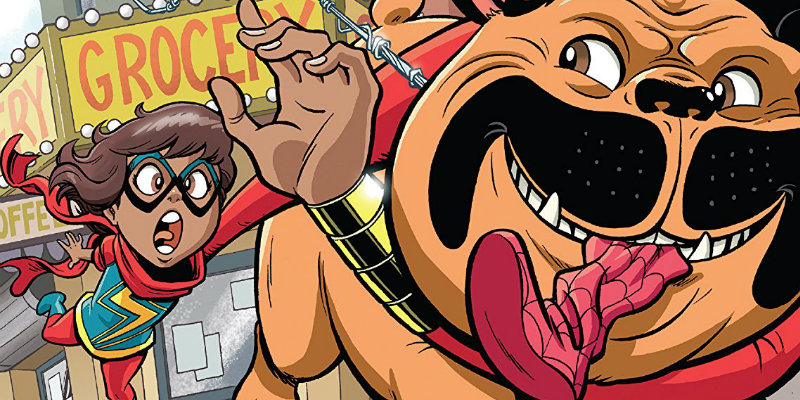 Marvel Super Hero Adventures: Ms. Marvel and the Teleporting Dog #1
Writer: Jim McCann
Artist: Dario Brizuela
Colourist: Chris Sotomayor
Letterer: VC's Joe Caramagna
Publisher: Marvel Comics
Review by Melissa Prange
Marvel Super Hero Adventures is a five-issue series featuring Spider-Man as he encounters characters throughout the Marvel Universe. He already met Ant-Man and Kate Bishop. Now, he's about to team-up with New Jersey's finest superheroes.
In Marvel Super Hero Adventures: Ms. Marvel and the Teleporting Dog #1, Spider-Man runs into Misty, a girl about to succumb to peer pressure and break into a "haunted" house. Spidey intervenes and shares a story about his latest encounter with the Serpent Society (which just so happens to relate to Misty's own predicament).
While taking a spin around New Jersey not so long ago, Spider-Man met the Serpent Society and their newest member Garden Snake. Taking on six snake-themed villains (plus a 25-foot python) might be a lot for one hero to handle, but this being New Jersey, it wasn't long before Kamala Khan and her furry friend, Lockjaw, showed up to help. What starts as a battle between good guys and villains, turns into an opportunity for these heroes to reach out to the newest villain on the block.
The title Ms. Marvel and the Teleporting Dog is a bit of a misnomer. While Kamala and Lockjaw do assist, the story is still Spider-Man's through and through. The entire comic is told through Spider-Man's point of view, and Ms. Marvel and Lockjaw are just supporting players. While there's nothing wrong with that, being promised Lockjaw and Ms. Marvel and getting barely enough of them is a bit disappointing!
Still, this issue of Marvel Super Hero Adventures is rather cute. It's always fun to see characters like Peter Parker and Kamala Khan interacting. The duo play well with each other, and, as both are characters that'll charm younger readers, this issue is a perfect read for kids.
The only true downside of Ms. Marvel and the Teleporting Dog is the art. The characters are drawn like squat action figures–which is, I'm sure, purposeful seeing as there are tie-in toys for the Marvel Super Hero Adventures series. The only issue is that, while the cartoonish art doesn't look terrible with the superheroes in costume, it comes across as a bit disconcerting with children like Misty who are drawn as short adults rather than elementary-aged children. The artwork probably won't be off-putting to kids, but it's very weird to look at as an adult.
The Verdict: Buy it.
Marvel Super Hero Adventures: Ms. Marvel and the Teleporting Dog #1 is great for children wanting to get into superhero comics. The story is kid friendly, fun, and the issue is easy to read. If you know of a kid obsessed with Spider-Man or one who wants to know more about Ms. Marvel, this comic is a great buy. Of course, if you're an adult wanting to pick this up, the art could be a deal breaker. Otherwise, it's a appealing read for all.