The Marvel/Netflix TV shows have all been incredibly well received. Luke Cage doesn't buck that trend, and brings a fresh and unique vision to, not only Marvel's TV projects, but comic book inspired TV in general.
Spoilers to follow!
Sadly, you cannot talk about Luke Cage without comparing it to Jessica Jones and Daredevil. They are all intertwined together, so while this may be season 1 of Luke Cage, it is really the 4th season of build up for the forthcoming Defenders. Which is honestly unfortunate. These comparisons and connections are nice, and they shape Luke Cage as a character, but comparing all of these shows to one another does a grand disservice to all involved.
Luke Cage has the advantage over the other Netflix shows because he was introduced in last years fantastic Jessica Jones. In Jessica Jones he was a man defined by his guilt and rage from the death of his wife. Luke Cage shows us a man working through closure and trying to define who he is in the absence of his muse. And what better place to find oneself than in the streets of Harlem?
While Luke Cage isn't the first African-American superhero to be put on screen in a staring role, lets not forget Steel and the Blade Trilogy, it is the first one to feel defined by African-American culture. Of course, setting the show in Harlem doesn't hurt, but there are also subtle nods to the history and story of African-Americans as a whole. From Crispus Attucks and Malcom X, to Lebron James and Trayvon Martin, no stone is left upturned. For further reading I recommend Black Nerd Problem's Tara Betts curated list of literature mentioned throughout the show.
Through and through, Luke Cage is an excellent crime drama about two people and their search for self. As mentioned above, Luke Cage is trying to find who he is after the loss of his wife Reva. The second character searching for herself is Mariah Dillard, known in the comics as Black Mariah. Mariah is played by Alfre Woodard as she makes the transition from knowing bystander to full on criminal mastermind throughout the season. Sure there are other minor players that help turn the gears for both characters, but they are the stars of the show. Especially Mariah Dillard.
The first four episodes of Luke Cage are an absolute masterwork, overseen by the careful hand of show runner Cheo Hodari Coker. The foundation laid out is nearly perfect, even if the death of the beloved Pop's comes entirely too soon to have any impact. I would have loved to see Frankie Faison continue to play a true mentor to Cage, instead of a plot point used to get the ball rolling.
Most of the characters are introduced in the first episode, and even the most minor of characters are given full arcs. The series main big bad is Mariah Dillard of course, but there are stellar performances by Mahershala Ali as Cornell 'Cottonmouth' Stokes and Theo Rossi as a gangster known as Shades, a surrogate for a mysterious gangster known as Diamondback. Together Cottonmouth and Shades run Harlem's Paradise, the club with questionable intent.
In the pilot, Cottonmouth brokers a deal with Diamondback for some Justin Hammer weapons, but an inside job turns everything on its head. A lot of money has gone missing, dangerous weapons are on the street, and loyalties are tested. Detective Mercedes 'Misty' Knight starts her investigation into the botched gun deal, and starts putting all the pieces together. Simone Missick plays her role well, but it was a far cry from the ass kicking Misty from the comics I was hoping for. Still waiting for her to lose that arm too. After she identifies one of the victims from the shootout as one of Cottonmouths low level thugs, the dominos start to fall throughout Harlem.
Enter Mariah Dillard. Her rise to power is one hell of a ride. While the trailers and first handful of episodes set the tone and show the power distribution throughout Harlem, Dillard cautiously observes her cousin Cottonmouth as he makes mistake after mistake in trying to secure his throne as the King of Harlem. He has truly great moments and I was ready to watch him all season. And then out of nowhere, he is brutally murdered by the boiling rage of Mariah.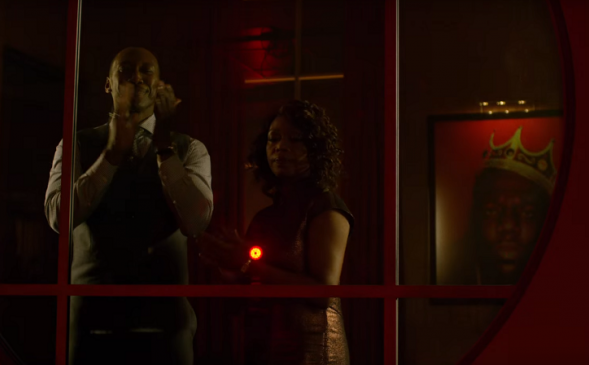 We are then haphazardly introduced to Luke Cage's half-brother, Willis 'Diamondback' Stryker, played by Erik LaRay Harvey, to serve as the muscle for the second half of the season. Through his gang connections he has acquired bullets made from Chitauri metal strong enough to pierce Luke Cage's skin. After taking a Judas Bullet to the stomach, the show slows to a near halt, and Claire Temple from Daredevil/Jessica Jones is reintroduced. The big difference is Rosario Dawson is given so much more to do, and her character really begins to shine through as the connective tissue for the Netflix side of the MCU.
Once Luke Cage is back to fighting fresh form though, the show turns right back around into greatness. There is a very out-of-the-way cameo by Method Man, but it resets the tone of the series as it steers towards the final showdown between Diamondback and Luke Cage. The finale is a beat down brawl between these two super powers through all of Harlem and is unlike anything seen in the MCU before. The brawl moves throughout the city with purpose, and you feel the emotional tension between the pair with each blow.
The final episode is all over the place, even as it aims to tie up every single loose end. Luke Cage is taken back to Seagate after being exposed by Diamondback and Mariah, and Mariah takes her place as the queen of Harlem on the throne of Harlem's Paradise. You can't help but feel that both Luke and Mariah have grown leaps and bounds. Luke has shed the skin of his former identity of Carl Lucas completely and Mariah has blossomed into a criminal politician. Even the secondary characters see growth. Claire Temple decides to learn some self defense classes from Colleen Wing, who will be in next years Iron Fist, and Misty Knight is questioning the effectiveness of the NYPD to actually get things done.
All of this is peppered with the perfect soundtrack. Ali Shaheed Muhammad and Adrian Younge have crafted a playlist that blends classic and modern hip-hop, funk, and jazz. Every song is picked with purpose, and the moments when a live performance in Harlem's Paradise are paired with a montage of Cottonmouth beating a turncoat to a pulp bring a texture to the show like no other. A playlist curated by Ali Shaheed Muhammad is available on Spotify and the soundtrack was recently put up on iTunes. It has been on constant repeat on my phone since shortly after finishing the pilot. Hell, even the obviously forced Bulletproof Love from Method Man is a great choice as Luke Cage returns to the streets of Harlem.
The Verdict:
Watch it! Luke Cage starts and finishes with a bang, while genuine moments and an amazing soundtrack save the show from mediocrity. Mike Colter is stern and stoic as Luke Cage, and Alfre Woodard steals every scene she is in as Black Mariah. When all of the chips are on the table, Luke Cage really shines. There are great moments through the entire season, like Misty Knight shooting hoops in Harlem for information, the stellar live performances in Harlem's Paradise from the likes of hip-hop and jazz masters such as Jidenna and Sharon Jones & The Dap Kings, discussions of how to be a role model for young black kids in the modern world, and the decision to move forward always. All of these little moments, peppered with fantastic editing choices, great cinematography and heartfelt performances make Luke Cage stand above most others.