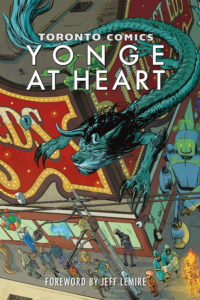 Each city has its own stories to tell that change and grow over the years. What better way for people to tell the stories of their city then through comics?
Toronto Comics Anthology is about to launch the Kickstarter for its fourth book "Toronto Comics: Yonge at Heart" on March 1st, 2017." The 210 page full-colour book with a foreword from Jeff Lemire ("Essex County", "Moon Knight"), features 21 stories set in and about Toronto all done by 39 local artists and writers.
I spoke with Steven Andrews, the Toronto Comics Lead Editor about some of the changes they are making this year compared to previous years.
_____________________________
Rogues Portal (RP): Why the title "Toronto Comics: Yonge at Heart" instead of Volume 4?
Steven Andrews (SA): We found that some folks thought they had to read each book in sequential order, and so we wanted to make it clearer that each anthology stands on its own. Whether you're a longtime fan or a first-time reader, this is a book that anyone can pick up and enjoy. This is also our first full-colour book, so in some ways it's a relaunch of the series!
RP: In 2016 you had the huge 300 page book, this year almost a 100 pages less, what was the reasoning behind that change?
SA: We found that we [the three editors] had a hard time managing that many pages of stories, and so we wanted to refine our efforts into making the most polished book we could. Now that we're working in colour, production costs have increased; the colourists add to the page rate, and printing costs about 30% more.
RP: What is one (or a few) things that you love about this anthology?
SA: I love seeing new creators published for the first time! There's an enormous community of talented folks in Toronto, and new voices arriving all the time. With this latest book, I'm really enjoying the wide variety of stories. We've got everything from Toronto's first gangland murder, to robots feuding over a 1-bedroom condo, to the Argonauts Legion in a last stand against rampaging Rough Riders. Whether it's a silly or serious story, we try to capture a little of the zeitgeist of the creative community in each book.
RP: Do you ever feel that since it is all based in Toronto that you might get similar stories or art styles that overlap from year to year?
SA: We're careful to select stories that have unusual protagonists and perspectives, and Toronto is such a diverse and storied city that I'm not worried about thematic overlap. We tend to focus on small personal stories, or weird urban fantasy rather than on superheroes or zombies, which can risk becoming repetitive. As long as the city keeps changing every year, there'll be fresh new stories out there, and we'll be happy to help bring them to you.
RP: How do you and the other editors try and keep it feeling new after four years?
SA: Ambition! Every book has to be better than the one before. Vol 1 was our prototype, Vol 2 was our first experience with crowdfunding, and 3 was us going bigger and better. This latest book is our first work in colour, and our experiences over the past books make this one a more polished work. Next year we'll come up with an even better volume, and if we can't find a way to make it fresh, we'll find another project instead. Comics are all about learning and growth, and we never want to repeat ourselves. We want to be doing something more ambitious than the last time, every time!
Look for Toronto Comics: Yonge at Heart on Kickstarter starting on March 1st, 2017.