Jim Henson's The Power of the Dark Crystal Volume 1
Writer: Simon Spurrier
Original Story Creators: Craig Pearce, Annette Duffy, David Odell
Artists: Kelly Matthews, Nichole Matthews
Letterer: Jim Campbell
Editor: Sierra Hahn
Publisher: Archaia
Review by Cameron Kieffer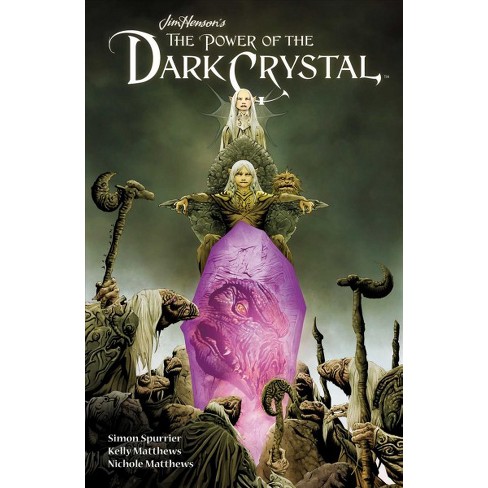 Set a hundred years after the events of The Dark Crystal, this series follows Thurma, a young girl who seeks the eponymous crystal in order to save her people. She is joined on her quest by Kensho, a young Gelfling outcast whose loyalty is tested by his allegience to his own people and his feelings for this mysterious girl. Originally published in 2017, the series is being re-released in a new trade paperback format. This first volume collects issues 1-4 of the 12-issue series.
The origin of this book is nearly as fascinating as the narrative itself. The Power of The Dark Crystal began as a direct sequel to the original 1982 film. After years of development, however, the film was ultimately scrapped. Adapting a screenplay that was stuck in development hell for nearly a decade is no easy feat but the creative team gets the job done. Writer Simon Spurrier uses his voice to translate the original story, building the world in such a way that everything feels new, yet accessible. The frequent use of caption boxes helps keep the narrative in-focus, while allowing the characters to grow and develop through their dialogue and interactions. The narration early on is a bit repetetive; we're told it's been a hundred years since the Crystal was repaired about a dozen times. And while the original film is in no way required for readers to enjoy this series, certain events and characters may leave them scratching their heads.
Visually, this book is freaking gorgeous. Every panel, every page from the art team of Kelly and Nichole Matthews (who are also twin sisters!) is simply astounding from the vibrant colors to the inspired creature designs. Returning characters like Jen and Kira, are instantly recognizable, despite growing older and grayer. Newer characters and races, such as Thurma and the Firelings, are unique but manage to fit in seamlessly. Every character is rendered faithfully, yet stylistically, with degrees of emotion that would be difficult for even a master puppeteer. The only area where the art falters is in depicting the noble Mystics and the evil Skeksis. While they look fantastic, characters from each race are nearly indistinguishable from one another, which is also a problem the original film had.
The Verdict: Buy it!
The Power of The Dark Crystal is perfect for fans of high fantasy, whether you know the source material or not. This is also a no-brainer for fans of the classic film. It's a fairly quick read but one that's worth re-visiting and if that cliffhanger ending doesn't hook you, I don't know what will.