Agent Cooper begins the episode with an interaction with Audrey, trying to figure out if she's the one attempting to feed him clues regarding some of the shadier things going on in Twin Peaks. AC then meets up with the Sheriff's Department to explain the wonky dream from the last episode and give us some insight into what's going on.
Spoiler not spoiler: nothing is actually explained.
I'm still having a bit of trouble just going along for the ride with the show. It's so wacky and my mind can't help but try to figure out what's going on and who dunnit. It feels like it doesn't really have a set destination though and I keep reminding myself to shut down my mind and just embrace it all.
This episode also features all of the townspeople gathering for Laura's funeral. The whole thing can't go without drama as Bobby makes a scene and calls everyone out for turning a blind eye to her plight and then for picking a fight with James. Of course Laura's father picks this time to have a meltdown and jumps on top of her casket to be lowered into the grave with her. While the gesture is ridiculous and hard to take seriously, there still is a genuine sadness to it. He's an exaggerated figure in grief and I can appreciate the over the top reaction to seeing his only daughter buried and gone forever. Heart wrenchingly bizarre.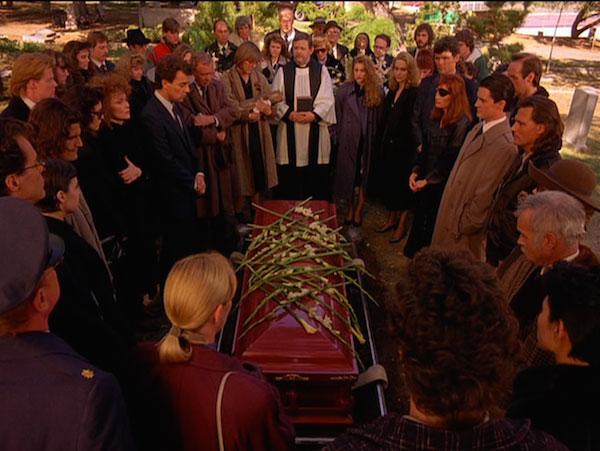 The show takes an even WEIRDER turn with the discovery that there's something supernatural in the Twin Peaks woods and a secret society that exists to keep the darkness at bay.
OH OK.
Turnoffmymind…turnoffmymind…turnoffmymind…turnoffmymind…turnoffmymind…turnoffmymind…turnoffmymind…
Mind is shut off and I'm trying to be objective when I wonder going forward if I want the show to take a weirdly supernatural turn or if I want it to stay relatively based in reality with hints of the mystical or otherwise.
After the end of this episode, I still don't feel a strong connection to any particular characters. There are definitely ones that I enjoy a bit more but overall they're kind of terrible people that are interesting to me but not necessarily characters that I find myself thinking about like "Wow, they're so rad…"
That being said, regardless of how I feel about the characters, I'm definitely intrigued. At this point, I think that even if I wasn't reviewing all of the episodes, I would still feel compelled to see where all of this is going.
Stay tuned for my review of Episode 5… TOMORROW!