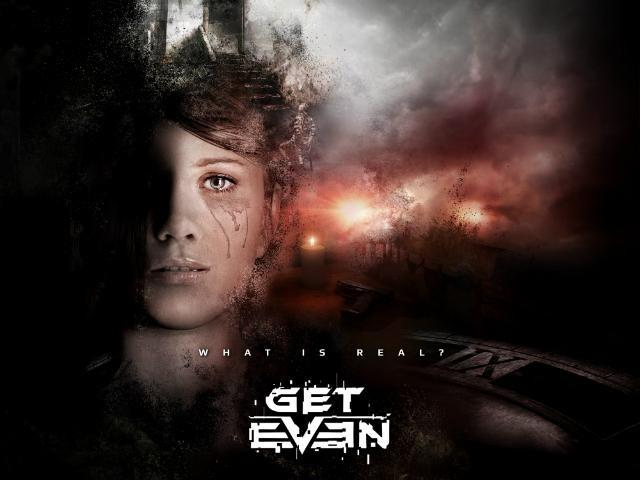 Platforms: Xbox One, PlayStation 4, and PC
Developer: The Farm 51
Publisher: Bandai Namco
Release Date: May 26th, 2017
Last week I was very very lucky to be invited to the Get Even press event in London Pinewood Studios. Get Even is a first-person perspective thriller video game developed by the Polish studio The Farm 51 and published by Bandai Namco Entertainment.
Get Even centres around Mr Black,  an ice-cold mercenary and hired gun who awakes in a mysterious old asylum with no memory of his past. Under the guidance of his anonymous captor, 'Red', Black embarks on a form of treatment, facilitated by a unique technology – a headset that allows the user to relive their memories and experience them again in the present. And so Black tries to remember. With the help of the 'Pandora' headset, he travels into the depths of his own mind to explore the truth behind the only thing he can remember: the rescue attempt of a teenage girl with a bomb strapped to her chest.
During the event we had many speakers including Olivier Deriviere who was the games composer and writers Iain Sharkey and Stephen Long, whose have previously worked with the likes of Derren Brown.
Get Even is highly influenced by such films as Memento, Oldboy, Saw, and Inception and once you start playing the game you can see these influences clearly! The music sound exactly as if it came out of Oldboy and it's absolutely beautiful! Deriviere states that the some of the music is based on real time and reality, in other words it's based in within the world for example in the basement the music is composed by the sounds you hear such as a ticking clock which of course adds to the tension to the game. Then it'll be joined by a pipes leaking and it'll sync with that of the ticking clock and so on and so forth. They've added incredible detail to the audio play and it applies to every level. The music adds so much so the story and sets the tone for each level. They went above and beyond in terms of music for this game and it stands out amongst the crowd.
They were all brutally honest when talking about the game when it was in it's early development. Deriviere said the vision was difficult to share at the beginning and the were slightly lost a year ago. He also went on to say that as a game is grounded to our own reality and their main focus was on experience rather than gameplay:
"As a gamer I'm happy, as a creative I'm thrilled" – Oliver Deriviere
When talking about the game itself he gave us a little snippet about certain situations and that the game, well, doesn't help you at all! He said you'll have situations where you won't know what to do and guess what… there is no one and nothing to help you and that to me, it's pretty awesome! So as an example you might find yourself in a room with another character, there is nothing to tell you whether to shoot them so it's all up to you! But be warned, even though you have freedom to do whatever you want, it'll have some consequence!
'Kitchen Sink Science Fiction Mind Fuck' – this was one of the descriptions made of the game by writers Iain Sharkey and Stephen. They explained some of the main themes of the game are loss, grief and regret which plays heavily on some of the levels I saw. They told us your playing within Mr Blacks memory and sometimes that memory can change. Everything about the game is deep and multilayered. They also noted that even though many people believe it to be horror game, it's not, and once you start playing it you realize it certainly isn't.
One thing I gathered myself during the press event was that this was definitely a passion project. Everyone seemed so proud to be part of the game and to be part of the team. They spoke of the game with such excitement and enthusiasm that I honestly couldn't wait to play it myself!
The game itself is exciting! Get Even an edge-of-your-seat psychological thriller and one hell of a ride. Piecing together the events are all part of the fun and there is something for everyone to enjoy. I love how much focus there is on the plot which makes the game enjoyable for those who just want to observe rather than play it themselves.
It's a very clever game, very well thought out and I can see why it must have taken some for it to finish.
I do recommend this game even for those who are weak to the horror genre. It's fun with full of twists and turns. For a single shooter game this tops it's piers!
The game is available as of today! So go buy your copy!!