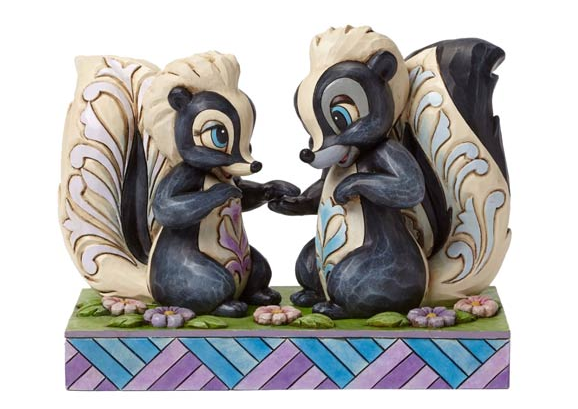 I've scouring and searching the internet for the best geeky gifts for Valentine's Day. Finding the perfect geeky Valentine gift can prove to be, well, a daunting task and some might just settle with the ole rose bouquet and chocolate (not that there is anything wrong with that). However, if you want to go above and beyond for that special someone without the hassle of finding it yourself, NEVER FEAR! I am at your service. Hear are a few Valentine-esque gifts that I've found on the information super highway.
Batman Mad Love Harley Quinn Figure
Store: Amazon
This 11″ resin statue of Harley Quinn is based on her look in Batman: The Animated Series. This statue depicts a dolled-up Harley wielding her mallet and pistol. Packaged with a certificate of authenticity in a full-color box, this statue is limited to 3,000 pieces and is a must-have item for any fan of Batman or the lovable Harley Quinn.
Disney Bambi Flower and Miss Skunk Statue
Store: Amazon
This is a must-have for any Disney fan out there! Bambi's Flower and Miss Skunk are a picture perfect couple in this heartfelt design featuring the unique artistry of Jim Shore which is made of stone resin. They look so cute!
Star Wars Bouquet
Store: Think Geek
This has to be one of the coolest Valentine's gifts I've seen! A MUST-HAVE for the Star Wars fan. It sticks with the tradition of a bouquet on Valentine's Day but with more effort! This is a bouquet of  9 adorable Star Wars characters. It ships in a wrapped box with a bow, ready for gifting. Each plush attaches a "stem" via 2 elastic loops and can be easily removed.
Yuri on Ice anime Home Decor Fabric Cushion Pillow
Store: NagareboshiVinyl
Yuri on Ice is the hottest and one of the most popular anime's of 2016 and I'm 90% your other half has probably watched, and fangirled over it a 100 times by now. So why not spoil her with a pillow of her favourite YoI characters? Each pillow is handmade and the design can be changed too!
Cosplay Couple Shoot
Okay so there isn't a place where you can specifically buy this (unless you suggest it to a local photographer) but I thought this was such a cute idea I had to share it with you all! As a photographer, this sounds like a fun way to spend Valentine's Day and I would love it if a couple asked me to do this! What more could you ask for than a fun day out with your other half dressed as your favourite characters?
What are YOU getting for your special someone on Valentine's Day?