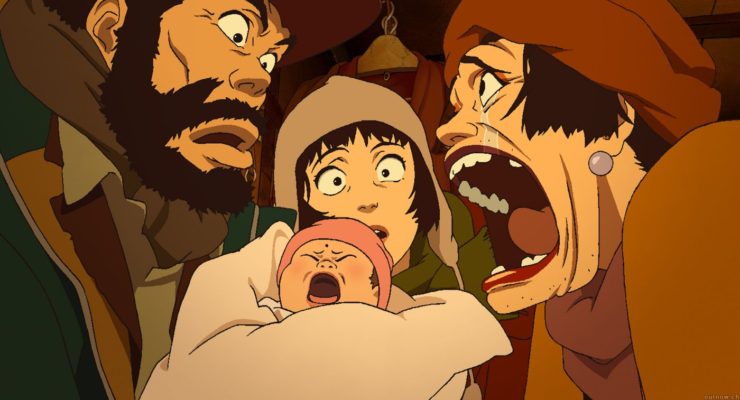 When it comes to my Asian films I've always stuck with B-Movie Horror or the incredibly insane piece of film, but I have never seen a foreign  Christmas film. I've seen so many British and American Christmas Films but never tried to find what else is out there. What do the french have to offer? Does Australia have one or two gems?? What do Japan and Korea have to offer me? So these next few posts will be scouring through the internet to try and find us all some good ol' christmas films, which include some ol' fashion subtitles!
Merry Christmas Mr Lawrence
Country: Japan
Director: Nagisa Oshima
Cast: Takeshii Kitano, David Bowie, Ryuichi Sakamoto
Plot: During World War II, British soldier Jack Celliers (David Bowie) is captured by Japanese forces and held in a prison camp by the honor-bound Capt. Yanoi (Ryuichi Sakamoto). Yanoi and gruff Sgt. Hara (Takeshi) become intrigued with Celliers' open defiance in the face of their staunchly old-world ideas about cowardice and shame. Meanwhile, a translator, Lt. Col. John Lawrence (Tom Conti), attempts to find common ground between British and Japanese beliefs.
Thoughts: What an amazing and solid yet random casting!! We have David Bowie and Takeshi Kitano in the same goddamn film!!! It seems a bit heavy for a Christmas film but I'm really intrigued by the plot. I'm definitely going to give this a go and maybe a write a review on it too (stayed tuned).
Tokyo Godfather
Country: Japan
Director: Satoshi Kon, Shogo Furuya
Cast: Aya Okomoto, Toru Emori, Yoshiaki Umegaki
Plot: Tokyo Godfathers is a 2003 anime comedy-drama film directed by Japanese director Satoshi Kon loosely based on Peter B. Kyne's novel Three Godfathers. On Christmas Eve, three homeless people living on the streets of Tokyo find a newborn baby among the trash and set out to find its parents.
Thoughts: This sounds like such a cute anime (also a bit sad, obviously). I definitely need to see this film!! It sounds slightly bittersweet but warm. This is something that everyone in my family would enjoy. Top on my list of what to watch next.
The Tower
Country: Korean
Director: Ji-hoon Kim
Cast: Son Ye-jin, Sol kyung-gu, Kim Sang-kyung
Plot: The Tower is a 2012 South Korean disaster thriller film about a fire that breaks out in a luxury skyscraper in central Seoul on Christmas Eve.
Thoughts: Why not some destruction and chaos for a Christmas Film?! Okay Christmas films should be mostly happy, and fuzzy and makes you feel happy e.g Home Alone. But why not mix it up a bit huh?! This film was a box office hit and I cannot wait to see why!!!
2046
Country: Hong Kong
Director: Wong Kar-Wai
Cast: Tony Leung Chiu-wai, Zhang Ziyi, Faye Wong
Plot: 2046 is a 2004 Hong Kong romantic drama film written and directed by Wong Kar-wai. It is a loose sequel to the 1991 film Days of Being Wild and the 2000 film In the Mood for Love. The women who enter a science fiction author's life, over the course of a few years, after the author loses the woman he considers his one true love.
Thoughts: Even though the description doesn't make it seem that it's based around the holiday season but from what I've read this film goes beyond and focuses on the complex emotions and loneliness of the holiday season by time hopping between the past, present and future. I've heard that the cinematography is breathtaking and I'be never seen any films from this particular director either, so I can't wait to see what he has to offer.
8 Women
Country: France
Director: Francois Ozon
Cast: Catherine Deneuve, Isabelle Huppert, Fanny Ardant
Plot: One murdered man, eight women, each seeming to be more eager than the others to know the truth. Gimme, gimme, gimme some clues to make up my mind. And eventually enter the truth.
Thoughts: Here is a oldie European film for you!! Doesn't it look fun and it's a musical!!! The cast looks amazing. It's looks like a vamped up Miss Marple!! This looks like it's going to a firm favourite of mine!! It's has that old timeless quality look to it which give it that francais feel!!