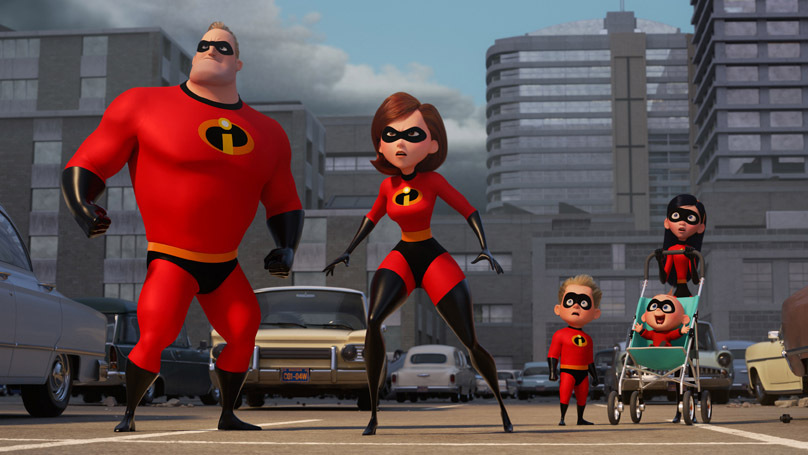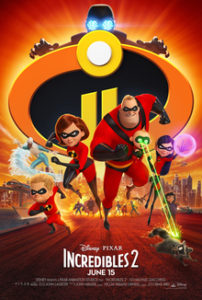 The Incredibles 2
Directed by: Brad Bird
Written by: Brad Bird
Starring: Craig T. Nelson, Holly Hunter, Samuel A. Jackson, Huck Milner, Sarah Vowell, Catherine Keener, Eli Fucile, Brad Bird
Review by Mia Santos
It's hard to believe it's been 14 years since Disney's Pixar The Incredibles was released. This film really spoke to the ups and downs in the family dynamic and was revolutionary during a time where superhero movies were just blowing up, and Marvel was making its mark. The Oscar-winning film became such a sensation for many that it felt right being a stand-alone Disney/Pixar favourite. In a time of sequel mania, here we are in 2018 at the brink of the new release of  The Incredibles 2 this Friday. However being a Disney Pixar film the hopes of it being good are high!
I remember seeing the first installment and enjoying it, but it didn't become an immediate favourite for me personally. To be honest, it wasn't that memorable on my Disney radar. I was excited and curious to see what number 2 had to offer us. Before seeing the sequel, I rewatched the first film to remember what had gone down and I'm glad I did! The Incredibles 2 picks up where we left off in the first one, the family fighting Underminer in a parking lot.
The Incredibles family still live in a world with "Supers" are illegal. After their epic battle with Underminer with the help of Frozone, voiced by Samuel L. Jackson, they are hauled to the police station, slapped on the wrist for interfering in Police matter and causing so much city damage. They're then sent back to their hotel room to hide out until they know what to do with them. That is when they're contacted by Winston Deavor and his sister Evelyn (voiced by Catherine Keener) from Dev Tech, who has a plan to help superheroes become legal again.  This time mom Helen, also known as Elastigirl and voiced by the talented Holly Hunter, takes the spotlight meanwhile dad Bob, also known as Mr. Incredible voiced by Craig T. Nelson is stuck in a role he isn't so incredible at, being a stay-at-home dad.
Elastigirl's breadwinning, in charge role, is feminism at it's best. Female empowerment suits her! Not only is she the face to Dev Tech's superhero project but she stops a runaway train from crashing to its doom and helps Dash find his shoes in the process because dad didn't think to look under the bed. It's a whimsical nod to a mother's capability of multitasking both work and home life and a sign of solidarity at the fight for gender equality going on in the world today.
Meanwhile, poor Bob struggles with his new Mr. Mom role handling Violet's boy problems and Dash and Jack-Jack's typical kid behaviours.  We also witness Jack-Jack's powers unfolding. It's funny as it is kind of scary! He steals the show and is easily the MVP of the film! There is a delightful scene where Jack-Jack has his first superhero bout with a raccoon… that's right! Jack-Jack's superpowers abilities are wide-ranging! This baby is lethal! Not only can he shoot lasers from his eyes but he can teleport into other dimensions, duplicate himself, burst into flames and turn into a little monster… literally!
Mr. Incredible, barely surviving due to sleep deprivation takes Jack-Jack to fan favourite Edna (Brad Bird) to figure out what can be done about all these powers. Edna isn't interested at first. She eventually settles into the Auntie Edna role to better research what this incredible baby can do after he gives her a taste in another fantastic scene in the movie!
The relevance in the film is clever and connects their world to our current world situations. The villain aptly named Screenslaver is actually quite creepy! His abilities are to seek control of people's minds using screens to hypnotize them. It's brilliant as it's not so difficult these days since we all tend to rely on our smart devices. The ambiguity of this character also adds to the creep factor!  What's great about this villain is his reasoning for wanting to stop The Incredibles. It's tragic yet a fair statement.  Something you'll have to figure out for yourself when you view the film! Bring tissues for the heartwarming animated short titled Bao before the movie! I did not expect to cry. It caught me off guard. I was still wiping away tears while The Incredibles 2 began.
Verdict:
Do not miss this one in theatres!!! The film is full of twist and turns, heroic action and heartfelt moments and also some brand new superheroes, which is always fun! Just in time to welcome summer break this is one for the entire family and lives up to the "Incredible" name! Brad Bird hit it out of the park once again! Dare I say I even enjoyed it more than the first one? Please don't yell at me!