Fan Flair Fridays: Halloween Enamel Pin Must-Haves
With just two weeks to go until Halloween, you're probably well into the swing of things with your spooky October wardrobe. But just in case you need some more enamel pins to add to your collection, this week's Fan Flair Fridays is all about the most wicked holiday of the year!
---
H.P. Lovecraft Pin
Approx. 1.2″x1.2″. Enamel and silver plated, rubber backing.
The master of horror takes on the appearance of one of his famous monsters in this enamel pin, created by Jenni's Prints in Sweden.
Cost: $6
---
Anti-Possession Symbol Pin (Supernatural)
Approx. 1.25″x1.25″. Enamel and silver plated, silver post backing.
Follow in the footsteps of Dean and Sam and keep yourself from possession this Halloween season with your very own anti-possession symbol, created by More Me Know.
Cost: $8
---
Sally x Marge Pin (The Nightmare Before Christmas x The Simpsons)
1.5″. Soft enamel.
Celebrate everyone's favorite rag doll and everyone's favorite cartoon mon with this pin by Move In Silence.
Cost: $11
---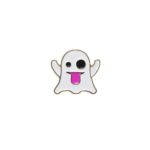 BOO the Ghost Emoji Pin
0.78″x0.71″. Enamel.
One of our favorite Halloween emojis comes to life in this enamel pin from Pindemic, a Singapore-based company.
Cost: $12
---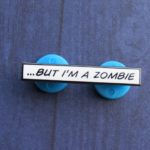 "…But I'm a Zombie" Pin (iZombie)
1.25″. Hard enamel, double rubber backing.
If you're an iZombie fan, this pin is a must-have. Even if you're not, it's a cool, creepy statement from More Me Know!
Cost: $12
---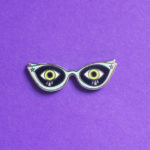 Scaredy Cat Eyes Enamel Pin
1.5″. Hard enamel, double rubber backing.
Want to rock some cat eyes but don't wear glasses yourself? Never fear! Do it with this cute, witchy pin from Modern Girl Blitz!
Cost: $10
---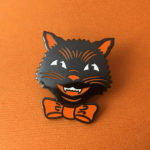 Retro Cat Halloween Pin
1.125″x1.375″. Hard enamel, rubber backing.
Nothing says spooky quite like a black cat. Rock the traditional orange and black with this retro cat brooch from Rather Keen.
Cost: $12
---
Limited Edition Pumpkinhead Enamel Pin
1.5″. Soft enamel. Variants: black outline or gun metal finish.
Celebrate the Headless Horseman with this limited-edition Pumpkinhead pin from Headstone City. Each pin variant has just 100 in production, so get them before they're gone!
Cost: $8.99
---
Pinup Witch Halloween Pin
1.5″x2″. Hard enamel, rubber backing.
Fly away with this retro witch pin modeled after classic pin-ups! Created by Rather Keen, this pin features traditional witchy colors without all those warts.
Cost: $12
---
Pumpkin Mouth Pin
1.25″. Hard enamel.
Get into the October Country spirit and honor Ray Bradbury with this pin, which is super creepy and sure to draw attention. Created by Angryblue.
Cost: $10
---
Want to show off your fan flair, or suggest creators we should feature? Let us know in the comments or tell us on Twitter!