Faith: Dreamside #1
Writer: Jody Houser
Artist: MJ Kim
Colorist: Jordie Bellaire
Letterer: Dave Sharpe
Publisher: Valiant Comics
Review by Stacy Dooks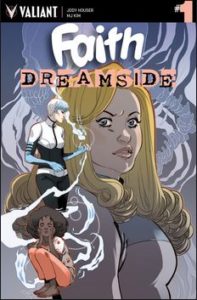 Every first issue is a gamble, a roll of the dice that what you've bought is going to be worth your hard-earned comics dollar. Every time you put down money to invest in a new title you're taking a chance, risking your entertainment dollar on a potentially poor investment. But certain new titles sidestep all of that. You only have to look at the creators on the cover, or the characters themselves to know that what you've got is a safe bet. With Faith: Dreamside #1, we've got the best of both worlds: an entertaining title put together by talented people at the top of their game.
Faith Herbert was just your average superfan of everything science fiction and fantasy related when she found herself gifted with incredible telekenetic power. Being able to fly, lift heavy objects, and repel bullets meant she could finally live her lifelong fantasy and become a genuine superhero! Taking the heroic alias of Zephyr she moved to Los Angeles and began work to become the city's resident hero. But real life being what it is, she ran into some complications. Framed for murder by her enemies Faith has been keeping a low profile, helping others in small ways while working as an online freelance journalist under the alias of Summer Smith. But superheroes can't keep things under wraps forever, and circumstances in Faith: Dreamside #1 force our heroine to don her iconic costume once more. But when a friend needs her help with something supernatural, even Faith's considerable talents might not be enough. She might need to call in a specialist on this case.
Faith Herbert is a delight. Any chance I can get to read her adventures never fails to put a smile on my face. And with Jody Houser writing, Faith: Dreamside #1 is a return to a favorite haunt to hang out with old friends. The art by MJ Kim is evocative and fun, mixing the comedy, superheroics, and drama with a deft hand. Jordie Bellaire's inks are wonderful, and the lettering job by Dave Sharpe pops. Overall it's just a great first issue: enough is on the table that newcomers can get on board while longtime fans get caught up to speed if they've been away a while (like yours truly).
The Verdict: Buy It.
Faith Herbert is a character we need to see more of in these troubled times: a truly good and decent person trying to do right by everyone. Faith: Dreamside #1 is a great jumping-on point for anyone who's ever been curious about reading her adventures. Believe me when I say this series is worth your leap of faith.