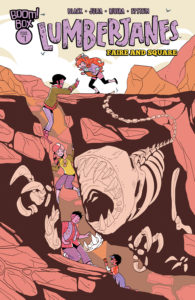 We have an EXCLUSIVE first look at Boom's upcoming special for the delightful series, Lumberjanes. The special is called Faire and Square and will be available next Wednesday in comic shops everywhere.
Lumberjanes 2017 Special: Faire and Square
Publisher: BOOM! Box, an imprint of BOOM! Studios
Writers: Holly Black, Gabby Rivera
Artists: Marina Julia, Gaby Epstein
Cover Artists: Ru Xu (Main Cover), Hailey Thurrott (Variant Cover)
Format: 48 pages, full color
Price: $7.99
On sale: June 21, 2017
Synopsis: Holly Black (The Spiderwick Chronicles) and Marina Julia (The House on the Cliff) tell a story about the Lumberjanes finding a Medieval Faire in the forest, and helping the people there defend themselves against a dragon! Then, Gabby Rivera (America) and Gaby Epstein (Shadows) combine on a story about Ripley missing watching telenovelas with her Abuela, so to help her feel better, the other Roanokes help her act out the series finale she missed.
[ngg_images source="galleries" container_ids="2″ display_type="photocrati-nextgen_basic_thumbnails" override_thumbnail_settings="0″ thumbnail_width="240″ thumbnail_height="160″ thumbnail_crop="1″ images_per_page="20″ number_of_columns="0″ ajax_pagination="0″ show_all_in_lightbox="0″ use_imagebrowser_effect="0″ show_slideshow_link="1″ slideshow_link_text="[Show slideshow]" order_by="sortorder" order_direction="ASC" returns="included" maximum_entity_count="500″]