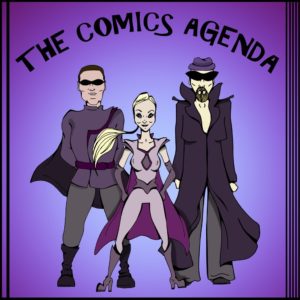 The Comics Agenda is back with Episode 39: Rocking and Rolling to METAL
This week we are talking about DC's big event Dark Nights METAL!, Rockstars #6, Spy Seal #1, Curse Words #7 from Image. and round it out with Misfit City #4 from Boom!
You also get our opinions on some recent news, and ideas for Table Top games.
Like us on Twitter @TheComicsAgenda and subscribe to future podcasts
Episode 38: Rock and Roll to METAL!
The Comics Agenda is
Greg Brothers – Twitter: @comicsportsgeek Anelise Farris – Twitter: @AneliseFarris David Hildebrand – Twitter: @Sycotic
Cover Art done by @NicoMysterriou