The end of the year is always an excellent time to look back, take stock and then move forward stronger. We cannot do the same things every day of the year and expect that life will figure itself out. My simple, but hopefully impactful resolution for 2019 is to try something new every week. That's 52 chances to learn something about myself — be it a hobbie I always wanted to try, a show I wanted to watch, or a place I wanted to travel to, every week I want to experience something new.
The same goes for comics: reading a new series, following a new artist or writer, supporting a new publisher or Kickstarter project. Every week on Wednesday we have the chance to make decisions to support up and coming creators. New stories also offer new perspectives, which are needed for cultivating empathy.
But we also have to cherish the things we have. They are essential as well. The constants in our lives, the things we have been loving and following for years and maybe even decades, are just as important, as the new. In the following categories, I tried to balance both aspects.
And as always, it is worth the reminder that these lists are composed of things I read in the last year and not meant to be a complete representation of the entire comics medium. In addition to that, there is no ranking; it is hard enough to decide on only five comics per category. To get a good overview of the year, I recommend comparing different lists, but, for now, let's have some fun with the best comics of 2018!
Best first issue
Middlewest #1
Killmonger #1
Murder Falcon #1
Man-Eaters #1
The Unstoppable Wasp (2018) #1
Best new series
Isola
Unnatural
Domino
Come Into Me
Crowded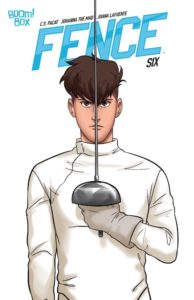 Best ongoing series
The Wicked + The Divine
Saga
Fence
Batman
Giant Days
Best mini-series
New World
The Weatherman
Infidel
Mister Miracle
Batman: White Knight
Best storyline
Wonder Woman / Justice League Dark: The Witching Hour
Power Rangers: Shattered Grid Event
Darth Vader: Burning Seas
Barrier
Dark Knights Metal and the repercussions in the following Justice League titles
Best One-Shot
X-Men: Black – Magneto #1
Captain America Annual #1
Journey Into Mystery: The Birth of Krakoa #1
A Life in Comics
The finale of Mighty Thor
Best LGBTQ+ WebComics
Breaks
Eyes On Me
Valentine
Jamie
19 Days
Best Graphic Novel
The Planet of the Apes: Visionaries
My Boyfriend is a Bear
My Heroes have always been Junkies
Nimona
A Girl in the Himalayas
In some categories, like mini-series, ongoing series or new series, I could have listed twenty things, and it still wouldn't be enough. It was a great year for comics.
In other categories, I wanted to read more but just didn't get around to it — especially Graphic Novels. So here are some OGN's I am looking forward to reading over the holidays:
Dodo
About Betty's Boob
On a Sun Beam
Come again
Bingo Love
The Prince and the Dressmaker
As great as these stories might be, besides reading a lot of comics and eating good things, don't forget to spend some quality time with the people in your life.
Happy holidays!