Black Light District: 6 Issues
Publisher: Image Comics
Writers: Jesse Blaze Snider & Will Knox
Artists & Colorists: Various
Cover Artists: Chris Burnham & Andrew Dalhouse
Letterer: Deron Bennett
Review by Anelise Farris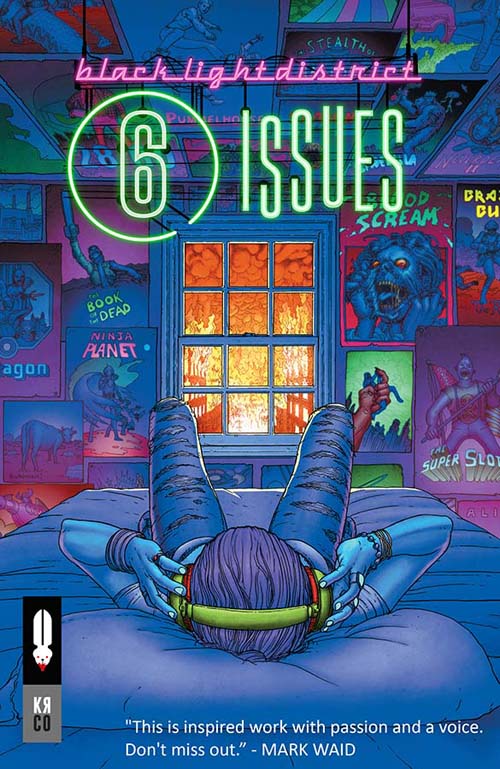 In order to fully understand what a revolutionary and just really cool comic Black Light District: 6 Issues is, some back story is necessary. Jesse Blaze Snider, one of the writers of the comic, is an American singer-songwriter with a home studio called "Black Light District." Snider has a deep love and appreciation for the comic medium, particularly in the high-stakes, "end of the world" scenarios they often depict. Snider wanted to bring that energy and aesthetic into his art, and Will Knox, a U.K musician, partnered with him to create the comic Black Light District: a mixture of music and comic book form that has been available online but will be released in print through Image Comics on October 12th as Black Light District: 6 Issues.
Amelia Wellman, in her First Look article about the print-version of Black Light District: 6 Issues gives a fantastic overview of the collection: "Black Light District features six illustrated stories set to the music of geek culture-inspired Black Light District EP. Art contributions come from stellar talents such as: Chris Burnham (Nameless, Officer Downe), Phil Hester (Mythic, Green Arrow), Jason Pearson (Body Bags, Legion of Superheroes), Andrea Tamme (Adventure Time), David Witt (The Growler Magazine), J.K. Woodward (Fallen Angel, Star Trek), Michael Spicer (Mythic, Sons of Anarchy), Erik Larsen (Savage Dragon), and Chris Eliopoulos (Savage Dragon, Pet Avengers)." As Amelia says, this is an extremely talented group of people who came together to work on a really unique comic.
Each of the six issues is completely different in style and content, yet they are all connected by the high-stakes mentality, the lyrical writing, and, of course, the music. Before talking about the issues themselves though, let's pause to appreciate the cover with its neon, grunge, glow-in-the-dark vibe and a girl lying on her bed, headphones on, posters all over her walls, while the world outside is going up in flames. As soon as I saw the cover, I knew that this is a comic I would want to own in print—not just experience online.
To indicate the variety this single collection offers, issue 1, Symptoms, gives readers corporate, political zombies and cartoonish art, while issue 3, Madhattan, reads like a classic/vintage comic with a very noir-feel. I have to give a shout out to my two favorite issues in the collection though: both issue 4, Frozen, and issue 5, Hammer, have a sci-fi sense that I love, and both have very different art styles. Frozen has more sophisticated surreal art, while Hammer is more cartoonish with steampunk elements. All in all, this collection is extremely diverse in its content and art, but each issue consistently delivers great material. Plus, although the lyrics are often figurative (as songs generally are), the pairing of the words (and the music) with images helps the reader to truly experience and appreciate this comic-music novelty.
Verdict: Buy it! While you are certainly going to want to own this comic in print form, be sure that you (at least one time!) experience reading the comic while listening to the music. I am in complete agreement with John Siuntres of Word Balloon, who says, "Jesse Snider's Black Light District is a storytelling revelation! Each song married to the comic images create one-of-a-kind sound and visual dramas never seen before in the comics medium."