It's almost the end of the year and as most people are aware of, it's the special time of year for all kinds of gifts and food. And also lists. A lot of lists.
I hadn't intended to do a write-up of any sort this year, but after looking through a few of the early ones to hit some of the bigger sites, I decided I would need to write up one of my own to compensate for the uninformed men who think that they speak for the rest of the world while not bothering to do any research whatsoever.
So this is list is going to start off with the woman who is dominating the New York Times Bestsellers list, beating out even The Walking Dead…
Raina Telgemeier
BAM. This NYT Bestseller has spent 173 CONSECUTIVE WEEKS ON THE LIST. That's over THREE YEARS of being a best-seller just for her one comic book, Drama. Currently at the time of me writing this list (Dec 9/16), she also has Ghosts, Baby-Sitters Club Box Set, Smile, Sisters, and one of the individual Baby-Sitters club books on the list. That's 6 of the 10 spots on the 10 Top list.
Any list NOT containing Raina isn't a list at all.
————————————————-
Becky Cloonan
Not only does Becky Cloonan SLAY when it comes to comic art, but she also does a ton of amazing work for Mondo, heavy metal bands and did the Criterion cover to this year's release of Guillermo del Toro's Pan's Labyrinth Blu-ray. No big deal or anything.
On top of THAT, Becky was also the first woman to ever officially draw Batman. While it's appalling that it took this long for any woman to receive that honour, I'm hella glad that it was Becky.
As if THAT wasn't enough but she ALSO writes too and in addition to telling her own stories through zines such as Wolves, Demeter, and The Mire. She co-wrote Gotham Academy and Southern Cross and is writing the Marvel series The Punisher. Again, no big deal.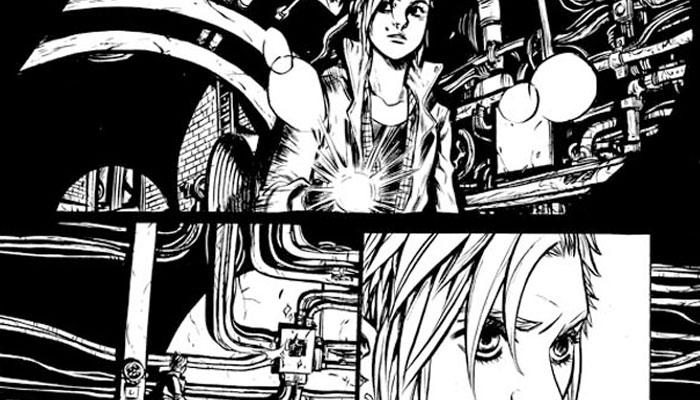 ————————————————-
Fiona Staples
You may have heard of a little book called Saga? Maybe? Written by this obscure comics dude that no one has heard of named Brian K. Vaughan? No? Well, maybe you should check it out.
Just kidding. We all know that everyone and their dog is reading Saga because it's bananas good and the art is out of this world. Literally. The co-creator on that series is Fiona Staples and you better believe that what she does on that series is nothing short of genius. She does the covers, the interiors and the lettering (from Hazel's perspective).
Not only that but Staples worked on the relaunch of Archie with Mark Waid and helped give the iconic characters that we are ALL familiar with a fresh and modern look.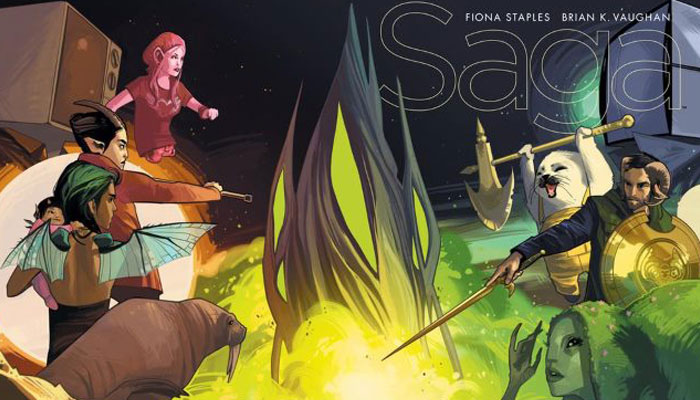 ————————————————-
Babs Tarr
What up, Babs! You know, one of the amazing Batgirl trio? Artist extraordinaire that gave fictional Babs a fresh new look along with Brenden Fletcher and Cameron Stewart. Yeah, she's awesome.
Right now the first issue of her new series with the aforementioned Bat-team, Motor Crush, has just hit shelves and Oh. My. God. It's easily one of the best looking issues of the year. The character creation and execution of the whole esthetic of the book… A+++++++
Plus she's done a TON of covers for a huge number of books in the last little while, making her one of the busiest artists out there.
————————————————-
Katie Cook
This woman is freaking amazing, straight up. Her adorable art can be found in her web series Gronk (also available in collected form), My Little Pony: Friendship is Magic, Jim Henson's The Storyteller, and she's done countless covers for IDW, Marvel, Boom, and more.
She's easily got one of the longest lineups at ANY con she's at and still manages to get all her work done and be the nicest to boot. If you ever get a chance to see her on a panel, DO IT.
————————————————-
Amy Reeder
Amy Reeder is easily one of my favourite artists in comics. Her style is a fresh mix of North American comic book art and Japanese manga. Over the years she's worked on series such as Madame Xanadu, Supergirl, Batwoman (she was AMAZING on Batwoman…), and more.
Let's take a sec to focus on the "and more" part of that. Rocket Girl is part of that "and more" and it is one of the best series that you haven't read yet. Her interiors and covers are stunning and the story that she worked on with Brandon Montclare is phenomenal. She also did the covers for a number of the covers for Marvel's Moon Girl and Devil Dinosaur AND co-wrote the series. BLAAAAAAAAAAAAAAAAAAAM!
————————————————-
Joëlle Jones
Meet Joëlle Jones, the incredible artist and co-writer responsible for Lady Killer (and Lady Killer 2). She's been nominated for an Eisner and additionally has done work on Ms. Marvel, Moon Girl and Devil Dinosaur, Scarlet Wtich, Spider-Woman, Mockingbird, Batman '66, Tomb Raider, Power Rangers, Fight Club 2 and more.
Her style is fan-f*cking-tastic and if you aren't already ready Lady Killer (and the subsequent sequel), do yourself a favour and pick it up RIGHT NOW.
NOTE: Can we pay attention to how many of these women are CO-WRITERS on these books as WELL as doing the art and it STILL takes big signs with flashing arrows for men to notice how talented they are???
————————————————-
Kate Beaton
No list would be complete without putting Kate Beaton on it, cartoonist extraordinaire. This woman has two incredibly successful books that not only reach established comic book fans but bring in new readers as well. Hark A Vagrant and Step Aside Pops have been nominated for numerous awards. These two books collect Beaton's wildly successful (and hilarious) web comics in physical form. They include new and previously unreleased strips as well so that anyone who follows her work religiously still has a reason to pick these books up.
Beaton's family comics are relatable and intelligent and then you have her history comics, her take on superheroes, and a million other things.
Kate Beaton is the modern queen of the comic strip.
————————————————-
Amanda Conner
Amanda Conner has been around and working on comics for years now. You probably know her best right now for her work on Harley Quinn and Starfire, but previously she worked on The Pro with Garth Ennis, Painkiller Jane, Before Watchmen: Silk Spectre (arguably one of the one good titles to come from that "event"), Vampirella, and Gargoyles (you know, the comic version of the TV series which was the best show EVER?).
Conner also has an art book available where much of her best work can be found in one spot. Her interiors and covers are amazing and oh, once again, she CO-WRITES a TON of shit.
————————————————-
Sana Takeda
Another prolific artist is Sana Takeda, currently working on the series Monstress alongside Marjorie Liu for Image Comics.
Takeda's art is easily some of the most detailed work I have ever seen in comics. Looking at her panels, you can get lost in all of the intricate backgrounds and subtleties that she manages to put into the book. I can only imagine how long it takes for her to do an issue of the series but nonetheless, the book is consistent in arriving to stores and giving us more of what is one of the best stories to possibly ever come out of Image Comics.
————————————————-
Nicola Scott
Greg Rucka took the helm of DC Rebirth's Wonder Woman comic book and at his side is Nicola Scott, who makes Wonder Woman look HELLA good. The pair recently worked together on the Image Series Black Magick, which went on hiatus so that they could get to work on doing Diana justice (no pun intended).
Scott expertly brings the character to life and knows how to balance what Wonder Woman is all about. Most female comic book characters are scantily clad and honestly, this doesn't bother me. It's always the hyper-sexualization of the character that drives me nuts, when one can't see past the character besides as eye candy for the male audience. Scott knows how to still make Diana sexy while not compromising what she's all about. She's a warrior and stands for so much more than the boners of dudes sitting at home in their basements reading comics.
————————————————-
Marley Zarcone
I first saw Marley Zarcone's art in the Vertigo comic Effigy (written by Tim Seeley). Her style completely blew me away and hooked me into the series. The writing is great too, but this isn't about Seeley or the book itself so much as it is about Zarcone's talent.
Much of her work to date has been for Vertigo between Madame Xanadu, House of Mystery, and more. She's now branched out to what many think of as the NEW Vertigo, Young Animal (headed up by Gerard Way), where she's currently working on the series, Shade the Changing Girl, which has received rave reviews for the two issues out so far.
Ok, we're just going to continue the list here and show you the art of these women. They're without a doubt among the best in the industry.
Emma Rios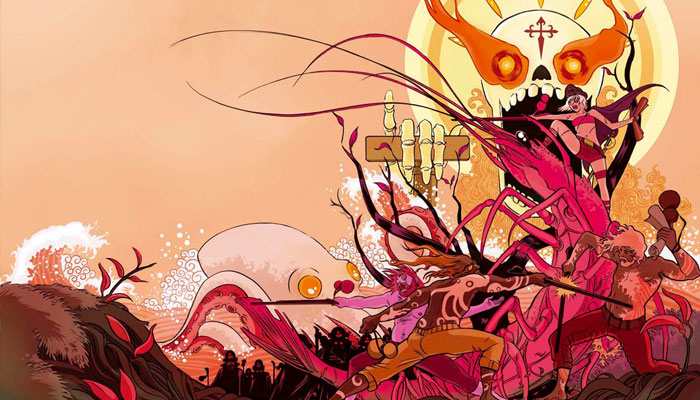 Meghan Hetrick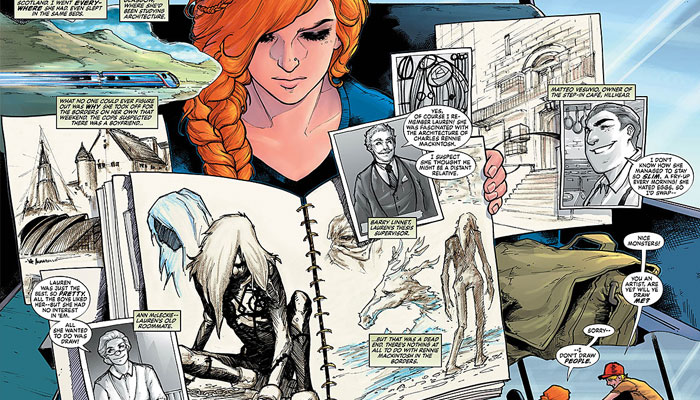 Faith Erin Hicks
Erika Moen
Elsa Charretier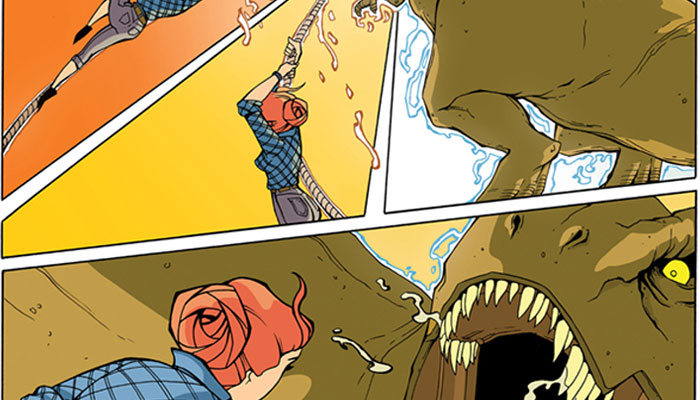 Jillian Tamaki
Jill Thompson
Ming Doyle
Colleen Doran
Jenny Frison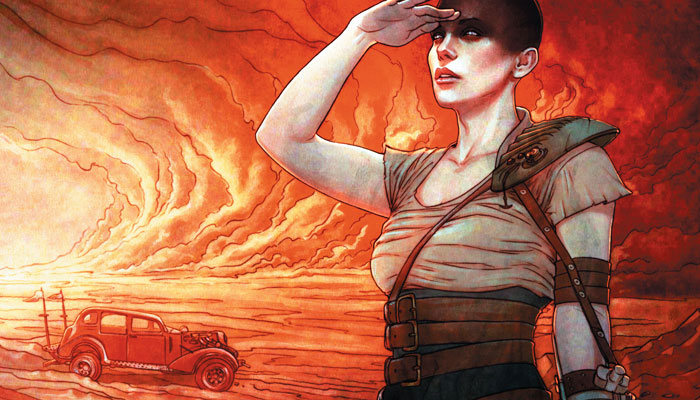 Kate Leth
Emily Carroll
Colleen Coover
Sophie Campbell
Natasha Alterici
Emi Lenox
Irene Koh
Paulina Ganucheau
Sara Richard
Brooke Allen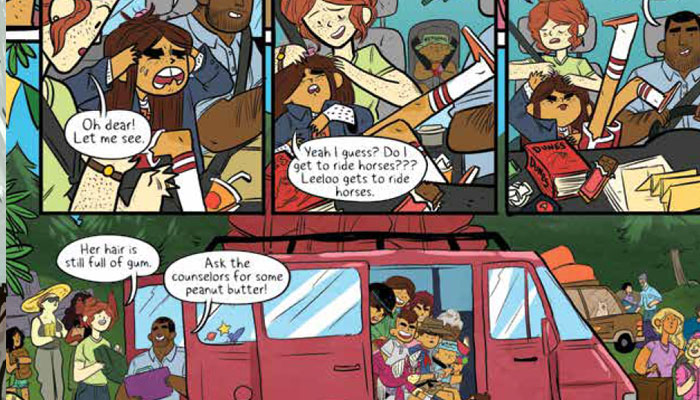 Jen Bartel
Megan Hutchison
Jenn Woodall
Genevieve FT
Stephanie Hans
Marguerite Sauvage
Jenn St. Onge
Nic Ter Horst
Noelle Stevenson
Katie Sawatsky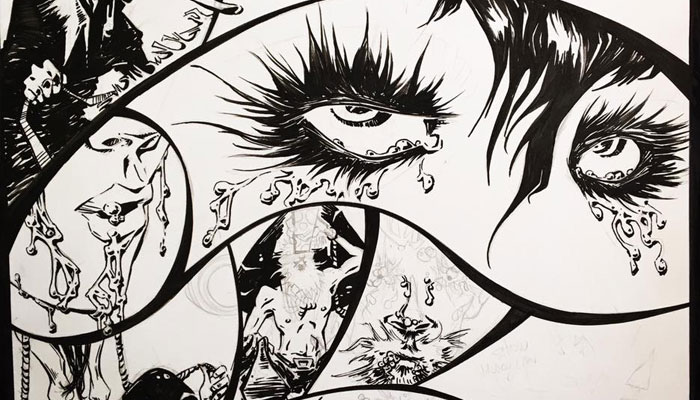 Sara Pichelli
Megan Levens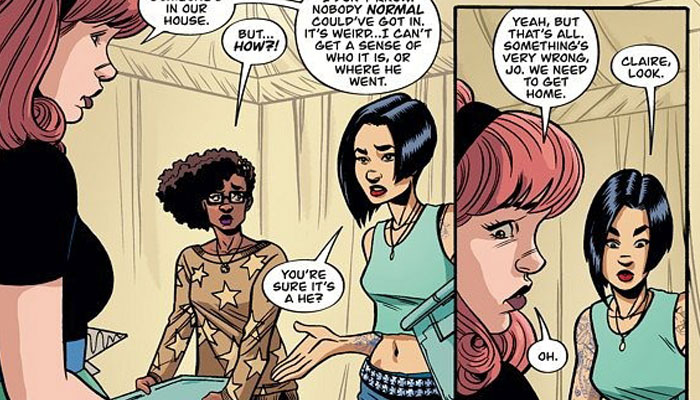 Lucy Knisley
Who'd I forget? Share your favourites with me. Sound off below!