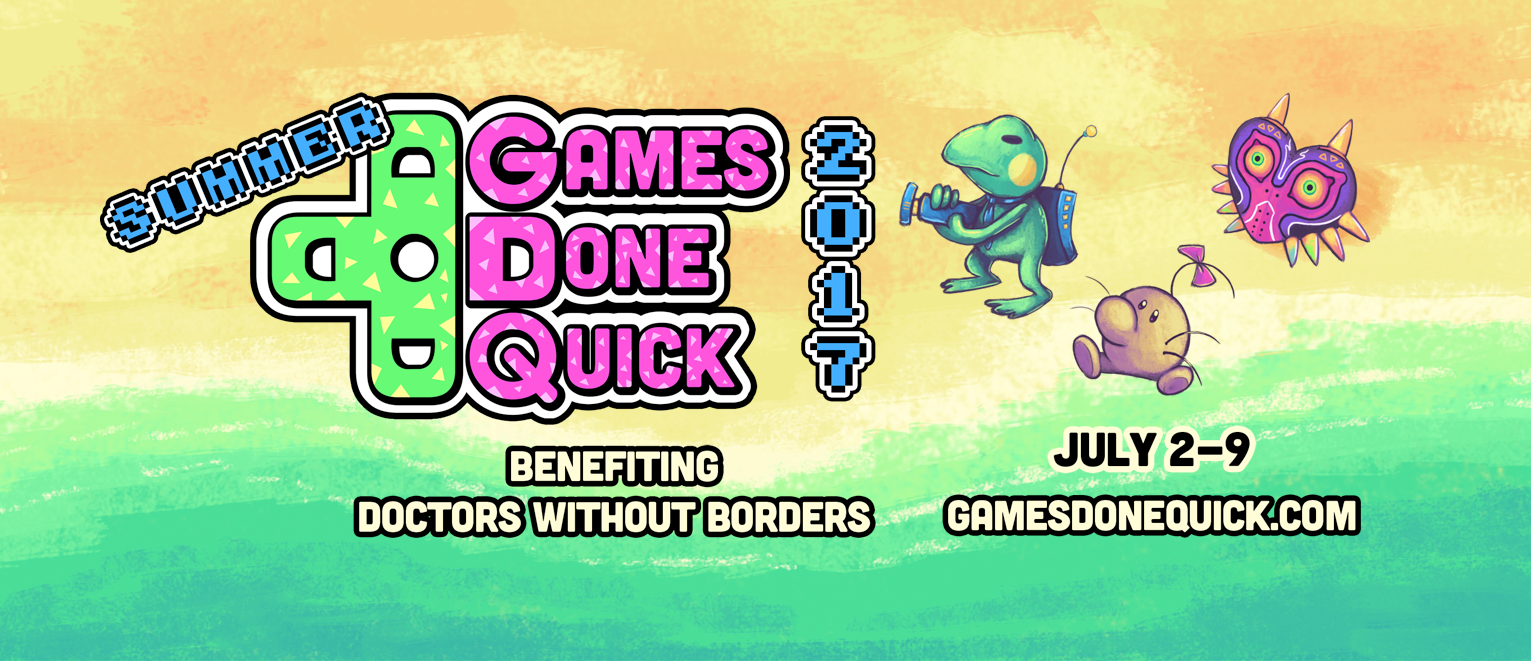 The final days for Summer Games Done Quick 2017 are upon us, and so far over $800,000 has been raised for Doctors Without Borders! Friday starts off continuing the Legend of Zelda block started on Thursday with The Legend of Zelda: A Link to the Past, including a run of the controversial Zelda 2: The Adventures of Link.
There is a solid 90's platformer block, but the big event tonight is the Super Mario Series Warpless Relay race, which will include Super Mario Brothers, Super Mario Brothers 2, Super Mario Brothers The Lost Levels, Super Mario Brothers 3 and Super Mario World.
Summer Games Done Quick will be running all week, for 7 days straight starting Sunday July 2nd. You can watch Summer Games Done Quick on twitch, and they post all speedruns within a couple days of their completion on their youtube channel. You can donate here, while voting for various goals throughout the week.
Here is the game schedule for Friday, July 7th. All times are in EST and I bolded some of my personal favorites. Don't forget to check back here for daily SGDQ updates!
| | | | | |
| --- | --- | --- | --- | --- |
| Start Time (EST) | Game | Runner | Est. Completion Time (H:MM:SS) | Run Qualification |
| 3:01 AM | Zelda 2: The Adventure of Link  | ERROR72 | 1:00:00 | Any% No Scroll Lock (NSL) |
| 4:11 AM | The Legend of Zelda: Link's Awakening DX | TGH, BambooShadow | 1:05:00 | Any% No WW/OOB (No S+Q) Race |
| 5:26 AM | Crypt of the NecroDancer: AMPLIFIED | SpootyBiscuit, mudjoe2 | 0:18:00 | Nocturna All Zones Race |
| 6:04 AM | Shantae: Half-Genie Hero | skateman222 | 1:10:00 | Any% Out of Bounds v1.0 |
| 7:19 AM | Alwa's Awakening | InfestedRiche | 0:50:00 | Any% |
| 8:14 AM | Splasher | Gyoo | 0:50:00 | Speedrun Selfish |
| 9:09 AM | Super Win The Game | GamerDomey | 0:20:00 | Any% Current Patch |
| 9:34 AN | Shadow Complex Remastered | ajfirecracker | 0:24:00 | NG+ No Major Glitches |
| 10:17 AM | Rosenkreuzstilette Freudenstachel | bjw, LV Creed | 0:38:00 | Any% Freudia Race |
| 11:00 AM | Hammerin' Harry | pip_johnson | 0:09:00 | Any% |
| 11:14 AM | Mega Man 4 | Chelney | 0:45:00 | Any% |
| 12:09 PM | Avenging Spirit | johncarls | 0:12:00 | Any% |
| 12:26 PM | Teenage Mutant Ninja Turtles III: Radical Rescue | ZorlaxSeven | 0:34:00 | Any% |
| 1:05 PM | X-Men: Mutant Apocalypse | LRock | 0:25:00 | Any% |
| 1:40 PM | Star Wars Jedi Knight II: Jedi Outcast | CovertMuffin | 0:50:00 | Any% |
| 2:40 PM | Kingdom Hearts II: Final Mix | Bl00dyBizkitz | 3:15:00 | Any% (Critical Mode) |
| 6:20 PM | SETUP BLOCK 4 | Tech Crew | 0:40:00 | |
| 7:20 PM | Super Mario Series Warpless Relay Race | Just_defend, bjw, Svenne, darbian, Dotsarecool, xsvArea51, truman, LackAttack24, grandpoobear, Kosmicd12, MrCab, Kirua, SuperSonic71087, Aweglib, RaikouRider | 2:55:00 | Warpless Relay |
| 10:25 PM | Metroid Fusion | JRP2234 | 1:45:00 | 0% or 100% |
| 11:54 PM | Super Metroid | oatsngoats, zoast, Overfiendvip | 1:00:00 | Low% Ice Race |