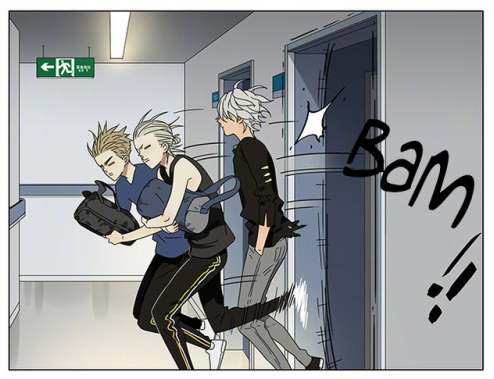 We were spoilt this week with not one but two chapters!! In the last chapter, we saw She Li making a guest appearance and saw some brief interaction between Mo Guanshan and Zhang Xixi. I hope to see more interaction between these two. Will this chapter deliver? Let's find out…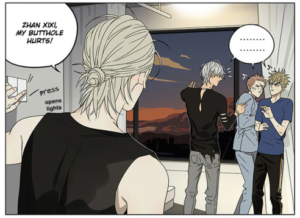 Plot
After using the toilet Jian Yi comes back to find She Li holding a knife at Mo and Zhang. Meanwhile, Mo is about to have another unfortunate surprise.
Opinion
The whole chapter is absolutely hilarious. I found myself laughing out loud in some scenes. I love the fact that Mo Guanshan was clutching onto Zhang for dear life, I also love the fact he's not ashamed of it either. He probably thinks it's either him or me.
Jian Yi's expression when he sees She Li is gold and drawn incredibly. You can see the absolute terror in his eyes. I also love that Jian Yi choice of weapon against a knife is papers. It's soo cute and yet so ridiculous. This is also the first time we see She Li acting like an actual teenager rather than a terrifying person. The way he hides the knife is slightly cute and childish. Makes you think he's putting on a schtick with the tough boy act.
Poor Guanshan for having to have a shot in the ass. The boys have had enough for a few weeks. Jian Yi is such a little sneak too. Also, is She Li still there since they've both gone back to being normal? Or is he still there but the nurse's attitude towards the whole incident calmed everyone down? I wonder if He Tian will bring up the recording with Guanshan. Probably.
Next Chapter: I think that the next chapter will be in two bits. The first few panels will be either focused on She Li and Jian Yi and Zhang. The last few panels will then focus on the other two boys. My other theory is that it will skip a few days for when He Tian comes back and we'll see if Guanshan misses him. I have a feeling we won't be seeing He Tian's dad anytime soon.